Read time:

1:30min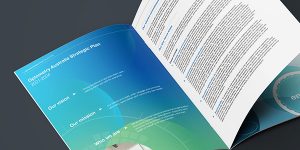 Optometry Australia today launched its new Shared Strategic Plan for the three-year period, 2021-2024.
In launching the plan, Optometry Australia's President Darrell Baker, said that it outlined the organisation's areas of focus and goals to support and sustain the sector's evolution in Australia over the next three years.
Mr Baker said that, 'This plan tables our commitment to supporting members, sustaining our sector's evolution by continuing to strengthen optometry's reputation as a core health profession and to building community awareness of the necessity of visiting an optometrist regularly throughout life.
'It will also ensure Optometry Australia progresses our members – and the sector – to their preferred future as highlighted in our 2040 transformation plan.
'Our new Shared Strategic Plan for the 2021-2024 period, continues to build on the solid outcomes that the national team, and the state divisions, have delivered in the last three years. Our sector has strengthened substantially as a result of this work – and more recently, emerged strongly from one of the most testing times in our history'.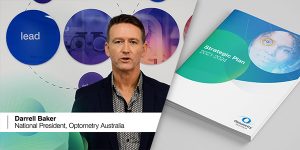 Watch Darrell Baker's Shared Strategic Plan launch video
Four key areas of focus
The four key areas that Optometry Australia will concentrate on during the 2021-2024 period are:
Evolving scope of practice: Optometry Australia will strongly advocate for our highly-skilled optometry workforce to be utilised at its maximum scope across the health system, and for the profession's scope of practice to evolve to meet community need.
Continuing professional education: Optometry Australia will continue to provide the right education and tools accessible to all members so that they are placed in the best position to meet community eye health expectations, emergent eye health conditions and evolving scope of practice.
Structural optimisation: As a federated organisation, Optometry Australia will ensure that it is  working with the state divisions to generate greater efficiencies and more consistency in our member services in order to deliver exceptional member value.
Sustainability: Optometry Australia will continue to have a thorough understanding of the conditions that are moulding our sector – and organisation's – future by having the foresight to innovate through the adoption of new services, new technologies, new skills and new ways of doing business.
Mr Baker said that Optometry Australia will share further insights into each of these four areas of focus in the weeks ahead.
'This will include more explanation on these four key focus areas and further insights into the organisation's lead, engage, promote and endure strategic pillars.'
He said that the new strategic plan's development was a collaboration between the national organisation and state divisions.
Download a copy of Optometry Australia's Shared Strategic Plan 2021-2024.
Filed in category:
Member resources
,
National & State initiatives
,
Scope of practice
Tagged as:
Future
,
Leadership
,
Member services
,
Scope of practice
,
Sector changes