Read time:

1:30min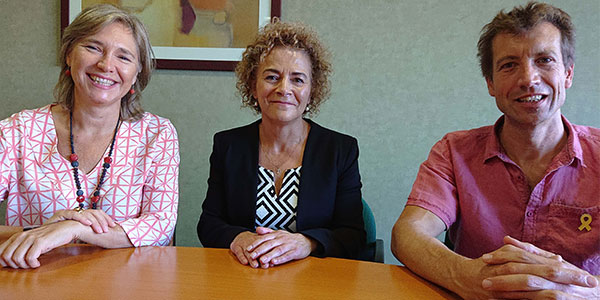 Professor Joanne Wood (middle) with Dr Mireia Pacheco, left, and Dean of the FOOT, Dr Joan Gispets, right, following television interviews after receiving the optometry award.
By Helen Carter
Journalist
Professor Joanne Wood is the first woman to receive the International Optometrist of the Year Award from a Spanish collaboration and also recently received a prestigious international ergonomics award.
Throughout her career, Professor Wood from the School of Optometry and Vision Science at QUT, has received more than 20 prestigious international awards for her work on the impact of visual impairment, ageing and driving.
Both of the recent awards were for her work on vision, ageing and driving and the Spanish award also recognised her work on vision and falls and the relationship between vision and academic ability in children.
The Spanish optometry collaboration, including the College of Optometrists of Catalonia, the Catalan Association of Optometry and Vision Therapy, the Terrassa School of Optics and Optometry, and the Universitat Politécnica de Catalunya, Barcelona with the support of the Facultat d'Òptica and Optometria of Terrassa (FOOT) awarded her its International Prize for Optometrist of the Year 2019.
'Receiving the award was an amazing experience,' Professor Wood said. 'I was lucky enough to travel to Barcelona to receive the award during the opening ceremony of the academic year in the most beautiful ancient church within the complex of Seu d'Egara, Terrassa.
'What was particularly special was the opportunity to deliver a speech to the first year optometry students regarding the importance of the profession and of making a difference, not only in their professional and academic lives, but in the world beyond.'
The annual award is given to an optometrist of recognised international prestige who has excelled in academic, research, professional and social impact during recent years.
It is based on the number of publications in optics and optometry in indexed journals during the past five years, participation in international conferences during the past five years in the area of optics and optometry, the social and scientific impact of her professional activity and research in optics and optometry, and her professional career.
'What was particularly exciting was that I am the first woman to receive this international award, which was highlighted in the ceremony and also in the interviews I had with local television and newspapers,' she said.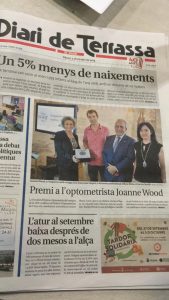 Front page news
Professor Wood graduated with first class honours in optometry from Aston University, UK and spent two years in optometric practice before returning to complete a PhD. She recently received the Doctor Honoris Causa (Honorary Doctor of Science) from the university. She then took up a Post-Doctoral Research Fellow position at Oxford University before coming to QUT, where she has held a series of leadership roles and is currently Professor in the School of Optometry and Vision Science.
She is internationally renowned as a leader in vision, ageing and driving. Her research career has focused on the impact of visual impairment in driving, and she has contributed significantly with hundreds of publications in international refereed journals, book chapters and conference presentations.
One of her greatest achievements has been to translate the results of her research into road policies and health practice, while advising organisations and professionals about road rules and standards for obtaining driving licences.
Watch this video in Spanish of Professor Wood receiving the international optometry award, which Professor Konrad Pesudovs from Adelaide received in 2018.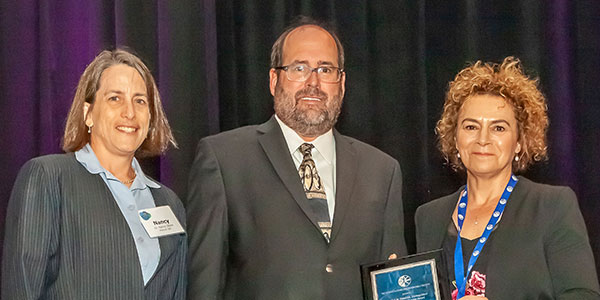 Professor Joanne Wood (right) receiving the ergonomics award from Human Factors and Ergonomics Society president Dr Kermit Davis, middle, and awards committee chair Professor Nancy Stone
The Human Factors and Ergonomics Society presented its 2019 Hal W. Hendrick Distinguished International Colleague Award to Professor Wood, in recognition of her outstanding contributions to the human factors and ergonomics field.
The award was presented at the society's international annual meeting in Seattle USA in October 2019, and recognises a non-US citizen who has made outstanding contributions to the human factors and ergonomics field.
'It was particularly exciting for me to be honoured in a field outside of optometry and reflects the broad scope of optometry and vision science,' she said.
'Many of my collaborators are from the human factors area and have made a huge contribution to the research outcomes from our team. Receiving this award was a wonderful acknowledgement of those collaborations and also reflects very positively our research team more broadly and for QUT.'
Filed in category:
Members & member initiatives
,
Research & surveys
Tagged as:
Awards - honours - grants-bursaries
,
International
,
Universities