Read time:

1:30min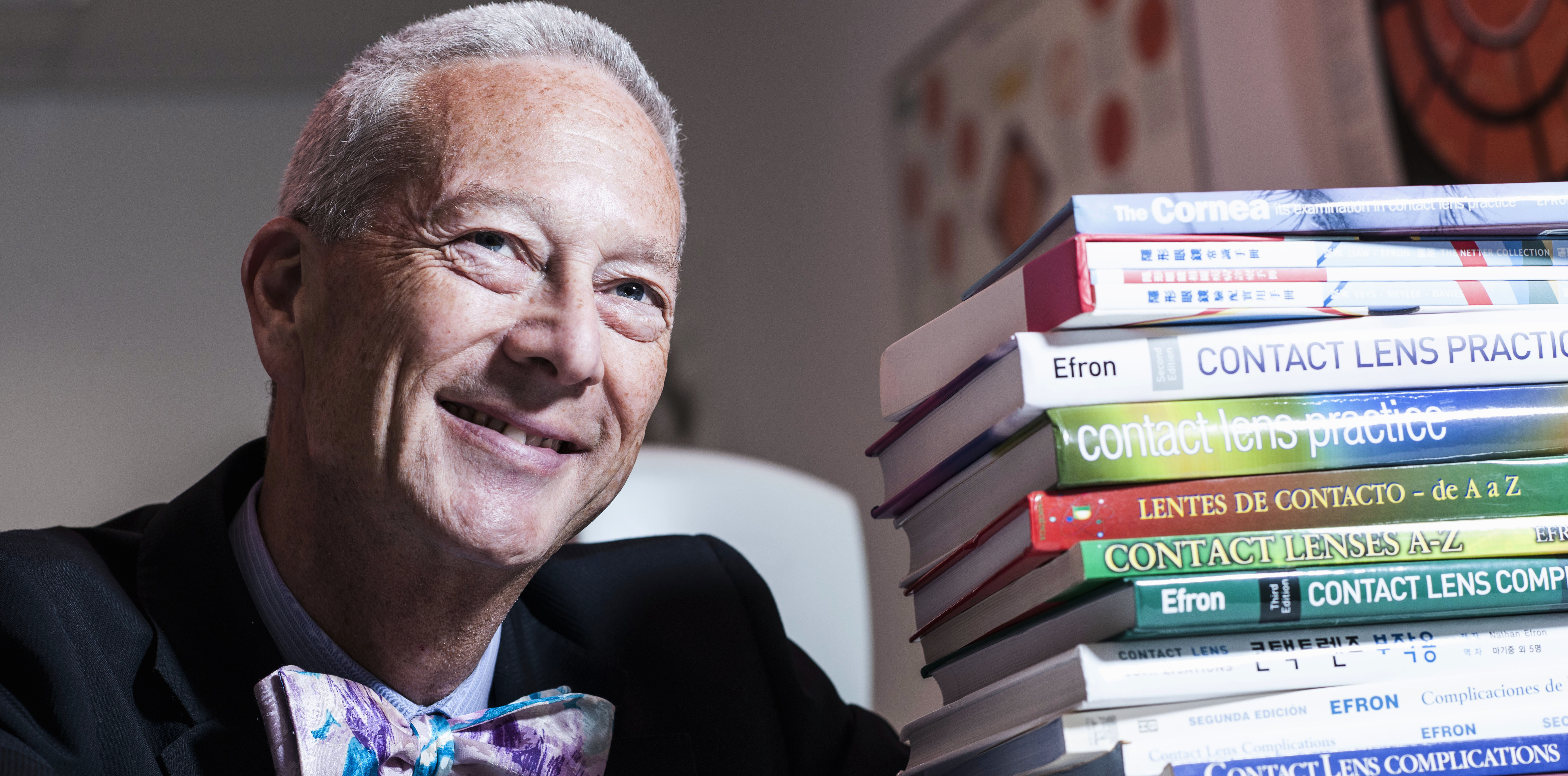 Emeritus Professor Nathan Efron with some of his published books. Photo, QUT Media
_____________________________
By Helen Carter
Journalist
Renowned optometrist, academic and researcher Emeritus Professor Nathan Efron AC has officially taken over as Editor of Optometry Australia's journal, Clinical and Experimental Optometry.
He replaces Emeritus Professor H Barry Collin AM, who retired in March after 24 years in the role.
Professor Efron will lead the journal, which is one of the top three optometry journals in the world, along with Deputy Editor Dr Maria Markoulli.
In an editorial in the May edition, published online 26 April, Professor Efron said the status of optometry as an independent profession required that it be underpinned by a thorough evidence base and demanded that a learned journal be retained as the centrepiece of its activities.
He plans to introduce "a slick new look for a modern, forward-looking journal."
But he writes: 'It's not just about appearances. My aim as incoming Editor is to continue to strive, with the assistance of my talented editorial team and Publications Manager Jess Donald, to attract and publish the very best clinical and scientific information for the benefit of the membership of Optometry Australia, our partner organisations and the international clinical and scientific communities – within and indeed beyond optometry – that access our journal.'
Although Professor Efron formally takes over editorship in May, he has served as Editor for the past six months, shadowing Professor Collin who was Editor-In-Chief, during which time he transitioned to full editorial responsibility.
Aware of stakeholder requirements
'Barry Collin was looking to phase out of the position, and I had just taken early retirement from QUT, but wished to retain involvement in the profession,' he said. 'I had previously been asked by Optometry Australia to lead a review of the journal, which was conducted in 2015-2016. This allowed me to gain deep insights into the workings of the journal and put me in a strong position to take on the role of Editor.
'My background in basic ocular and applied clinical research, academia, optometry organisation leadership and industry consulting means that I am acutely aware of the interests and requirements of virtually all journal stakeholders, and therefore in a strong position to steer the development of the journal hopefully in the right directions.
'I have always enjoyed scientific writing, so I see taking on the Editor's role as a natural extension of this passion but in addition, it allows me to pass on these skills by way of mentoring and advising my editorial team, improving the quality of papers through the peer review process that I lead, and serving as the ultimate arbiter of which papers to accept for publication in the journal.'
Changes and virtual issues
During the transition period Professor Efron implemented changes to handle the increased editorial workload of manuscript submissions, now approaching 400 per year. These included creation of the new deputy editor position and expanding the number of associate editors from 10 to 15 to cover a broader range of expertise. He has also increased the size of the last few issues to enable shorter lead times from submission to publication.
Professor Efron, who started wearing glassed aged 14 for myopia, said: 'Having undergone extensive vitreo-retinal surgery and intra-ocular lens implantation does offer me a different perspective and makes me all the more appreciative of research developments in this area, which are covered from time to time in our journal.'
He plans to include at least two review papers in each issue, and to continue producing one themed issue per year and developing virtual issues, the latter being collections of papers on a particular topic that have been previously published in the journal and are listed together.
The six virtual issues Professor Efron has assembled over the past year, adding to the existing five, include publications in the journal of the late Professor Brien Holden, H Barry Collin Research Medal Recipient Award Papers, J Lloyd Hewett Award Papers, Contact Lens Fitting, Advances in Ophthalmic Surgery and 20th Century Clinical Techniques.
Accolades
Professor Efron is the first and only Australian optometrist to have been made a Companion of the Order of Australia. This award was announced in the 2015 Queen's Birthday Australian honours list.
He has attracted significant peer-reviewed competitive funding, lectures extensively world-wide, and has been an active and enthusiastic mentor throughout his career to more than 40 PhD and MSc candidates. He is a prolific author, having published more than 1,000 research papers, clinical articles, abstracts and textbook chapters. He has also written or edited seven books on contact lenses and general optometry, which have appeared in 19 editions and foreign translations.
Professor Efron completed his BScOptom and PhD at the University of Melbourne in 1981, and after post-doctoral studies at the University of California, Berkeley and UNSW, returned to Melbourne as senior lecturer responsible for contact lens education.
In 1990 he took up the foundation Chair of Clinical Optometry at the University of Manchester, England, where he served as Head of Department, Dean of Research for the university and established the contact lens research and consultancy unit, Eurolens Research.
In 2006 he returned to Australia and joined the School of Optometry and Vision Science, and the Institute of Health and Biomedical Innovation at the Queensland University of Technology (QUT), as Research Professor.
At QUT he established the Anterior Eye Laboratory where he continued his contact lens research and began exploring novel ophthalmic markers of diabetic neuropathy. His team won the 2013 J Lloyd Hewett Award for the best paper published in Clinical and Experimental Optometry over the previous three years. The paper, which was entitled 'Utility of corneal confocal microscopy for assessing mild diabetic neuropathy,' outlined baseline findings of the LANDMark study.
Professor Efron has won numerous other prestigious national and international awards throughout his career, including the 'Contribution to Optics' award (Optician, UK, 1997); the British Contact Lens Association's Dallos Award (1992) and Gold Medal (2001); the Peter Abel Award (Association of German Contact Lens Specialists, 2000); the American Academy of Optometry's Garland W Clay Award (1980), Max Schapero Award (2003) and Glenn A Fry Award (2010); Optometry Australia's H Barry Collin Research Medal (2015); the Kenneth W Bell Medal of the Cornea and Contact Lens Society of Australia (2015); and the Ruben Medal of the International Society for Contact Lens Research (2017).
Filed in category:
Appointments
,
National & State initiatives
Tagged as:
Clinical & Experimental Optometry (CXO)