Read time:

1:30min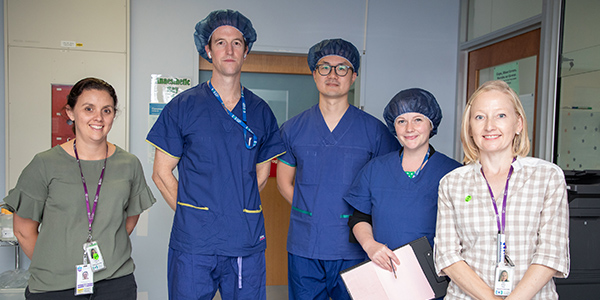 Some of the team involved in the trial: L-R, CERA laboratory manager Sheridan Keene, Principal Investigator CERA and vitreoretinal surgeon RVEEH Dr Tom Edwards, Research Fellow CERA Dr Sloan Wang, CERA and University of Melbourne optometrist Associate Professor Lauren Ayton and Senior Research Manager, CERA and University of Melbourne Fleur O'Hare. Photo Mathew Lynn, CERA
By Helen Carter
Journalist
Australia's first clinical trials of an investigational gene therapy to treat dry age-related macular degeneration (AMD) have begun in Melbourne at the Centre for Eye Research Australia (CERA).
About a dozen Victorian optometrists assisted CERA in recruitment for the phase 11 clinical trials which are evaluating safety and effectiveness of the therapy for the treatment of geographic atrophy (GA) secondary to AMD.
The purpose of the trials is to investigate if the therapy can slow progression of GA and patients will be followed over the next 12 to 18 months.
If successful, it would be the first treatment for dry AMD.
One of the trial's leaders, CERA and University of Melbourne optometrist, Associate Professor Lauren Ayton, told Optometry Australia: 'We are very excited to be able to deliver this trial for Australian patients with dry AMD.
'Gene therapy is one of the fastest evolving areas of eye research, offering hope for patients with diseases previously considered untreatable.
'In future years, we hope to be able to trial even more treatments for a variety of eye diseases.'
The treatment – GT005 – is being developed by Gyroscope Therapeutics Limited, a UK and USA-based clinical-stage gene therapy company focussed on treating eye diseases. It has received fast track designation from America's FDA for the indication.
About 20 Australians with dry AMD are expected to take part in the multi-centre, randomised controlled HORIZON and EXPLORE trials as part of a multisite international trial also taking part in America and the UK.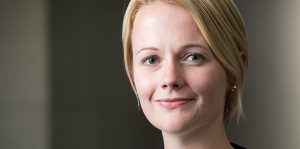 Optometrist, Associate Professor Lauren Ayton. Photo, University of Melbourne
How it works
The treatment needs to be delivered by a vitreoretinal surgeon in an operating theatre and is given to patients via a one-off injection using a specialised needle the width of a human hair.
CERA's Principal Investigator of Retinal Gene Therapy Research and vitreoretinal surgeon Dr Tom Edwards performed the first surgeries to administer the therapy to two patients at the Royal Victorian Eye and Ear Hospital in Melbourne in March and April, 2021.
To deliver the therapy, the gene is combined with a safe, modified virus – known as a viral vector – which helps it get into retinal cells.
The therapy aims to increase the production of a protein which regulates part of the immune system, known as the complement system.
Too much activity in the complement system has been strongly associated with the development of AMD and it's believed that increasing the production of this protein could dampen the system's overactivity and reduce inflammation, with the goal of preserving a person's eyesight.
Dry AMD diagnosis is devastating
AMD causes a gradual and permanent loss of central vision that worsens over time.
'Having the dry form of AMD is a devastating diagnosis, which robs people of their ability to read, drive or even see the faces of loved ones,' Dr Edwards said. 'There is currently no approved treatment for dry AMD.
'As dry AMD advances, it leads to an irreversible degeneration of retinal cells, causing a gradual and permanent loss of central vision.
'We look forward to advancing important research for people facing devastating vision loss.'
AMD occurs when debris develops in the central retina (or macula), the tissue which takes light and turns it into vision. Over time, cells in the retina slowly die, leaving gaps or holes in the vision.
The announcement coincided with the start of Macula Month for May.
AMD can cause severe vision loss if it progresses to the late stage of the disease. It is the leading cause of legal blindness in Australians over 50 and about one in seven Australians over 50 has the early signs of AMD.
There are two forms of late-stage disease – wet (where blood vessels bleed in the back of the eye) and dry. As dry AMD advances, it leads to GA, an irreversible degeneration of retinal cells, causing a gradual and permanent loss of central vision.
For more information see the HORIZON trial, the EXPLORE trial, Gyroscope Therapeutics or Clinicaltrials.gov
May is Macula Month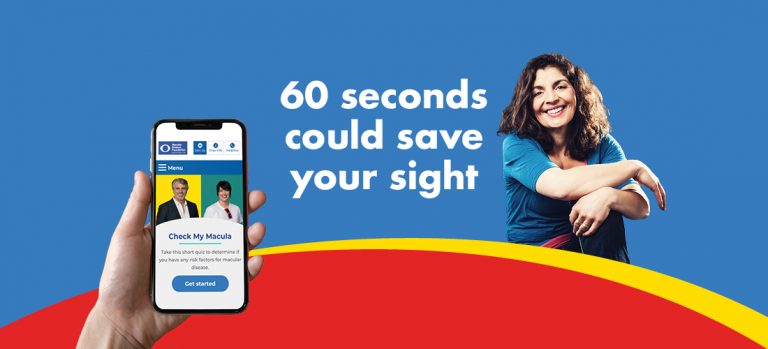 May is Macula Month, an annual awareness campaign urging at-risk Aussies to check their macula. Read more on our Good vision for life website.
Also, our May issue of Clinical and Experimental Optometry features articles on the evolution of gene therapy with two invited reviews outlining how developments in this field are leading to new methods of tackling inherited retinal diseases. Read: An optometrist's guide to the top candidate inherited retinal diseases for gene therapy: Clinical and Experimental Optometry: Vol 104, No 4 (tandfonline.com) and Gene therapy for inherited retinal diseases: progress and possibilities: Clinical and Experimental Optometry: Vol 104, No 4 (tandfonline.com)
Optometry Australia provides quality assured CPD modules to accompany each issue of CXO helping members to ensure they fulfil their OBA requirements.  The latest module features 3.5T hours.
Our Institute of Excellence also has CPD hours available on AMD and gene therapy including AMD – When it's not! webcast/podcast on 18 May, MDFA webinar on GA secondary to AMD with Prof Wilson Heriot on 27 May, Dr Ayton delivering a podcast on What's new in AMD research? plus gene therapy and new treatment strategies for AMD will also be on the agenda at Optometry Virtually Connected 2021 on 18 June.
Filed in category:
Patient care & management
,
Research & surveys
Tagged as:
AMD
,
Future
,
International
,
Patient management
,
Universities