Read time:

1:30min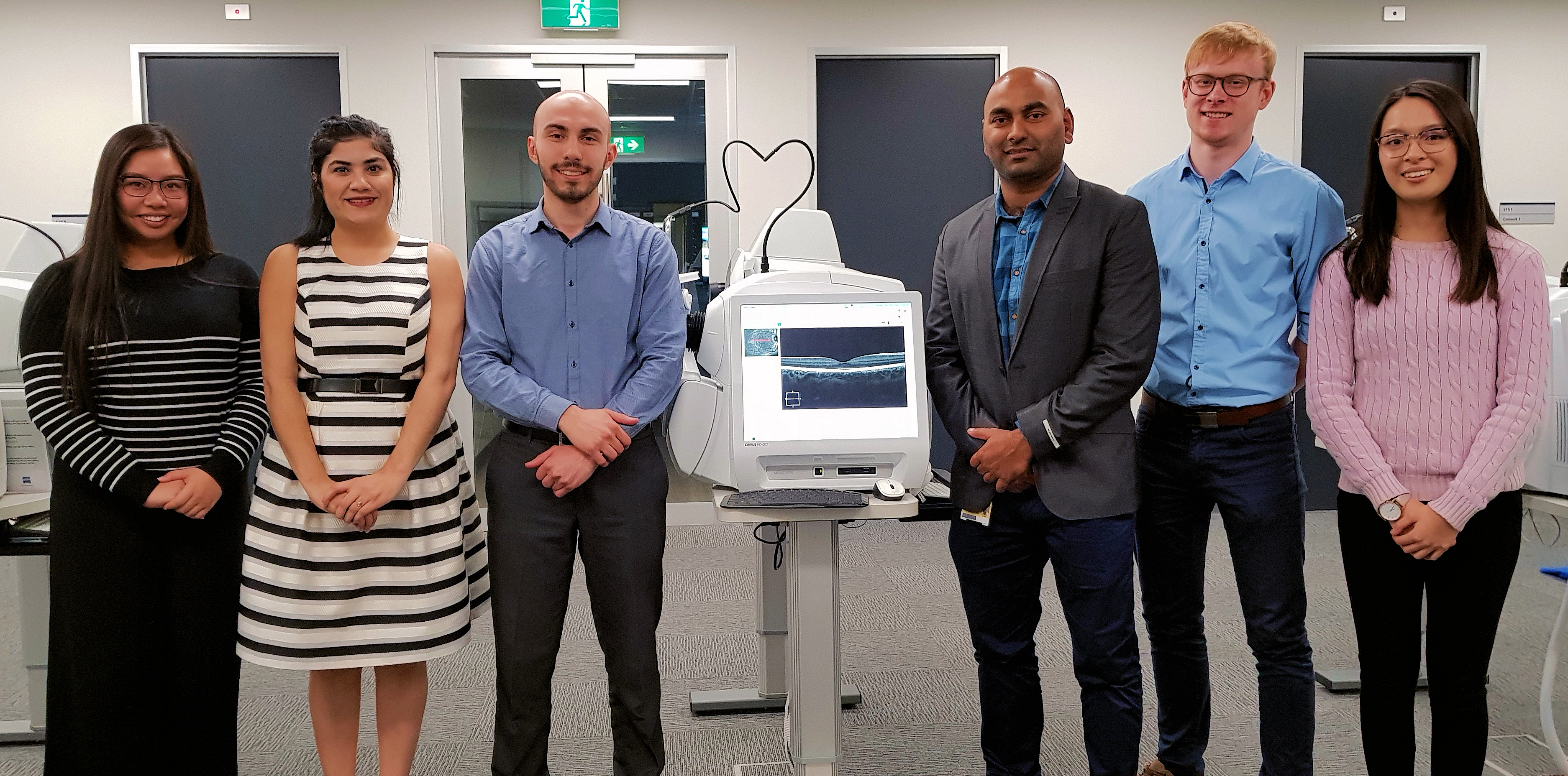 Dr Ranjay Chakraborty and his team of optometry student researchers at Flinders University (L-R): Vy Lam, Simran Sarin, Daniel Moderiano, Dr Ranjay Chakraborty, Sam Hobbs and Michelle Do.
_____________________________
By Helen Carter
Journalist
Reading and doing 'near' work in the morning may promote the development of myopia faster than reading in the evening, an Australian optometry team has found.
The research was led by optometrist Dr Ranjay Chakraborty, a senior lecturer in Optometry and Vision Science at Flinders University, Adelaide. He presented findings of the small study at the Association for Research in Vision and Ophthalmology (ARVO) 2018 conference in Hawaii in April.
The paper, entitled 'Time of day influences response to optical defocus in human eyes,' was selected as a 'hot topic' at ARVO, and was part of the ARVO press release on new advances in human myopia research.
Dr Chakraborty teaches visual optics and anatomy of the eye and has been researching myopia for six years now. His research team for the study included fourth year optometry students, Michelle Do, Sam Hobbs, Vy Lam, Daniel Moderiano and Simran Sarin.
'Prolonged near tasks and reading may cause myopia. We wanted to find out if the time of day influenced the eye's response to visual blur that it experiences during reading and near work, leading to myopia. This research may help us to understand whether near activities have different impacts on the eye at different times of the day, which may be used as a preventive strategy against myopia development,' he told Optometry Australia.
'There has not been much research in this area although a study in chickens last year imposed "near work" type blur conditions on them through spectacle lenses and showed different effects depending on the time of day.
'Our study investigated these findings in humans and showed that changes in the length of the eye in response to visual blur, which causes myopia, depend on the time of the day.
'As a result, scheduling intensive reading activities in the evening, along with frequent breaks to enable distance viewing, may help prevent the development of myopia in school children, particularly those who are at risk of developing myopia due to excessive near work.
Imposed blur
Dr Chakraborty and his team imposed visual blur using "plus lenses" and "minus lenses" in 23 emmetropic individuals (people with normal vision) aged 19 to 30. The minus and plus lenses were used to artificially simulate "near reading" and "relaxed eye" type blur conditions, respectively.
Researchers compared the extent of blur from 10am to noon, and 5pm to 7pm. They studied effects of blur on axial length (length of the eye), which is important because myopia is primarily caused by an excessive increase in axial length. They also looked at the choroid tissue at the back of the eye, as myopia is associated with significant thinning of the choroid.
'Interestingly our measurements showed that, depending on the time of day, effects of plus and minus lens induced blur were significantly different,' he said.
'Anti-myopic "relaxed eye" type blur condition with plus lenses caused a greater reduction in axial length and thickening of the choroid when imposed in the evening than in the morning.
'In contrary, pro-myopic "near reading" type blur with minus lenses led to a greater increase in axial length and thinning of the choroid when imposed in the morning than in the evening.  
'We don't know the exact reason underlying the changes in axial length, but they appear to be associated with the changes in the choroid,' he said.
Interaction with daily changes
Dr Chakraborty said that axial length of the human eye is not constant or fixed throughout the day but experiences small daily (natural) fluctuations such that the eyes are slightly longer during the day and shorter at night. These are really small changes in context of human eyes.
'These natural daily fluctuations in axial length may be influencing the response to imposed visual blur, depending on the time of the day,' he told Optometry Australia. 'It appears that pro-myopic "near reading" type blur may be more detrimental in the morning and hence bad for myopia. Therefore, reading more in the evening than the morning may lessen the detrimental effects, so scheduling reading in the evening may help slowing the progression of myopia. Of course, answering this particular question requires much more direct and comprehensive research in children.'
The study was conducted in adults but most people, if going to develop myopia, would have developed it by this age. The researchers now want to study young children to see if there are similar or larger changes as this age is most susceptible to myopia because their eyes are still developing.
'This is also the age when kids are doing a lot of school work and reading, and have a lot of screen time,' Dr Chakraborty said.
Time of day for treatment
Also investigating time of day and myopia is Dr Pauline Kang from UNSW who also presented her findings at the ARVO conference.
'Dr Kang is looking at giving atropine eye-drops as a treatment to reduce myopia progression in children. She is comparing whether installing atropine at different times of the day have differential effects on eye parameters and myopia progression,' Dr Chakraborty said.
Dr. Chakraborty along with a team of internationally acknowledged leaders in eye and circadian rhythms recently published a review article in Ophthalmic and Physiological Optics journal about how disruptions in circadian rhythms may lead to myopia.
_____________________________
Filed in category:
Patient care & management
Tagged as:
Myopia