Read time:

1:30min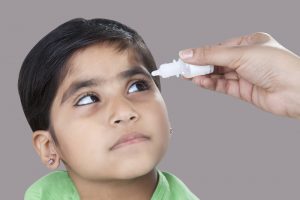 By Jeff Megahan, Pharma Editor, and Helen Carter, journalist
Therapeutically endorsed optometrists who prescribe eye-drops for myopia have been urged to clearly label the script 'MUST BE COMPOUNDED' following incidents of Australian children receiving the wrong eye-drops from pharmacists.
Pharmaceutical Defence Limited (PDL), which provides professional liabilities insurance cover to pharmacists, told Optometry Australia that it was aware of cases last year and again this year where patients had wrongly been dispensed Atropt eye drops 1% instead of atropine 0.01%.
Atropt 1% is the only commercially available strength of atropine eye drops in Australia and is used before surgical procedures or eye examinations to dilate the pupil, for diagnostic use, uveitis and amblyopia therapy. The lower dose atropine 0.01% is used to stop or delay myopia progression and must be compounded by a pharmacy equipped to provide sterile compounding services.
PDL's professional officer, pharmacist Gary West, said that in all of the cases reported to it where patients had received the wrong eye-drops, the words 'TO BE COMPOUNDED' had not been written on the scripts from optometrists and ophthalmologists.
'Prescribers including a direction for the medicine to be compounded on the prescription is a key point,' Mr West said. 'The other issue leading to confusion is that pharmacists are probably not as aware as they should be that the lower dose atropine is being used to delay myopia progression.
'We are concerned about this so we initiated discussions with the pharmacy profession last year and have alerted optometrist and ophthalmologist associations, and it settled down but then more cases surfaced this year.'
Verbal direction insufficient
Mr West said that simply telling parents to take the script to a compounding pharmacist was insufficient if the words 'TO BE COMPOUNDED' were not also written on the prescription. He said there had been cases where verbal instructions only were given and parents had instead taken the script to a pharmacy that did not compound eye drops, confusion over prescribing occurred and the stronger Atropt was instead dispensed.
He said PDL had recently issued another caution for members, detailing one of the cases where an ophthalmologist prescribed '0.01% atropine eye drops for myopic control for a 13-year-old.'
Computer generated script
'It is assumed that the prescribing software used by the doctor did not accommodate the writing of a strength of 0.01%, so the 1% standard script was computer generated, with an alteration to 0.01% by hand,' Mr West said.
'This alteration may have confused the dispensing pharmacist who provided Atropt 1%, which caused an 'impairment of vision' as reported by the patient's mother.
'If a changed or altered script is presented to a pharmacist, and the intended order is unclear, the prescriber should always be contacted for clarification.'
Read about atropine for myopia in Pharma
The September issue of Pharma has renewed interest in the use of low-dose atropine for the treatment of myopia. In an article, Australian College of Optometry clinical supervisor, optometrist Elise Higginbotham, states: 'To prescribe the lower dose, Optometry Australia recommends writing '0.01% atropine eye drops – MUST BE COMPOUNDED' to prevent confusion.'
Mr West said PDL had repeated its warning that 'the use of "full strength atropine" in the eye of a child may result in discomfort in the treated eye and an aversion to bright light which would often require a period of absence from school, blurriness and stinging. These effects were transient but could be quite disturbing for a child, he said.
'Many patients are unaware of compounding pharmacies and assume that all pharmacies can fill the prescription,' he said. 'If a patient goes to a pharmacist and they are not a compounding pharmacist they can direct them to one who is.'
Optometry Australia members – join us for our free upcoming myopia management webinar on September 24 where atropine will be discussed.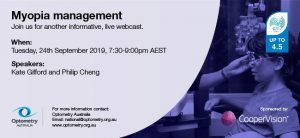 Filed in category:
Patient care & management
,
Therapeutics
Tagged as:
Myopia
,
Paediatric optometry
,
Therapeutics