Read time:

1:30min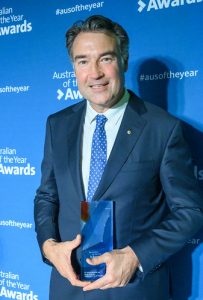 Dr James Muecke
Journalist
In a win for the eye health sector, South Australian ophthalmologist Dr James Muecke, AM, has been named Australian of the Year for 2020 and is putting diabetes on his hit list.
Dr Muecke received the accolade from Prime Minister Scott Morrison at a Canberra ceremony on Saturday night for the 60th anniversary of the awards, 20 years after eye health innovator, ophthalmologist Professor Fred Hollows received the 1990 award.
Dr Muecke co-founded Sight For All, a social impact organisation which creates low-cost programs to fight blindness through research, education and infrastructure, and raises funds to deliver eye health care projects free overseas to partner countries and communities and train colleagues there in new sight-saving skills.
'It is an enormous honour for 2020, such an auspicious year for eye-sight,' Dr Muecke told the ceremony. 'Sight for All is a far-reaching team effort.'
Volunteer optometrists
Its team of visionaries include more than 120 ophthalmologists, optometrists, orthoptists and ophthalmic nurses from across Australia and New Zealand who volunteer more than 10,000 hours a year.
They include Optometry Australia members and optometrists: treasurer and board director Gavin O'Callaghan, our Chief Clinical Officer Luke Arundel, former president Kate Gifford, former board member Steve Zantos, Paul Gifford, Damon Ezekiel, Alex Hunyor, Richard Lindsay, Jessica Chi, Ashok Bhoola and Veno Bhoola.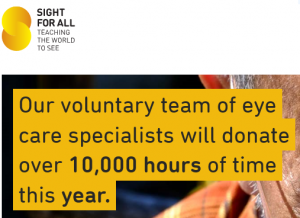 Dr Muecke donates 40 hours of personal time weekly to Sight For All, and is involved in projects in Ethiopia, nine Asian countries, and mainstream and Aboriginal communities in Australia. His leadership, determination and passion has improved eye health and helped alleviate poverty and disadvantage.
Fight against diabetes
'I'm passionate about fighting blindness and we do have a fight right here in Australia," he told the awards ceremony. 'In 2020 I'm taking the fight to diabetes.
'Type 2 diabetes is seen as a looming catastrophe for Australia – it is the leading cause of blindness in working-age Australians, the fastest growing cause of blindness among Indigenous Australians and the sixth biggest killer in Australia.
'As an eye surgeon we often see people at the end stage of their diabetes when it is too late to save their sight.
'My mission this year is to go back to the root cause of diabetes and prevent this looming health catastrophe and challenge our perception of sugar and our relationship with sugar. Sugar is as toxic and addictive as nicotine.
'To reduce blindness, we should also encourage those with diabetes to have more regular eye examinations.'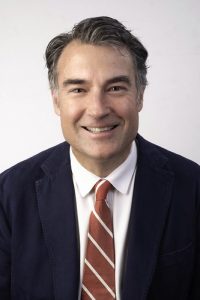 Dr James Muecke
Diabetic woke up blind
SA grandfather, Neil Hansell, said he had a typical 'she'll be right' attitude when diagnosed with type 2 diabetes aged 30 and was too busy working and being a father to worry about it.
'That was until I went to bed one night and woke up blind the next day,' Mr Hansell said in a video beamed to the awards ceremony. 'It didn't have to be this way. Let me be an example of the great work of Dr Muecke because seven years later I now have 30 per cent of my eye-sight back thanks to him.
'He is working tirelessly to help us understand the link between diabetes and blindness.'
Dr Muecke started his medical career in Kenya and in 2000, co-founded Vision Myanmar at the South Australian Institute of Ophthalmology. The $1 million program has developed and operated eye health and blindness initiatives in Myanmar. Inspired by its success, he co-founded Sight For All.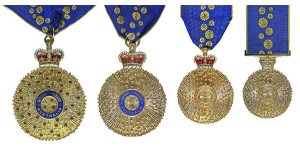 Badges of the Order of Australia for (L-R) Companion (AC), Officer (AO), Member (AM) and Medal (OAM). Reproduced with permission from the Office of the Official Secretary to the Governor-General
Other Australia Day Honours for eye health service
Others to receive awards in the Australia Day 2020 Honours List for service to eye health include:
Officer (AO) in the General Division of the Order of Australia:
Ophthalmologist, University of Sydney Professor and Chair of Ophthalmology, Save Sight Institute Director and former Editorial Board Member Clinical and Experimental Ophthalmology, Professor Peter Joseph McCluskey, Homebush, for distinguished service to ophthalmology, medical education, eye health organisations, and the community.
Medal (OAM) of the Order of Australia in the General Division:
Ophthalmologist Dr David Workman, East Melbourne, for service to ophthalmology including as former Head of Clinic at the Royal Victorian Eye and Ear Hospital and Maroondah Hospital, and to international relations including the Sumba and East Timor eye programs. Dr Workman is currently designated aviation ophthalmologist with CASA.
Mr Inderjit (Indy) Singh, Pymble NSW, for service to the international community through eye care programs. He is founder, manager and financial supporter, since 2012 of Vision Beyond Aus which has funded and organised over 37,000 eye surgeries for financially disadvantaged people in Myanmar, Cambodia, Nepal and India.
Mrs Janette May Miller, New Town Tasmania, for service to people who are blind or have low vision. Mrs Miller has been a volunteer radio presenter for RPH Print Radio Tasmania, formerly known as Radio for the Print Handicapped, since 1978 and was station manager for 13 years.
Mrs Daliah Moss, Broome WA, for service to international eye health programs, and professional organisations. A former director of external affairs with the Royal Australasian College of Surgeons, she managed programs in the Asia/Pacific including the East Timor, Sumba and Pacific Islands eye programs.
Founder and president of Achilles Running Club Canberra, Mr Edward Peter Ralston, Kaleen ACT, for service to sport for people who are blind or have low vision.
Member (AM) in the General Division of the Order of Australia: 
Blind Citizens Australia president Mr John A Simpson from Euroa, Victoria for significant service to people who are blind or have low vision. Mr Simpson is currently chair, Independence and Participation Committee, Vision 2020 Australia.
Filed in category:
Sector news
Tagged as:
Awards - honours - grants-bursaries