Read time:

1:30min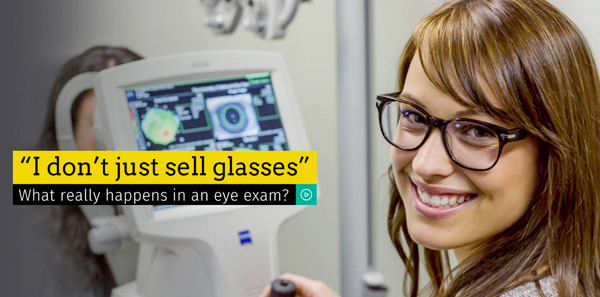 By Kerry I'Anson
National Marketing and Brand Manager
The addition of videos to the Good vision for life campaign in February is highly successful in delivering motivational eye health messages in a short, sharp and emotive format.
At the end of April, consumers had watched more than 850 hours of campaign videos on Optometry Australia's YouTube channel.
More than 188,000 views were recorded, of which 67,500 were generated from Facebook.
The campaign's four 15-second videos generated the most views with the One-in-five children video being viewed almost 150,000 times, followed by UV protection 21,000 times.
Working with media buying agency, Media33, Optometry Australia will test two of these campaign videos in a cinema before the end of this financial year.
This will determine audience reaction to the videos to help us decide whether we include cinema in our channel mix for the financial year 2018-2019 instead of television advertorials.
We are also delighted that Optometry Tasmania will be screening one of our videos, Amazing Camera, on Channel 10 over the next few weeks.
The Good vision for life campaign is now in its eighth month since launching and the majority of core campaign components are wrapping up for this financial year with pay-to-click (or Google Ads) due to conclude at the end of May.
We continue to deliver a geo-targeted digital campaign promoting 36 member metropolitan practices and a geo-targeted print campaign promoting 12 member rural practices. These practices were the first to purchase a 12-month subscription to the MyHealth1st online booking solution and received the advertising packages as part of a member promotion launched in January.
The media plan for 2017-2018 is being finalised, with the results of all campaign components to date being reviewed.
Compared to major health campaigns such as that undertaken by RACGP, our budget is modest so we need to ensure that we are reaching the majority of our target audience with the right mix of channels and advertising tools.
This year's campaign mix included the following components and results at the end of April:
Website: visitors to goodvisionforlife.com.au will tip over to 100,000 in May and Find an optometrist search page views will reach over 3,520.
The Good vision for life Facebook page: now sitting at 4,220 followers and growing at 530 per month on average. The average reach of posts is 80,000.
Consumer newsletter: the first issue launched in April. We encourage all members and their patients to sign up to this informative monthly e-publication.
Videos: four 15-second videos, and a longer video highlighting what to expect when visiting an optometrist, are generating exceptional views.
Radio: regularly reaching a monthly audience of five million on the Auestero network.
Television: extended interviews on Channel 7's The Morning Show and The Daily Edition put our messages in front of 295,000 viewers per month when screened.
Digital: attracting 1.62 million monthly average impressions comprising 1.47 million display and 154,000 pay-per-click impressions. Since the launch, 75,000 people have clicked on our advertisements.
The campaign has recorded excellent traction among consumers since launching, as highlighted in the Campaign Report Card.
Filed in category:
Uncategorised