Read time:

1:30min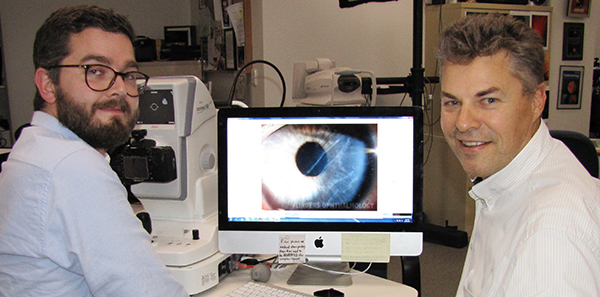 Flinders researchers Dr Owen Siggs (L) and Professor Jamie Craig   Photo: Flinders University
_____________________________
By Helen Carter
Journalist 
Congenital glaucoma
Flinders University ophthalmology experts have joined US colleagues to discover a new genetic cause of primary congenital glaucoma.
Children usually develop a more aggressive form than older people and require multiple operations and lifetime daily eye-drops.
Flinders research leader, ophthalmologist Professor Jamie Craig, said the study used samples from around the world to link the disease to mutations in the TEK gene which can lead to a poorly formed or absent cell-membrane receptor protein for proper development of a drainage channel, leading to elevated eye pressure over time.
He said the study paved the way for a new genetic test for children and families with childhood glaucoma, gave new reproductive options to families with a history of the disease, and a pathway to better treatments for adult and childhood glaucoma.
Podcasts
Ophthalmologist Dr Colin Chan's three-part series on Ocular therapeutics: lessons I've learnt the hard way, is the latest in Optometry NSW/ACT's Ten Minute Tutes podcast series.
Dr Chan is from the Vision Eye Institute in Chatswood and Southern Ophthalmology, Kogarah.
Australian Prescriber online only
Australian Prescriber, a free, independent peer-reviewed journal providing commentary and the latest news on drugs and therapeutics for health professionals, is now published only digitally.
The June issue can be accessed on Australian Prescriber's new website.
The journal was first published in 1975. Domestic distribution remained stable around 53,000 printed copies, which its editorial executive committee believed was the largest circulation of any medical journal in Australia.
Diabetic retinopathy
Intensive glycaemic control halves the risk of diabetic retinopathy in people with type 2 diabetes, a study in Diabetes Care shows.
The ACCORDIAN study followed 1,310 people from the earlier ACCORD study and found the risk of diabetic retinopathy was reduced to half in those with tight blood sugar control four years after they stopped therapy.
Tight control reduced glycaemia to near normal levels (average 6.4 per cent AIC) compared with 7.7 per cent for those on standard therapy. Intensive therapy also cut retinopathy progression by about one-third as diabetic retinopathy advanced in 5.8 per cent on intensive therapy compared with 12.7 per cent on standard therapy.
Lead author Dr Emily Chew from the National Eye Institute said the study sent a powerful message to those with diabetes that well-controlled blood sugar had a positive, measurable and lasting effect on eye health.
Researchers said fenofibrate, which is approved in Australia for diabetic retinopathy, might be worth taking to control diabetic retinopathy progression.
Heart drug for DME
A drug for cardiovascular disease may in future reduce diabetes related blindness and be an alternative to injections for diabetic macular oedema, UK researchers claim.
The researchers, in partnership with GlaxoSmithKline, found that Darapladib inhibits an enzyme which is increased in people with diabetes and causes blood vessel leakage in the eye, leading to retina swelling and severe vision loss.
They said regular eye injections of existing treatments were not effective for about half of DME patients but Darapladib in tablet form had the potential to reduce the need for monthly injections and protect against vision loss in a wider group of patients with diabetes.
The researchers are planning a clinical trial.
Volk imager
Volk Optical has upgraded its Volk iNview portable fundus camera, expanding the range of device compatibility to include the iPhone SE, and improving app and internal optics for better imaging.
The latest app version is available for free download from the Apple App store by searching Volk iNview.
Volk is offering free upgrades of the lens attachment hardware to existing Volk iNview owners to improve image quality.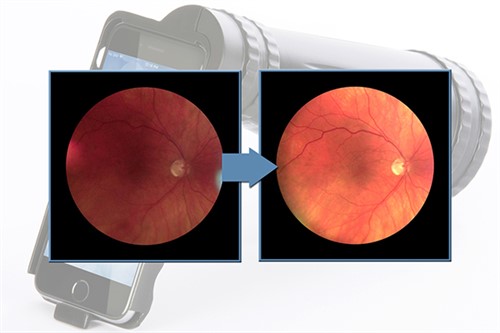 Filed in category:
Uncategorised