Read time:

1:30min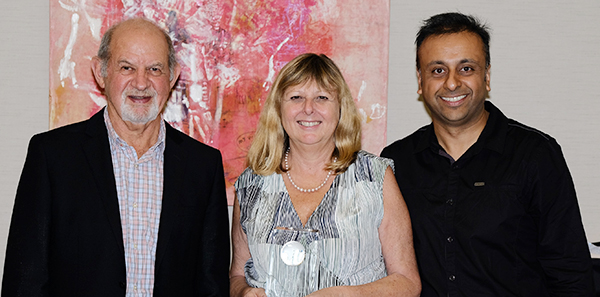 Professor Deborah Sweeney receives the IACLE award from president Dr Shehzad Naroo (R) after a tribute from Professor Desmond Fonn   Image: IACLE
______________________________
By Rhiannon Riches
Assistant Editor
Australian educator and researcher Professor Deborah Sweeney has received a Lifetime Achievement Award from the International Association of Contact Lens Educators (IACLE).
Following a tribute from Professor Desmond Fonn, who had received the inaugural IACLE award for lifetime achievement, IACLE president Dr Shehzad Naroo presented the award to Professor Sweeney at the IACLE Congress on Contact Lens Education in Hyderabad, India on 9-10 September.
Professor Sweeney is Pro Vice Chancellor Research and Innovation at the University of Western Sydney.
Her contribution to global contact lens education includes serving as IACLE president from 2000 to 2011, and as secretary and treasurer for 10 years, having first become a member in 1990.
She has held executive roles at the Cornea and Contact Lens Research Unit, School of Optometry and Vision Science, University of New South Wales, the Cooperative Research Centre (CRC) for Eye Research and Technology, and Vision CRC.
Dr Naroo was reported to have said in a media release that he credited Professor Sweeney for being able to take IACLE through turbulent times.
'Through her renewed vision IACLE rose into the global model for eye care education. Debbie is a deserved recipient of this award, which is the highest accolade offered by IACLE,' he said.
'Debbie took over from the late Brien Holden, who was IACLE president from 1991 to 2000. Des Fonn was vice-president for 15 years and served during both former presidencies. It was this remarkable trinity that moulded IACLE to its current form. They created a global organisation that has reached all corners of the world, currently has more than 800 members, and has helped raise the standard of contact lens education and promote the safe use of contact lenses worldwide, in partnership with industry,' he said.
The IACLE congress attracted more than 100 contact lens educators and industry representatives from more than 20 countries. The event preceded the second World Congress of Optometry in Hyderabad on 11-13 September.
Filed in category:
Uncategorised