Read time:

1:30min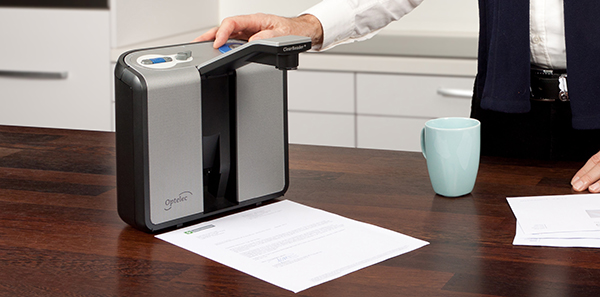 Image: Macular Disease Foundation Australia
______________________________
By Helen Carter
Journalist
The government will be urged to establish a national program to fund low vision aids and equipment after a report has found cost is a major barrier preventing older Australians from using the technologies.
Macular Disease Foundation Australia will urge Health Minster Greg Hunt to establish a nationally funded, accessible, affordable and consistent low vision aids and equipment program to replace current state and territory government programs which are highly variable and in some cases non-existent.
The report recommends that health insurance policies provide financial support for low vision aids, and features personal accounts of how different aids have helped people.
The Australia-first review of evidence for low vision aids, equipment and assistive technologies to enhance vision performance, and support independence and quality of life, found cost was the main hurdle stopping access, especially for those most in need, about 100,000 older Australians with vision loss and blindness.
The foundation and the George Institute for Global Health produced the report, which was released today.
The review documents the value and effectiveness of low vision aids and technologies, highlighting benefits including enabling people to connect and engage with the world, maintain independence and enhance quality of life.
Many missing out
Macular Disease Foundation Australia CEO Julie Heraghty said low vision aids, ranging from simple magnifiers or specialised lighting to adaptive technology, could transform the lives of people with sight loss, helping them to live fulfilling, independent lives.
'Currently, the vast majority of people in Australia with sight loss have great difficulty affording or accessing these aids. This needs to change,' she said in a media release.
'While successive governments are to be commended for subsidising registered sight-saving drugs to avoid vision loss, unfortunately many older Australians who are vision impaired or blind are repeatedly missing out on the support they most need: low vision aids and technologies.
'Recommendations proposed in this report are financially achievable and the foundation will be urging the new Minister for Health to provide older Australians, who are locked out of the National Disability Insurance Scheme, the funding and a mechanism to be able to access the support they so desperately need and deserve,' she said.
Initial estimates of a federally-funded program indicate the cost of implementation and evaluation would range from $30 million per year with 30 per cent uptake, to $49 million a year with 50 per cent update.
These estimates are based on a suggested annual allowance of $667 to $2,400 per person per year, depending on vision assessment.
The foundation said that responsibility for a funded equipment program to ensure affordability of aids and technologies had been shuffled between state and federal governments for more than a decade, between numerous portfolios in health, ageing and disabilities, before falling between the gaps of aged care and disability reforms.
Inadequate co-management, Medicare reimbursement
The report also identified other barriers to access, including highly fragmented services, inadequate referral pathways and inadequate co-management plans between eye-care practitioners and low vision services, along with poor consumer information and knowledge about services.
It said optometrists were well placed to provide clinical low vision services within the primary and secondary levels of care in Australia but this 'rarely happens.' Two barriers were lack of confidence among optometrists to provide these services, and inadequate remuneration for the time needed for low vision assessment and prescription of low vision aids.
'Optometrists could have greater involvement; however, a combination of factors including expertise and minimal Medicare reimbursement limit the ability to provide the service,' the report stated.
'Recent studies have shown that the majority of low vision patients with AMD, diabetic retinopathy or glaucoma seen by optometrists are referred directly to ophthalmologists.'
Optometrists and GPs referred people with low vision to ophthalmologists 97 per cent of the time, and rarely to low vision services regardless of the underlying condition, despite the fact that ophthalmologists typically do not provide low vision services.
'The end result is a missed opportunity for early access to low vision services and the benefits of learning how to use low vision aids before vision has deteriorated too much,' the report said.
'The need for increased co-operation and referral between different service providers has been identified, yet many ophthalmologists and optometrists lack awareness of the services available.
'Current models of low vision service delivery have not been adequate in addressing issues of increased prevalence and low uptake among patients, suggesting the need to invest in this sector and develop new models of care.'
______________________________
Low Vision, quality of life and independence: A review of the evidence on aids and technologies 
For a helpful guide to low vision, see optometrist Paul Graveson's six-part series:
Filed in category:
Uncategorised