Read time:

1:30min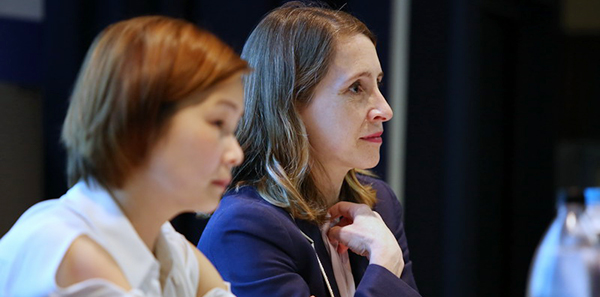 Professor Stephanie Watson (R) and Margaret Lam
______________________________
By Helen Carter
Journalist
Collagen corneal cross-linking appears to stabilise keratoconus in patients who undergo the procedure, according to early results of a world-first keratoconus registry based in Australia.
Ophthalmologist Professor Stephanie Watson has completed initial analysis of data from 1,062 keratoconic patients in Australia and New Zealand including adults, teenagers and children who had undergone cross-linking.
Cross-linking occurs when vitamin B2 (riboflavin) drops are placed on the cornea and it is exposed to UV light. It is becoming a standard treatment for patients with progressive keratoconus, and aims to stop the condition worsening. In most cases, visual acuity remains the same but disease progression is halted.
'It looks like cross-linking is stabilising keratoconus and stabilising visual acuity,' Professor Watson told Optometry Australia.
'Data from patients with 12 months follow-up show that many are also gaining a letter or two of visual acuity. Patient reported outcomes have also been collected and when analysed we will be able to tell if there is a "real-world" benefit for the patient.'
Professor Watson from Save Sight Institute, Sydney, is head of the Save Sight Keratoconus Registry. With the support of Keratoconus Australia president Larry Kornhauser and the Ophthalmic Research Institute of Australia, the world-first registry was launched in 2015 to track and assess outcomes of cross-linking.
The registry will keep alive the memory of the late Betty Kornhauser in whose name the enabling donation from her son, Larry Kornhauser was received.
While clinical trials tend to exclude certain patient groups, registries track patient outcomes in the real world.
Professor Watson spoke at a Keratoconus Australia information session on the registry at the Australian College of Optometry in Melbourne on 24 October. She explained the latest developments in cross-linking and presented early results from the registry.
She said data had so far been contributed from 37 ophthalmology clinics across Australia and New Zealand, and patients were followed regardless of the treatment they did or did not have. The natural history of their keratoconus and visual outcomes were also recorded.
The keratoconus module collects and analyses real time clinical data and patient outcomes from current and emerging approaches to managing keratoconus. Cross-linking is the first keratoconus treatment examined, making the module the world's first large-scale assessment of collagen cross-linking.
Her early analysis has analysed data from 2,298 eyes of 1,228 keratoconus patients including 1,062 patients who have undergone cross-linking.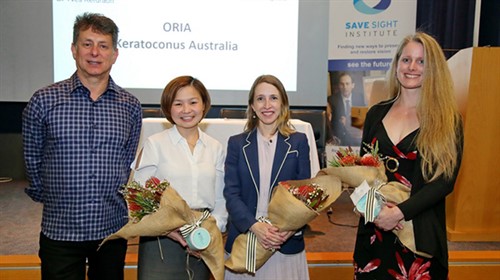 (L-R) Larry Kornhauser, Margaret Lam, Professor Stephanie Watson and keratoconus patient Michelle Urquhart
Corneal thinning
Apart from stabilising the condition, it appeared that the procedure was also thinning the cornea, Professor Watson said. 'While this is a new finding, it does not seem to have a clinical impact as cross-linking stabilises the condition and it is unlikely to impact vision.'
She said stabilising the condition meant that keratoconus would hopefully not progress to the severe stage where corneal transplant was required.
The full results of the registry are yet to be analysed. Professor Watson said that in other large clinical trials of cross-linking for refractive ectasia, some people did well and others did badly, and that the registry hoped to help determine which groups of people were more suitable to undergo the procedure, the best way to do the procedure, and those likely to benefit with good outcomes.
For example, some patients experienced too much corneal flattening post-procedure and this could continue for years after the procedure.
'We currently don't understand who should and who should not have it. We are reaching out to ophthalmologists, optometrists and patients to get them to register so we can follow them, look for answers and get data to help patients, and hopefully provide a more customised approach,' she said.
'It's a web-based registry where doctors add information about their keratoconus patients into the system and we look at trends. It's easy for them to input information.
'There are different variations on procedures: long or short cross-linking, epithelium on or off and how it is removed, eye-drops which swell or don't swell the cornea, combined with laser or without, localised cross-linking, UV light and so on.'
She said the 'gold standard' procedure used on most patients was the Dresden protocol because it had the most evidence and was the most studied.
Keratoconus Australia president Larry Kornhauser agreed that many different protocols were being used and most patients did not understand the differences between them, nor were they presented with hard evidence in support of the safety and efficacy of protocols apart from the Dresden protocol. 
Professor Watson said that in some cases, cross-linking did not work the first time so a second procedure might be needed, but on most occasions it was required only once.
Patient reported outcomes are also enquired about, including how cross-linking has affected their quality of life, and ability to drive, use computers and read. Optometrist Professor Konrad Pesudovs from Flinders University designed the questionnaire. This information has not yet been analysed.
Optometry feedback
Professor Watson said that while data input so far had been from ophthalmologists, phase two would look at how optometrists could become more actively involved. Currently, optometrists can educate patients about the registry and urge them and their ophthalmologists to participate.
'We are taking feedback from optometrists about how they would like to interact with the system,' she said.
'The registry is a helpful tool for clinicians. Anyone who practises anywhere can key in data about their patients and use the system as it is helpful for following individual patients and can generate reports which summarise practice data and compare your patient data with other patients and practices on the system at the click of a button.
'It can generate a graph that shows a patient's treatment journey; this is helpful in the clinic as it can be used to show the patient that their condition is progressing and requires treatment.'
The registry has recorded nearly 12,000 visits including those from ophthalmology clinics in Australia and New Zealand. Centres in Europe are gradually providing data.
Optometrists can find out more about the system from the Save Sight Registries website or by emailing SSI.SSR@sydney.edu.au.
Keratoconus in December Pharma 
The December 2017 issue of Pharma will provide an overview of keratoconus, from detection techniques to practical case studies, and feature a chair-side reference on corneal ectatic diseases and thinning disorders by the Centre for Eye Health.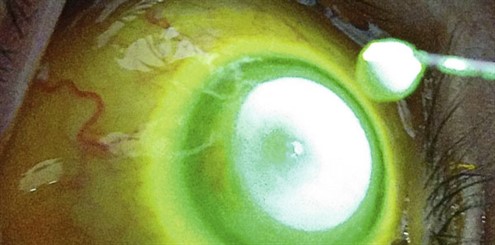 Filed in category:
Uncategorised