Read time:

1:30min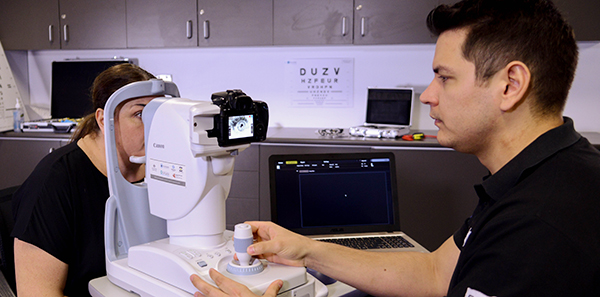 Image: Brien Holden Vision Institute
______________________________
By Philip Ritchie
Journalist
Diabetes-affected Aboriginal and Torres Strait Islanders have better options for eye conditions across Australia, in a joint effort to diversify screening and referrals in areas that need them most.
The nation-wide program, 'Provision of Eye Health Equipment and Training', funded by the Australian Government, will provide equipment to 105 locations, most of them regional, with training and support offered to primary health-care workers: nurses, general medical practitioners and Aboriginal health-care workers. With diabetes-related blindness hitting Indigenous Australians at rates 14-times higher than for non-Indigenous people, the program could make a significant impact on the population.
The program is being led by the Brien Holden Vision Institute and the Australian College of Optometry, along with Optometry Australia, the Aboriginal Health Council of South Australia and the Centre for Eye Health.
'Some patients might not be aware that diabetes has an impact on vision and eye health,' the Education Officer at the Brien Holden Vision Institute, Ms Ly said. 'We are hoping to increase the number of patients with diabetes present for their yearly eye exam and by this act help avoid potential blindness down the track.'
So far in round one of the roll-out, 17 of 35 scheduled locations had received equipment and training: seven in Victoria, 10 in New South Wales and two in Queensland, Christina said. The rest, covering Western Australia and the Northern Territory, are planned to be rolled out before the end of the year.
The remaining 70 locations, separated into two more rounds, are scheduled for roll-out starting early in 2018 with all rounds finalised by June 2019, Ms Ly said.
Funding for 35 locations is selected by the government each year, based on the state of equipment throughout Australia, the Brien Holden Vision Institute said.
Specifically, 105 Canon CR-2 digital non-mydriatic retinal cameras and two training courses, covering diabetic eye disorders and functional use and interpretation enabling referral of retinal photography, provide the bulk of the program.
The first course, targeting primary health-care workers, comprises a two-hour online course and one day of on-site training followed by a refresher from optometrists. The second is a two-hour online course teaching general practitioners how to triage retinal images. They will have ongoing feedback to hone their skills.
'The program is aiming to complement what we already have, not replace eye examinations at all. Optometrists won't be replaced,' Ms Ly said. 'Because a photograph captures only a small part of the eye and it doesn't test for all the other eye conditions, patients still need to have an eye examination. The photograph is just an entry point into those pathways.'
In addition to current equipment and training provided by the roll-out, slitlamps are being considered. 'Slitlamps at the moment are on the backburner. The priority is the retinal cameras,' Ms Ly said.
Under Medicare item 12325, Indigenous Australians will be able to receive check-ups for diabetic retinopathy once a year with general practitioners, who can then refer patients to optometrists. Non-Indigenous Australians can use the new facilities as well, with check-ups covered once every two years, under Medicare item 12326.
Visit the roll-out map.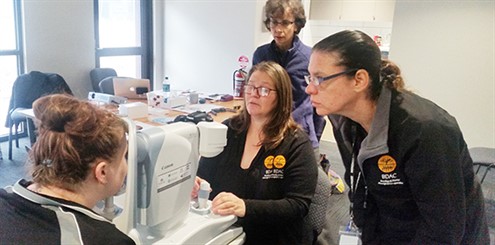 Image: Brien Holden Vision Institute
Filed in category:
Uncategorised