Read time:

1:30min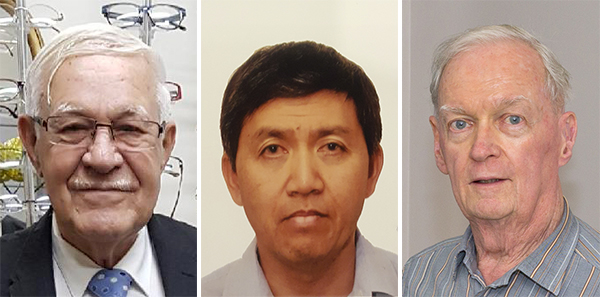 (L-R) Graham Fist, Mei Kok and Ian Sim
­­­­­­­­­­­­­­­­­­­­­­­­­­­­­­______________________________
By Helen Carter
Journalist
Seven optometrists from Western Australia have collectively chalked up 142 years of dedicated service to three Perth hospitals.
In this three-part series, we look at the work of Kevin Adams, Karyn Campion, Graham Fist, Rodney Hodge, Mei Kok, Ian Sim and Wilfred Tang who have helped thousands of patients during their combined contribution. All are still working part-time at eye clinics in Royal Perth, Sir Charles Gairdner or Fremantle hospitals. Their hospital service, which ranges from 21 months to 59 years, has shown the public and hospital patients and staff the valuable contribution that optometrists can make to public health.
PART 1. Royal Perth Hospital
IAN SIM
Of the thousands of patients Ian Sim has treated at Royal Perth Hospital over three decades, two in particular stand out. One was a Vietnamese refugee child whose life was changed by Mr Sim. His observations in the other patient are now helping to prevent potentially vision-threatening conditions in other people.
'Hew was nine years old and had no family,' Mr Sim told Optometry Australia. 'He was highly myopic so I fitted him with contact lenses which opened up his social and sporting life with greater freedoms. He is now a University of Western Australia graduate and senior engineer with his own family. I still see him.'
The other patient, a 21-year-old, lost an eye to Acanthamoeba. 'This orthokeratology contact lens patient was the catalyst for my involvement and subsequent presentation on the hazard of tap-water rinsing of contact lenses,' Mr Sim said. 'We thankfully have not seen another similar case in our clinic.'
One day a week for 33 years, Mr Sim has run an eye clinic at Royal Perth Hospital's ophthalmology department. The clinic goes for one to three hours and sees mainly contact lens patients but also patients with other eye conditions.
Injury, trauma and transplant
Mr Sim also sees patients post-operatively after corneal transplant and patients with eye injuries from motor vehicle accidents, injury or trauma who may require prosthetic contact lenses.
The hospital is revamping the optometry room and adding space to enable wheelchair access and a second treatment room due to an increase in providing intraocular injections.
In early 1984, while fitting out his new practice, Mr Sim was visited by optometrist David Rowe, who worked at the hospital's eye clinic, advising that the optometrist at the Royal Perth Hospital Contact Lens Clinic had left and the clinic was looking for a replacement.
'It was convenient as I was practising just 100 metres up the street,' Mr Sim said. 'I was thrown into the deep end to find my way, since most cases were quite different from private practice, and hospital routines such as flow between ophthalmologists and orthoptists had an established protocol which needed to be followed.
'In those days extra-capsular cataract surgery required sandbag post-operatively for a few days, due to large openings with sutures at variable tensions, resulting in high levels of astigmatism, and only some were resolved by selective suture removal.
'Contact lenses were relatively frequently needed post-operatively and were often difficult to manage for these patients needing extended wear and frequent hospital visits.'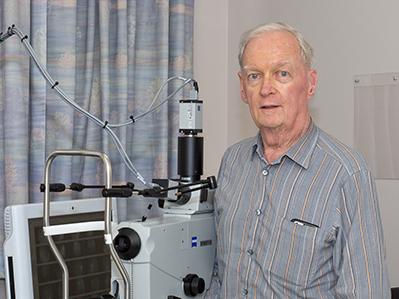 Ian Sim
Rewarding and interesting
Mr Sim has enjoyed his time at the clinic. 'Hospital optometry can be rewarding, interesting and provide experiences outside the commercial side of optometry, in conjunction with ophthalmology consultants, fellows and registrars, as well as nursing and medical students,' he said.
'You have an active role with consultant ophthalmologists and registrars and interact with them on a different level. I am planning lunch-time training on insertion and removal of contact lenses for corneal fellows, ophthalmologists and registrars because it's not something they cover during their medical courses.
'I would absolutely encourage optometrists to work in the public hospital system if they get a chance. There is a need, and it's rewarding because you see a patient profile which is totally different from that in private optometric practice.
'We hope to train young optometrists to take over the hospital roles eventually. Some have shown an interest but haven't acted because there have not been vacancies,' Mr Sim said.
Two other optometrists also run clinics at Royal Perth Hospital: Graham Fist, and Mei Kok who runs a general optometry session three hours a week.
MEI KOK
Mei Kok has been practising as an optometrist since 1984, mainly at his practice in Northbridge, Perth but he started locuming at Royal Perth Hospital in 2000.
'My role in the clinics is mainly refraction,' he said. 'I work three hours per week in the clinics and see all sorts of patients. Besides the general public we also test prisoners, inpatients, new migrants and new refugees.
'Most of the patients are recovering from cataract operations, retinal detachments or eye injuries. Other refractions are for chronic eye conditions such as glaucoma, diabetic retinopathy and macular degeneration.
'I like working in the eye clinics. I treat the locuming as semi-voluntary work. It can be challenging as sometimes we come across patients with extremes of refractive corrections or astigmatism.
'I get on well with the ophthalmologists and other clinic staff. I think more optometrists should give up some of their time to help the eye clinics in public hospitals. Although the hourly pay is not as high as in the private sector, it provides a unique experience and a break from usual routine.'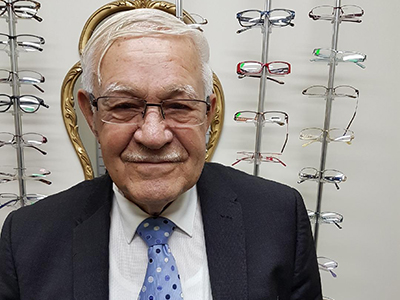 Graham Fist
GRAHAM FIST
Graham Fist, 81, is the longest-serving optometrist at Royal Perth Hospital Eye Clinic, having worked there for 59 years. He says he enjoys the work and the variety, or he wouldn't have stayed so long.
After the hospital's low vision clinic ceased 10 years ago, he began work in the general eye clinic twice a month, conducting OCT, tonometry and field tests, and seeing a variety of patients including those with detached retinas, post-corneal transplant or cataract surgery.
Over six decades he has seen many eye injuries and trauma, much of it due to alcohol-related injuries including bar fights.
'I was in the air force in 1955 when an ex air-force fellow who was an optometrist, Henry Fuller, asked me to come and observe his work at the hospital,' Mr Fist recalled. 'When he retired in 1958 I took over.
'The clinic was initially in a big hall. I saw patients for refraction before they saw the doctors. I knew how to test using the Zeiss two-times telescope.
'We would often see patients with eye injuries from broken bottles or baseball bats, and sew up the injuries and test their vision.'
In 2013, Optometry Western Australia awarded its fourth life membership to Graham Fist for decades of service to optometry and Indigenous health.
TO COME:
PART 2. Rodney Hodge and Dr Wilfred Tang from Sir Charles Gairdner Hospital
PART 3. Karyn Campion and Kevin Adams from Fremantle Hospital
Filed in category:
Uncategorised