Read time:

1:30min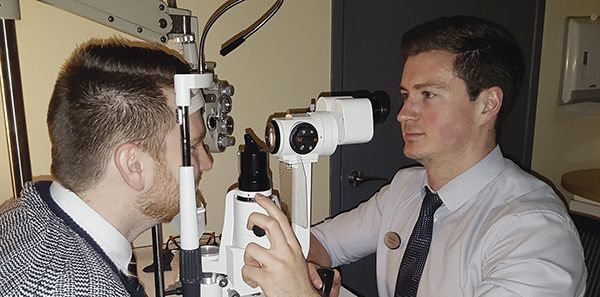 Conor Davis (R)
______________________________
By Helen Carter
Journalist
About 150 optometrists are undertaking their therapeutics qualifications online and another 42 have been the first to qualify in the Australian College of Optometry's Certificate in Ocular Therapeutics (ACO-COT).
Optometry Board of Australia figures released in June show that 41 per cent or 2,000 Australian optometrists are now therapeutically endorsed.
The ACO-COT is the first online course in Australia that enables scheduled medicines endorsement for registered optometrists. Content is delivered by an expert team of national and international presenters via flexible methods including online lectures from a panel of 30 lecturers, webinars and forums.
Participants also undertake 50 hours of clinical placement with ophthalmologists.
The ACO's general manager professional development Jolanda de Jong said candidates were from all over Australia with most from Victoria, New South Wales and Queensland.
'We have also had 13 candidates from New Zealand and we even have candidates who study the theoretical part while residing in India and China,' she said.
The first group graduated at the ACO's annual meeting in May.
Sydney optometrist Conor Davis, who started the course in April, qualified in Glasgow, Scotland in 2011, and came to Australia to practise for a change in environment.
'I am genuinely enjoying the course, and the ophthalmologists who are giving their time to do the lectures, particularly the live webinars, are great. It is a fantastic way for us to pick their brains at a more personal level than most optometrists would get a chance to do,' he said.
'I dealt with the college originally when doing my OCANZ (Optometry Council of Australia and New Zealand) exams which allow optometrists qualified overseas to practise here.
'Scotland does a post-graduate therapeutic course also that I would have done, as we do not come out of university therapeutically endorsed as new graduates do here, so I figured Australia would also have one.
'My boss was keen for me to do it as our busy Sydney CBD practice sees a lot of contact lens patients who naturally tend to have more anterior and corneal complications than non-contact lens patients.
'I was also motivated because I am relatively young with no kids at this stage and will be practising for many more decades, so I thought I would do it sooner rather than later. The part-time aspect of the course is great and gives me time to work full-time and enjoy an active sporting and social life.'
Mr Davis hopes the course will allow him to treat patients with relatively less severe conditions that he would usually refer to an ophthalmologist or eye emergency department, building in his patients better rapport and trust in him.
'While it is very important for optometrists to understand our limitations with our patients, over time with experience, with shared-care schemes and guidance from local ophthalmologists, courses such as the ACO-COT will allow a better ocular health care system for all patients Australia wide,' he said.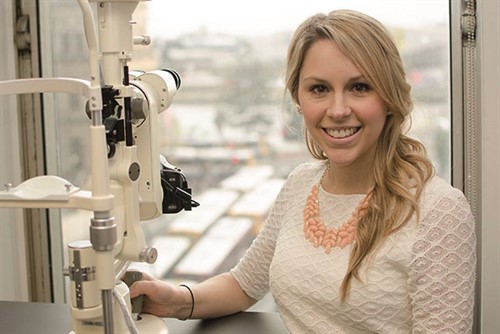 Lauren Herring
Brisbane optometrist Lauren Herring heard about the course through her employer, Optometry Australia president Kate Gifford. Lauren started the course in April and is due to finish next April.
'I was motivated to study for therapeutic endorsement as I see many contact lens wearers in our practice and unfortunately that means inevitably I see eye infections,' she said.
'As I am a recent graduate from QUT—in 2011—I have many years ahead of me in this profession so I figured I should enrol ASAP. I expect to learn a lot then put it into practice to benefit my patients with faster access to therapeutic eye care should the need arise.
'I enjoy the online format of lectures and webinars as it allows me the freedom to study in my own time and still work full time.
'Although there is no person to person contact, I don't feel isolated from my colleagues or the lectures as the online presence allows me to seek support, ask questions or generally hear about how my fellow students are managing with the study and workload.
'Flexibility is key as we all lead very busy lives. Most of us are studying while working and some have children.'
The next intakes will be in 2016. For details phone 03 9349 7477, email acocot@aco.org.au or see www.aco.org.au.
Filed in category:
Uncategorised