Read time:

1:30min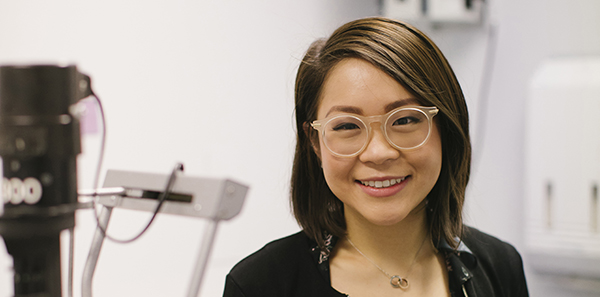 Vianh Huynh
______________________________
By Helen Carter
Journalist
Rates of glaucoma are predicted to continue to increase in coming decades and, in response, new roles are emerging for health professionals to help better manage the load.
One such role is a newly created position for optometrist Vianh Huynh at the Royal Victorian Eye and Ear Hospital in Melbourne. Ms Huynh is the hospital's Glaucoma Service Improvement and Liaison Co-ordinator.
The position focuses on addressing issues associated with the growing number of glaucoma patients now and in the future. It highlights the important role that optometrists play in public health and showcases that optometrists can have different jobs apart from working in private practice.
Ms Huynh works three days a week in this role: Tuesdays, Thursdays and Fridays. Part of her time is spent working in a multidisciplinary glaucoma clinic for patients with advanced glaucoma in collaboration with the Eye and Ear glaucoma specialists.
She likes this clinical role and patient contact.
'I really enjoy seeing patients and I encourage other optometrists to do public health work,' she said.
The main focus of this role is improving systems to optimise access to care.
'The work I do is about improving care for patients accessing the glaucoma service,' she said. 'We are working on ways to reduce the waiting times for patients needing treatment and reduce waiting lists.
'We're also trying to create more capacity within the service as we expect a greater demand in tertiary care with the ageing population.'
Ms Huynh said patients with lower risk glaucoma or who are being monitored as glaucoma suspects may not need to be seen within the hospital system and could be safely monitored by their optometrist.
Her role was created to enable development of effective pathways of collaboration between optometrists and the hospital.
'We plan to engage community optometrists to participate in shared care with the hospital,' she said.
'This will help facilitate collaborative management for the patient between ophthalmologists and optometrists.
Glaucoma to increase
Ms Huynh said that by 2030 the rate of people with glaucoma or ocular hypertension was expected to double from the rate in the year 2000, partly due to the ageing population.
'We're trying to ensure patients are seen by the most appropriate provider based on the severity of their condition as we're finding there is a considerable proportion suitable for optometric care, with periodic review by an ophthalmologist for higher risk patients,' she said.
Patients from across Victoria are seen at the hospital's glaucoma clinics.
'Health care is expensive and patients with glaucoma require care and interventions for the rest of their lives,' she said. 'It's rewarding because we're trying to increase accessibility for those who really need it.' 
Filed in category:
Uncategorised