Read time:

1:30min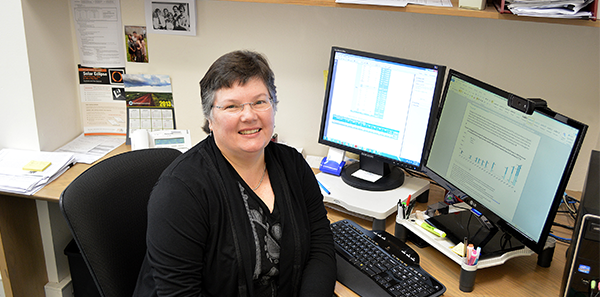 ______________________________
Thirty years ago this month, Patricia Kiely became the first female optometrist in Australia to receive a PhD.
The achievement was ironically 100 years after Bella Guerin became the first woman to receive a degree of any sort from a university in Australia, from the University of Melbourne.
Dr Kiely becoming a Doctor of Philosophy was not celebrated with fanfare but it was quietly mentioned in the University of Melbourne's science faculty minutes that a female optometrist had received a PhD.
Australian Optometry recorded the achievement, with a headline proclaiming her 'Optometry's First Lady'.
She was also the optometry department's first tutor, and the first woman to hold an academic role in the department.
'Now, you do not bat an eyelid when a woman receives a PhD,' Dr Kiely said. 'Half of the profession is female so it makes sense that many more women in optometry have their PhDs now.
'It was a male dominated profession back then. There were six women in my final year and 17 men.'
At the University of Melbourne's Department of Optometry and Vision Science, of the 123 people who have gained their PhD from the department, 57 people or 46 per cent have been female, although many are not optometrists.
Department head Professor Algis Vingrys said that from 1992 to 2013, 56 per cent (31 of 55 candidates) who achieved their PhD in the department had been female.
'Women represent 46 per cent of all candidates undertaking doctoral studies since the start of the Research Higher Degree program in the department and this percentage has been slowly increasing to reach 60 to 67 per cent in the past seven years,' he said.
Seventy females have received a PhD from the University of New South Wales School of Optometry and Vision Science. The first was Dr Tailoi Chan-Ling in 1987.
In 1992, Christine Wildsoet became the first female optometrist to receive her PhD in Queensland, from the University of Queensland. Katrina Schmid was the first female optometrist to graduate PhD in 1994 from Queensland University of Technology. QUT has had 20 female optometry PhD graduates since 1994.
After Dr Kiely finished her optometry degree, she decided her interest lay in research and academia.
'A PhD was just what I wanted to do. I didn't do it because no other woman had done it before,' she said.
'Senior lecturers Leo Carney and George Smith were my supervisors as well as being wonderful mentors. Leo had some ideas for projects and I chose one of those,' she said.
Her PhD, received under her married name Poropat, was entitled 'Corneal geometry: stability, variation and optical significance'.
'This used a part of optometry I particularly enjoyed, optics, and gave me the opportunity to use that knowledge,' she said.
To support herself while studying, Dr Kiely worked part-time as an optometrist at John Nathan's Collins Street practice, and supervised practical classes and student clinics at the university.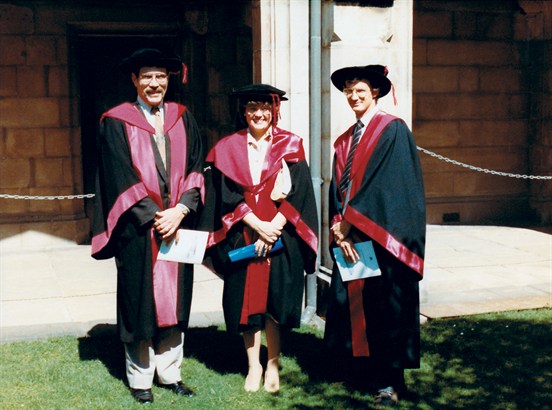 PhD graduation day, December 1983: Patricia Kiely with George Smith (L) and Leo Carney
She married halfway through the doctorate. 'My family and my husband Milan were very supportive and people in the department, particularly Leo's laboratory, were great,' she said.
She submitted her thesis in 1982, it was passed in 1983, and the degree was conferred in December 1983 when she was pregnant with her first child, Stephen, who is now a PhD in palaeontology.
Over the next few years, Dr Kiely had three daughters and continued to work part-time.
'Having that opportunity has opened doors in research and teaching and my role at Optometrists Association,' she said.
She has conducted NHMRC-funded research studying refractive error in monkeys with Sheila Crewther, David Crewther and John Nathan, and worked at the National Vision Research Institute. She also conducted ARC-funded research at La Trobe University, where she taught undergraduate laboratory classes in behavioural neuroscience.
Her other roles include working for the Optometry Council of Australia and New Zealand, and as executive officer of the Australasian College of Behavioural Optometrists.
In 1991, Dr Kiely started at the Optometrists Association as a research officer. She is now the standards and research adviser in its policy section, helping to improve career and life opportunities for the optometrists of today and the future.
In this role Dr Kiely, who enjoys crunching numbers and statistics, writes guidelines and practice standards such as the competency standards and infection control guidelines for optometrists, co-authors workforce studies, and analyses Medicare statistics and other information to assist the policy section.
'Having a PhD has enabled me to do a wide range of things because it trained me in skills such as searching and evaluating the literature, research techniques and scientific writing,' she said.
Filed in category:
Uncategorised