Read time:

1:30min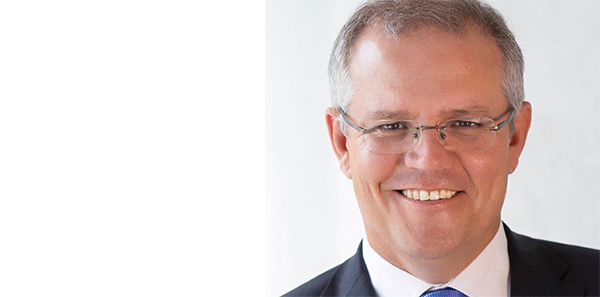 Federal Treasurer Scott Morrison
______________________________
By Rhiannon Riches
Assistant Editor
Making optometry services sustainable for patients who can't afford out-of-pockets costs is at the core of Optometry Australia's submission to the 2016-2017 Federal Budget.
In its pre-budget submission, Optometry Australia is seeking the introduction of a bulk-billing incentive for concession card holders and people younger than 16 years.
This would bring optometry billing practices in line with those in general medical practice and diagnostic imaging, which have this incentive. It would also preserve the bulk-billing of optometry services for those patients who cannot afford an out-of-pocket expense.
Following comment from meetings with numerous government and opposition members in October last year, Optometry Australia has amended its advocacy approach to better align with the government's position on patients contributing to their health-care costs where possible, and with existing policies in place to support those on low income to access bulk-billed care.
Adjusting the Medicare Benefits Schedule (MBS) to allow an increase in frequency of eye examinations for people aged over 40 years is another key objective that Optometry Australia is seeking from the Australian Government.
The organisation is emphasising the vital importance of increasing the frequency of comprehensive eye examinations from every three years to every two years for people aged from 40 to 64 years.
The Abbott Government introduced legislative changes to the MBS effective from 1 January 2015, which changed the frequency of Medicare-covered eye examinations from every two years to every three years for all patients under 65 years of age.
Optometry Australia believes there is no good evidence supporting this and argues that it runs counter to best practice eye care.
Optometry Australia CEO Genevieve Quilty said government expenditure on primary eye care through the MBS had decreased by $29.8 million in 2015 compared to the previous year, and that in real terms the decrease was even greater given that MBS rebate fees were not indexed to reflect increasing costs of providing eye care.
On average, indexation added a further two to three per cent to a patient rebate per year.
Calling for the reinstatement of annual indexation of MBS fees for optometry services, aligned with CPI, is another key request that Optometry Australia makes of the government in its submission to the Federal Budget.
Ms Quilty said that reinstating annual and fair rates of indexation was crucial to the sustainability of optometry services in many areas.
Optometry Australia's pre-budget submission, titled Eye care for every Australian, continues to highlight that the past two Federal Budgets have made changes to the MBS that impacted both positively and negatively on the optometry sector and patient access to care.
Removing the cap on fees optometrists can charge for their services, introducing new MBS items for telehealth and foreign body removal, and increasing from two years to one year the frequency of eye examinations for people aged 65 years and older have been welcomed by the profession.
Conversely, a five per cent cut in the patient rebate for optometry consultations under Medicare, extending the freeze on MBS indexation to July 2018, and extending the period for Medicare-covered eye examinations from two years to three years for all patients aged under 65 years are threatening the long-term sustainability of primary eye care.
Ms Quilty said that Optometry Australia had a comprehensive advocacy schedule planned to support the calls made through the Federal Budget submission. She said it would be working with members in the lead up to the Federal Budget and the Federal election, to strongly advocate for these measures to be funded by the Australian Government.
The Federal Treasurer Scott Morrison is due to release the Federal Budget on 10 May.
Read the Optometry Australia submission to the Federal Budget.
Filed in category:
Uncategorised