Read time:

1:30min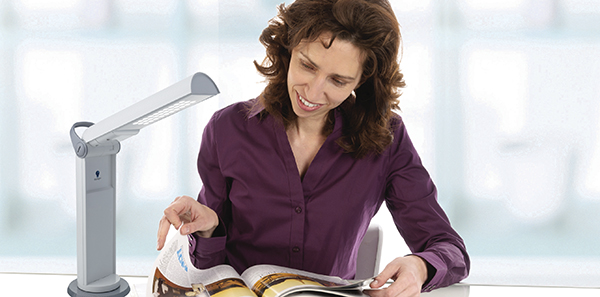 Photo: Eschenbach Optik GmbH
______________________________
By Paul Graveson
BOptom BA GradCert(Optom) PGCOT
Optometrist, Low Vision Consultant
The importance of illumination is the focus of this article, the second in my series on the fundamentals of low vision practice.
Lenses are such an integral part of being an optometrist, it's natural that we think of magnifiers first when we see low vision patients. After many years of working in low vision, I have come to realise that illumination is often the best place to start. A good rule is to give the patient as much light as they can manage without glare.
For most of us, normal room light allows almost optimal visual performance, but that's not true for eyes with pathology. Most people with low vision have significantly worse function in normal room lighting than they do in daylight, and encounter difficulty at light levels that we find acceptable. This is particularly true for patients with photoreceptor dysfunction, such as macular degeneration.
It's helpful to ask patients what effect light has on their vision. I ask 'Do you often find that you need to take things over to a sunny window to see them properly?' and 'Do you have difficulty seeing things properly when you are looking in the pantry or a cupboard?' The answer is usually 'yes' to both.
Usual home lighting is almost always inadequate for people with low vision, unless they get a lot of daylight in the room. In the evenings, with no light coming in the windows, it gets worse. Most people reading in bed use only a small bedside table lamp with relatively dim light output. When you have a patient who sees well with their new glasses at collection in your practice, but then comes back unhappy that they don't work at home, it's often their lighting that is the problem.
Most patients say they have good light at home. Occasionally they're right, at least during the day, but once the sun goes down their house lighting isn't enough. Many fall into the trap of considering only the wattage of the bulb. I often hear 'I have a 100-watt bulb on the ceiling; it's the strongest you can get.'
Illumination follows an inverse-square rule. If the bulb is twice as far away from the page, then the illumination of the page is reduced by a factor of four, while a bulb three times further away reduces the illumination nine-fold. That means a light on the ceiling or on the bedside table shines only a very small fraction of its light on the page. Even those with a proper reading lamp tend to position it behind their shoulder. To get anywhere near adequate light levels, it's essential for the bulb to be positioned close to the page, to concentrate its light where it's needed.
Every consulting room needs a positionable floor lamp right next to the patient's chair. You can use it to quickly check how a patient's reading performance and comfort improve as you bring the task light closer to the page, and it's easy to show them how dramatically the benefit diminishes as the bulb goes further away, even in a fairly well-lit consulting room. Fixed lights or spotlights integrated into the phoropter stand rarely have the positional flexibility needed.
Although the general rule is that brighter is better, there comes a point where glare is the limiting factor. A patient with both AMD and cataracts can be particularly hard to help because their macula needs more light but they are glare sensitive. Glare reduction is one of the best reasons for people with AMD to have cataract operations. Often ophthalmologists see no point in removing cataracts when the eye will still not have good visual acuity afterwards, but taking away the media opacities usually lets the patient tolerate higher light levels without discomfort glare. The key in these cases is managing patient expectations.
Sometimes yellow filters can help patients tolerate higher illumination more comfortably and they can also enhance contrast a little. The same applies for day to day environmental glare. Before reaching for the sunglasses, most AMD patients should put on a dark-brimmed hat, which reduces peripheral glare without dimming what the patient is looking at. They should keep the hat on in shops and supermarkets that have bright fluorescent lights on the ceiling. A yellow pair of glare filters and a hat are often more helpful than a pair of dark sunglasses.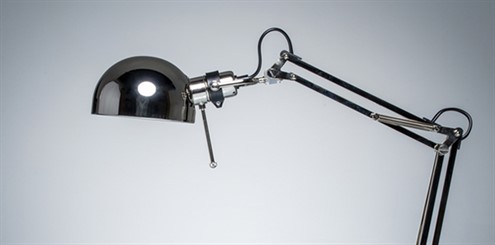 Recommending lamps
I was at a low vision conference in America recently where the lecturer said 'Task lighting is critically important. Advise your patient to go to their local lighting store and find something that suits them.' I was disappointed that it was dismissed in such a cursory manner, especially by a low vision expert. We take great care with our recommendations for lenses and magnifiers. Patients deserve a similar level of guidance when it comes to choosing a lamp.
Most optometrists don't want to carry stocks of lamps, so the next best option is to visit a local lighting shop, choose one or several models, and check with the manager to ensure those models are always in stock. You might be able to negotiate a discount for patients you send to the shop. I strongly recommend you get a demonstration model of each to show in your practice.
If you can, choose four lamps: a floor mounted task lamp, a floor mounted magnifier lamp, a desk mounted task lamp, and a desk mounted magnifier lamp. These are the features you should look for:
They should look good. It shouldn't matter … but it does. It's less important for magnifier lamps, which always look unusual.
It should be easy to position, not requiring great arm strength or dexterity. A flexi-arm continuous bend is usually the most suitable.
An opaque shade so it doesn't cause glare, even if the light is right in front of the patient's forehead.
A cool bulb so that it doesn't get uncomfortable up close or present a burn hazard. Compact fluorescent bulbs are good, as are LEDs.
A conveniently located switch that does not require too much strength. For floor lamps it might be on the shade, or the upper half of the upright, but avoid foot switches on the base.
The base should be stable, and floor mounts should be wide but thin so they can partially tuck under the edge of an easychair. Some lamps have very thick bases or are on castors that raise the base. If the base cannot slide part-way under the chair, the lamp has to sit further away, making it harder to position close enough to the page. The same applies to floor lamps positioned next to a bed.
For magnifier lamps, try to choose the widest lens you can get, and make sure the illumination is even across the page underneath. Ensure the head is easy to position for the perfect angle.
If the patient has weak arms and might find it hard to bring the lamp close to the page, consider having the standard bulb replaced with a tight-beam reflector bulb. That way the lamp can be positioned a bit further away but still concentrate its light on the one small area.
Make sure you get the correct make and model for your chosen lamps, so you can be confident your patients are getting exactly what you recommend. It's helpful to put together a leaflet for patients, where you can tick the models you are prescribing for them. Some lamps need assembling and patients might need a family member or friend to help assemble them.
Other solutions
Small pocket LED torches are excellent for carrying in a pocket or purse. They can be more effective than magnifiers for looking at price tags and labels in shops, and for locating objects in cupboards, on low shelves and in dim corners. Good quality torches for under $10 can be found in camping shops. Choose bright coloured torches instead of black, to make them easier to find.
A larger torch is useful to keep in the kitchen, for looking into the pantry and drawers. A desk lamp can be positioned over the chopping board to keep fingers safer or to illuminate a recipe book.
If a patient is prepared to have minor house modifications done, other solutions are possible. Strip lighting in the kitchen cupboards and over kitchen benches, spotlights mounted above the bed and extra light fittings in the living areas are all good solutions.
READ
LOW VISION: Part 1. Understanding
LOW VISION: Part 3. Magnification
LOW VISION: Part 5. Choosing aids
LOW VISION: Part 6. More about aids
______________________________
This series of articles has been prepared with the support of the Tasmanian Optometric Foundation. Contact Paul Graveson at admin@hobartoptometry.com.au.
Filed in category:
Uncategorised