Read time:

1:30min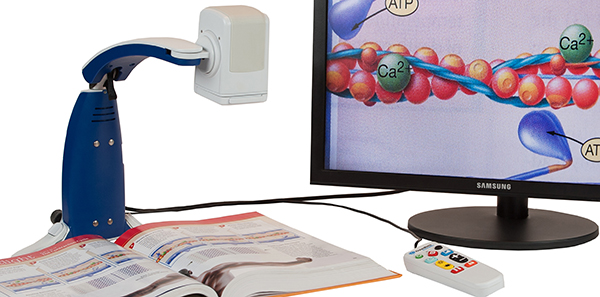 Photo: Freedom Scientific
______________________________
By Paul Graveson
BOptom BA GradCert(Optom) PGCOT
Optometrist, Low Vision Consultant
I conclude my six-part series by discussing electronic magnifiers: CCTVs, computers, tablets and smartphones.
Without a doubt, the best image quality and greatest versatility come from using electronic magnification methods, and they are rapidly making some types of optical magnifier obsolete. Although they are expensive, they help patients maintain independence and quality of life as no other low vision aid can. Many patients already have a computer, tablet or smartphone, so it's just a matter of learning to use them to their full potential.
The great thing about screen-based devices is that they allow almost unlimited optimisation of the image. It's not just that they can be set for optimal contrast; text print can be made larger or smaller as needed to match the target print. That 'zoomability' is very useful for navigating through documents, alternating between wider field of view and higher magnification, and brightness can be manipulated in tandem with contrast. In particular, the ability to reverse contrast (white text on a black background) often allows patients to use very high brightness without experiencing glare discomfort.
Taken together, these features mean electronic magnifiers are the only class of low vision aids that offer truly high speed limits even at moderate to high magnification levels, as I explained in my article on magnification.
Desk-mounted CCTVs are the ultimate document reading low vision aid. They provide a very wide field of view even at high magnification. They are ergonomically designed and are ideal for reading complex documents for long periods. Some can be connected to computers and can even scan text and read it out, which works well for block text but less well for documents like bills. Those who need only low to moderate magnification find the large field of view excellent for navigating accurately within a document, especially bills and bank statements. Those needing higher magnification appreciate the ability to fit a newspaper column within the screen width even at magnifications of 10x or more. This unique combination of high magnification and wide field of view means a desktop CCTV is the only way many low vision patients can read with comfort and pleasure.
Many of our low vision patients are elderly and less familiar with computers and high technology, although that's changing steadily as increasing numbers of computer-literate baby boomers start developing low vision. However, CCTVs are worth considering even for those who are scared of computers. Most have been designed to be extremely easy to operate, and once technophobic patients are reassured that CCTVs are magnifiers and not computers, many do very well.
Hand-held electronic magnifiers have become very popular in recent years, even among patients who could still manage with an optical magnifier. They typically have a five-inch screen and high definition optics. Patients with reasonable, high contrast acuity but a contrast sensitivity deficit (typical of early to moderate AMD) need contrast enhancement more than they need magnification, so can often see a full newspaper column width even on the small screen. This is an important factor for fluency and comfort, since the magnifier needs only to be moved up and down the column with no side-to-side motion.
Along with better ergonomic design features, such as screens that angle towards the patient, they make for a very comfortable reading experience. Even patients who have a desk-mounted CCTV will often have a hand-held magnifier as well, especially in the workplace where they can be used to read labels on packages, drawers and files, or items on noticeboards.
Alongside the dedicated document magnifiers are many apps that allow smartphones and tablets to be used as makeshift CCTVs. Although none of them has the ergonomic comfort and elegant simplicity of the dedicated magnifiers, it's hard to argue against the convenience and low cost for patients who already own a suitable device. My current favourite is the free Better Vision App, which converts an iPhone to an effective CCTV, as long as it is held steady.
On the other hand, tablets and computers are perfect devices for reading text that is already in electronic format, such as eBooks and pdf documents. They allow fast reading speeds even at high magnification.
If your patient uses a tablet or smartphone, larger screens are generally best; however, with smaller screens you can use a moderately strong add (+4.00 D to +6.00 D) to help them use it at a closer working distance, as long as they have the arm strength to keep it there comfortably. A typical 10-inch tablet held at 20 cm subtends the same angle as a 20-inch CCTV at 40 cm, which is an excellent field of view. Adds above +6.00 D are less practical, as it gets awkward for the patient to fit their fingers in to touch the screen.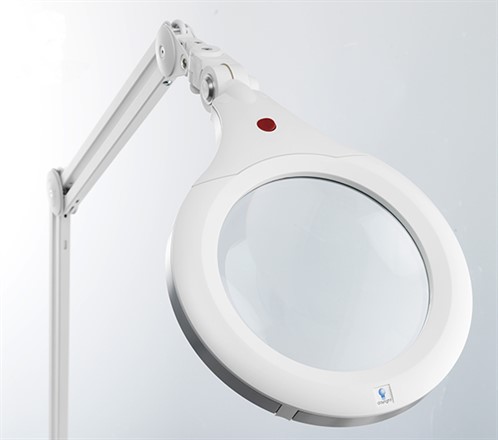 Photo: Daylight
Distance magnifiers
Patients often have trouble understanding why we can't give them stronger glasses to make distance vision better, just as we can for near vision. Again, the key is to explain that it's the getting-closer that magnifies at near, with more powerful glasses simply keeping closer objects in focus. With distance glasses, once they are in focus there's no way to improve the vision further. The problem is that their eyes are not processing that focused image properly and no extra lens power can fix that.
The simplest option is still to use approach magnification; that is, get closer. Reassure patients that they won't damage their eyes by sitting closer to the television. Buying a larger screen television might cost less than getting new glasses.
When patients really do need to see distance more clearly, it's time for a telescopic system. They are always a bit heavier than normal glasses, but modern plastic construction has helped. Eschenbach makes the very nice MaxTV which provides about 2x focusable magnification across the room in a spectacle mount, or as a clip-on to wear on the patient's distance glasses. There is also the MaxEvent, designed for use at greater distances such as sporting matches and the theatre.
A very simple and cost-effective solution is to get a small pair of good quality binoculars; camping stores and camera shops are good places to buy them. They have the advantage of not looking unusual, and the fact they can be held with both hands and stabilised against the brow makes them good options for occasional spot-viewing tasks, such as looking for the right bus number or reading the departures screen at the airport. It's important that they are easy to focus as telescopic systems all have a shallow depth of field.
Small low vison telescopes can be held in one hand. They can be relatively expensive, although no more than glasses. I find older people often have trouble getting them positioned properly, but younger people often do well, and appreciate the way they can be held inconspicuously in the closed hand.
Tiny spectacle-mounted telescopes can be mounted above the line of sight in a pair of glasses, in what's known as a bioptic fitting. The idea is that when the patient needs to see something better, they dip their head downwards a little and then are looking through the telescope, a little like the way we glance in our rear view mirrors while driving.
A newer phenomenon is people using the camera on their smartphone or tablet. The more recent devices have excellent high definition cameras and sometimes even image stabilisation. For extra stability the patient can take a photo and then zoom it up and scroll around. Even some hand-held CCTVs can now be used for distance viewing.
Cheats
In low vision, it's completely acceptable to cheat. For instance, when a patient wants to immerse themselves in a novel but can't find a suitable low vision aid, a convenient alternative can be talking books. Vision Australia has a national talking books library for people with low vision. It has a very wide selection, and books can be downloaded on to a tablet or smartphone, or played using a very simple device with large, easy buttons. Similarly, the radio makes a great low vision television.
Some patients will prefer to simply rely on other people's eyes, relying on family or friends to accompany them and look after anything that needs reading. As long as everyone is happy, then that's fine, but I encourage all patients to get at least one magnifier that they can use for simple reading in an emergency.
A recent variant on that is using a smartphone app such as Be My Eyes, in which the user can point their phone at an object and the app connects it to a sighted volunteer somewhere in the world who will describe what the device's camera shows.
Lastly, some patients will decide to find something else to do instead. It can feel like a failure, but don't be discouraged if a patient decides they'll give up reading or puzzles or sewing instead of using the solutions you offer. Being flexible is a form of strength and resilience, and if the patient has other things they'd prefer to do, that's okay. There are many sources of enjoyment in life. Your job as a low vision optometrist isn't to solve every problem, but to present an appropriately curated range of potential solutions, just as you might discuss a range of spectacle and contact lens solutions with a normally sighted patient. In the end, what the patient chooses to do is up to them.
READ
LOW VISION: Part 1. Understanding
LOW VISION: Part 2. Illumination 
LOW VISION: Part 3. Magnification
LOW VISION: Part 4. Contrast
LOW VISION: Part 5. Aids
______________________________
This series of articles has been prepared with the support of the Tasmanian Optometric Foundation. Contact Paul Graveson at admin@hobartoptometry.com.au.
Filed in category:
Uncategorised