Read time:

2:min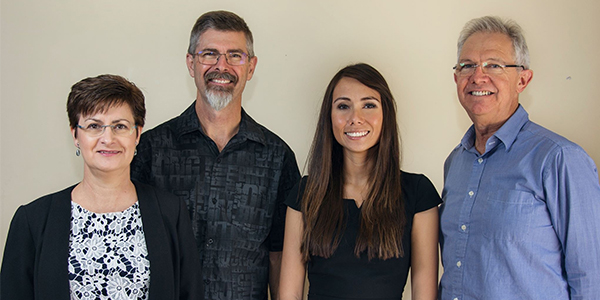 The team from Rosser Optometry, L-R, dispensers Rosanne Spratt and David Spratt, optometrist and practice owner Sophia Gerritsma and former owner, optometrist Ian Rosser 
By Helen Carter
Journalist
Sophia Gerritsma is a young optometrist who owns her own practice on the Gold Coast and loves everything about independent optometry.
'Independent optometry enables me to practise exactly the way I want from refraction and dispensing, to ocular health management,' she said. 'For example, I have a range of suppliers and can prescribe specific lenses that suit unique needs of the patient. A good example of this is in difficult prescription cases, or specialist spectacles for sports, where we have easy access to obtain premium products.
'As optometrists, being able to tailor management and care to the unique needs of the patient is paramount. I also love the variety in independent practice and the fact I get to manage a lot of ocular disease.'
Sophia graduated in optometry from UNSW eight years ago, and although Sydney born and bred, rural placements during her course with the Brien Holden Vision Institute in the Northern Territory and later in America, cemented her idea of wanting to practise in rural areas.
After graduating she moved to Warrnambool and worked for a year with Simon Routson from Penry Routson Optometrists.
'I wanted to work in a rural area because it provides good experience in prescribing and managing ocular disease,' Sophia said. 'I loved it, Simon was a great mentor and I learnt a lot but my partner, a Kiwi, didn't want another New Zealand winter so we moved north.
'Simon's advice was if you do a good job, be a good optometrist and charge reasonable prices, you will be fine.
'I then worked for the Optical Superstore in Coffs Harbour for three years and the boss and the job were both good but I missed independent optometry.'
'Speed dating' to buy a practice
Sophia attended an ODMA event where practice owners wanting to sell and potential buyers participated in a 'speed dating' type of activity, with owners spruiking their wares around tables in five-minute talks. Sophia and her partner Dave, a physiotherapist, met Ian Rosser and 'clicked.'
'His practice, Rosser Optometry, was in the Gold Coast suburb of Nerang. Dave's a surfer so the Gold Coast appealed to him!' Sophia said.
The plan enabled Sophia to buy the practice and Ian to semi-retire but continue working there 1.5 days a week, providing Sophia with help during the transition, and a second optometrist who knew the patients well, having practised there for more than three decades.
'Everything has worked really well. I've owned the practice for 3.5 years now and from the time we have taken over we have had growth of 14 per cent in new patients and overall practice growth in the vicinity of 10 per cent. Provision has definitely helped us with this.
'Provision helped us grow the practice by making marketing easy, and by giving us ideas on ways to maximise practice efficiency – anything from staffing levels, how the patient transitions from eye exams to dispensing, display areas and the list goes on. They make marketing easy by having almost everything prepared, and at the click of a button you can order in marketing materials or send them to patients.
'Buying an existing practice instead of setting up my own worked really well for me because having a stable patient base of over 30 years helped with cash flow, and I kept the practice name because it was well known.
'We were able to modernise the practice, for example by establishing a website and attracting younger patients.
Good growth from doctor referrals
'One of the biggest reasons for our growth is that I like to manage ocular disease so I established good relationships with local GPs and ophthalmologists,' Sophia said.
'I have met some and I always send reports back to them about patients so this optometrist's name keeps popping up in front of them and I guess it sticks in their mind.
'Word of mouth is another reason. I am not big on KPIs and things like that but I think no matter how busy I am, I run my practice the way I want to and that includes making sure my staff and I are always friendly, we know our patient's by their first name and ask about them and their families.
'We are a very family-oriented practice and see a lot of children too.'
Practice growth has also enabled her partner Dave, who works part-time as a physiotherapist, to now work the rest of the time as the practice's book-keeper and marketing manager.
ProVision helping optometrists at different career stages
ProVision's Retail Operations Manager Rob Ellis says attendees at O=MEGA19 in Melbourne this weekend (19-21 July, 2019) can hear from eight optometrists, including Sophia, about how ProVision has helped them maximise value at different stages of their careers.
'We will have early career optometrists who are one to ten years out from graduation, practice owners such as Sophia who are still in that young group, those over age 40 who are still wanting to grow their practice and those transitioning to retirement,' he said.
'ProVision has 463 member practices nationwide and members have increased by 100 over the past five years. Our role is to ensure we provide members with services, resources and systems to help them grow and be more competitive and profitable.
'ProVision works with members to help elevate each member's brand in their local community.
'We know optometrists provide great patient care and we support them with all they need to manage their business from marketing to inventory, staff development and education so they can provide a great customer experience.'
ProVision Stand (G14) at O=MEGA19 – hear about independent optometry from your peers.
On Saturday, 20 July from 12 noon to 6pm, ProVision invites optometrists and optometry students to visit stand G14 to hear about independent optometry from your peers. There will be early career employee optometrists and owner optometrists available to talk to you about their own career journeys and answer any questions you may have about any aspect of independent practice. Whether you're seeking clinical mentoring, thinking about ownership, looking to grow your independent practice or planning for retirement, see your peers for a chat at ProVision.
Optometry Australia has a marketing partnership agreement with Provision.
Filed in category:
CPD, conferences & events
,
Workplace
Tagged as:
Employment
,
O=Mega Vic