Read time:

1:30min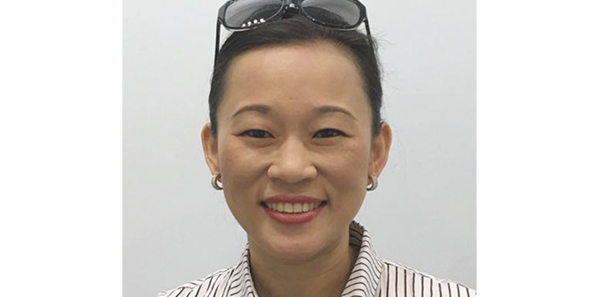 SooJin Nam
_______________________________________
By Rhiannon Riches
Assistant Editor
An MBA and a keen interest in marketing and change management have given SooJin Nam a solid foundation for her place on the Eyecare Plus board of directors.
Ms Nam was elected as a director at the group's annual general meeting in October 2016 and has been a member since 2010.
She graduated from the School of Optometry at UNSW in 2000. Two years later, she started her first practice after winning a Shell Livewire business plan competition.
'This provided me with the confidence to give business a go as a recent graduate. It seems like light years ago, but I started the first practice before the days of social media, YouTube and Google. Fortunately, the business award prize included a professional PR company to kickstart awareness of the fledging optometry practice,' she said.
Ms Nam completed an executive MBA from the Australian Graduate School of Management, which she says helped her understand how larger corporations manage and grow their businesses.
'I realised that my particular interests lay in marketing, change management and in managing people and organisations. I grudgingly completed subjects like corporate finance, economics and statistical analysis and realised how much more fun optometry was than other careers.
'I particularly developed an interest in behavioural optometry and myopia control as a result of that interest, and the brand of Eyecare Kids was born out of the MBA program. It has since been a labour of love to educate parents and teachers about children's vision,' she said.
'I provided support as a clinical supervisor at the school of optometry for three years and stopped when therapeutics became an integral part of the clinical workshops. I strongly support local optometrists, if they can, to lend their experience in nurturing our next generation of graduate optometrists.'
Business interests
Ms Nam hopes to contribute to the board in three key areas where her optometry business interests lie.
'My interests are in how to best market our unique selling point as independent optometrists so that our corporate competitors are no longer perceived as competitors; how to streamline and improve our operational systems so that it frees up time; and how to motivate, train and ensure that we have the best team in our practices,' she said.
'I had been an active member of ProVision for nine years. ProVision was great in helping me grow my business in its early stages. It was supportive and very good to work with. As my business grew, it needed to go to the next level and Eyecare Plus was able to assist in that growth stage. It was a difficult decision to make, to leave ProVision, but the time was right and with the Eyecare Plus branding, marketing support and other benefits, the decision was made to change.
'At the time my business partner Ali Khalife and I had three practices in our group. Since joining Eyecare Plus, we have grown to six practices and have been fortunate to have had multiple practices as finalists for awards in different categories such as the Best Practice Growth Award and the Outstanding Practice of the Year.
'Our practices have maintained our five-star accreditation over multiple years. Eyecare Plus has offered for a few years an amazing opportunity for international training and we were fortunate to have two team members selected to attend the Eyecare Plus – Essilor Professional Services Award in Paris.
'While we still have a long way to go, I believe that our ongoing success comes down to collaborating closely with Eyecare Plus head office, nurturing relationships with our suppliers, looking after our patients and most importantly of all, ensuring that our staff members work in an environment that brings out their best,' Ms Nam said.
'I am humbled to have been considered for the board position. This was bitter sweet in that the start of my time on the board saw the end of an era, with the retirement of Tony Hanks, founder of Eyecare Plus. Without Tony's foresight and effort, Eyecare Plus would not be the organisation it is today,' she said.
'I believe I have a lot to offer the Eyecare Plus group in navigating through these challenging times. The optical landscape is continuing to evolve and change rapidly and our future success lies in sharing ideas and working together to develop strategies that will help independent optometry grow.
'I would love to see all independent optometrists excelling in business and I believe that working together is key to our success.'
Filed in category:
Uncategorised