Read time:

1:30min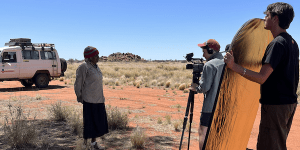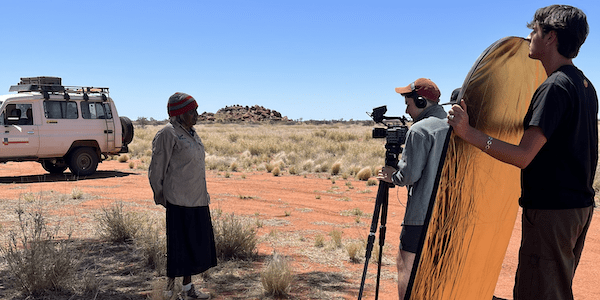 Digby Mercer (R) on location in Kiwirrkurra (remote WA) with Indigenous Ranger
Mantua Nangala and the crew from Gilimbaa Creative Agency. Image source: IEHU.
A new set of promotional resources will assist health professionals in encouraging regular eye checks for Aboriginal and Torres Strait Islander peoples across Australia.
Developed by the University of Melbourne's Indigenous Eye Health Unit (IEHU), the 'Eyecare Now, Eyecare Always' resources will support primary health care providers, including Aboriginal Health Workers and Practitioners, to promote regular eye checks and awareness of other eye conditions such as refractive error and cataract, particularly through the 715 Health Check.
The 715 Health Check is an annual health assessment that has been tailored for all Aboriginal and Torres Strait Islander people of all ages. It helps ensure they receive primary healthcare matched to their needs, and encourages early detection, diagnosis and intervention. An eye check is part of the 715 MBS assessment and includes referral for comprehensive eye care (to optometry and ophthalmology) where appropriate. All Aboriginal and Torres Strait Islander people can get this check free at Aboriginal Medical Services and bulk-billing clinics.
Associate Professor Mitchell Anjou AM, optometrist and now Director of IEHU, reports that: 'We are delighted with the new health promotion resources developed in 'Eyecare Now, Eyecare Always'.
'I think the material will be of interest and value to optometrists in practice and it is particularly important in encouraging community members to get an eye exam and for the clinic staff to screen for eye problems. The posters and brochures are bright and beautiful – printed copies are available without cost through the IEHU website in addition to the downloads.'
Aboriginal and Torres Strait Islander people are unfortunately three times more likely to experience vision loss and blindness than non-Indigenous Australians, with uncorrected refractive error, cataract and diabetic retinopathy the leading causes of this. However, all these conditions are either preventable or treatable, if detected early.
Digby Mercer, Gadigal man and Aboriginal Health Promotion Officer at the IEHU, reflects: 'It was crucial that the 'Eyecare Now, Eyecare Always' eye health promotion resources were culturally appropriate. We achieved this by developing a community-led approach centred around self-determination, voice and connections – with an Aboriginal and Torres Strait Islander Steering Group and Reference Group. This codesign process, with community participation in all aspects of the development of the resources, means that there's strength in understanding the triggers for behavioural changes for Aboriginal and Torres Strait Islander peoples to get an eye exam.'
The resources are available for download here on the IEHU website. They contain:
A brochure with information on cataract for Aboriginal and Torres Strait Islander peoples and their carers;
a flipchart and educational tool on cataract and cataract surgery for health professionals and community-based educators;
videos with key messages from Indigenous eye health heroes including chef Nornie Beri (Meriam of Mer Island, Torres Strait), ophthalmologist Dr Kristopher Rallah Baker (Yuggera, Warangy and Wiradjuri), Kiwirrkurra traditional owners and rangers, and astronomer Karlie Noon (Gamilaroi);
a variety of social media tiles that are available to download; and
posters that spotlight Indigenous eye health heroes speaking on the importance of regular eye checks.
For more information, visit the Indigenous Eye Health Unit's website at www.iehu.unimelb.edu.au.
Filed in category:
Patient care & management
,
Workplace
Tagged as:
Indigenous eye health