Read time:

1:30min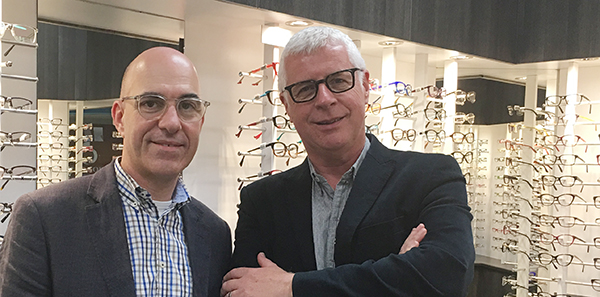 Optometrist John Palassis (L) and optical dispenser Paul Clarke
______________________________
By Rhiannon Riches
Assistant Editor
Karrinyup optometrist John Palassis discovered his fears were unfounded when he stopped bulk-billing nearly two years ago.
He and his optical dispenser business partner Paul Clarke, joint owners of Vision West in Karrinyup Shopping Centre in Perth, had thought they would lose a large percentage of patients but practice's profitability has not suffered.
'We stopped bulk-billing on 1 January 2015 following the federal government's decision to freeze our rebates and reduce the bulk-billing fee,' Mr Palassis said.
'For many years we had felt it best to bulk-bill so as to not lose patients, as the first question on the phone was often: "Do you bulk-bill?". As we see many children we did not want to put off parents bringing their children, but with the changes in 2015, it became economically unviable to continue bulk-billing,' he said.
Mr Palassis and Mr Clarke introduced private billing with the expectation that patients would pay on the day at the time of the consultation.
'As our appointments are 40 minutes in length, we believed the depth of our examination deserved a higher remuneration than the amount the government was paying,' Mr Palassis said.
'We set a fee structure that represented the length and type of appointment. For example, initial appointments attract a higher charge, new children's appointments also have a higher charge if using the 10943 item in addition to the 10910. Follow-up appointments, contact lens checks and therapeutic review appointments which are of shorter duration have a lower charge.
'We did not talk with other optometrists in setting our fees but we did use the benefits of the Optometry Australia fee setting calculator and the recommended fee schedule distributed by Optometry Australia,' he said.
The businessmen had to overcome obstacles when switching to private billing, including IT issues and communicating with patients.
'The annoying part of moving to private billing initially was that to claim the patient rebate via HICAPS meant physically swiping the patient's EFTPOS card to claim their rebate. This was time-consuming but now with the latest Sunix update, claiming is simple, smooth and takes only seconds,' Mr Palassis said.
Explaining to patients the change in billing had been another challenge.
'Being a busy practice with three full-time optometrists, the late notice the government gave us in December 2014 of the imminent changes meant we had to contact many patients who were already booked in for January and February 2015 to tell them that due to federal government fee structure changes to Medicare, we would not be able to bulk-bill their appointment,' Mr Palassis said.
'Although initially dismayed, once we explained the reasoning, most patients appreciated that our more lengthy appointments and professionalism deserved more than the rebate the government believed to be the correct remuneration for an eye test. We may have lost two or three appointments but that was about it; everyone else has kept coming back.'
The switch also revealed unexpected outcomes.
'What we did notice the most was that we no longer attracted "script-takers". In the past, due to our location near a busy shopping centre and the fact we have three full-time optometrists, we would get many patients coming to us with the intention of taking their prescription to a corporate store for "cheap" specs,' Mr Palassis said.
'When we were bulk-billing, this was obviously a loss-making appointment as even before the cuts to Medicare, a bulk-billed eye test would not have sustained the costs to run our practice. Since ceasing bulk-billing we get far fewer script-takers. This type of patient typically looking for the lowest out-of-pocket expense gravitates to the nearest bulk-billing practice, which is fine by us.'
The practice still has a flexible attitude to fees. 'For example, for those in genuine need or financial hardship, we may still choose to bulk-bill at our discretion but this does not represent even one per cent of our patient billing structure now,' Mr Palassis said.
'Having been an optometrist for almost 30 years, and my early career having been in a bulk-billing practice, I had been anxious about the move to private billing even though colleagues I respect had told me for years to "just do it".
'The patients we see now almost always comment that it's about time we got paid a decent amount for what we do for them, which has been very reassuring and has made our practice seem busier with more patients who appreciate the value of good quality optometry,' Mr Palassis said.
Optometry Australia Fee Calculator Tool 
Optometry Australia Billing Practices and Consultation fees 
Optometry Australia webinar. Introducing private billing in your practice: what will it cost you? The event on 18 October is free for all members. CPD points will be available. Register
Filed in category:
Uncategorised