Read time:

1:30min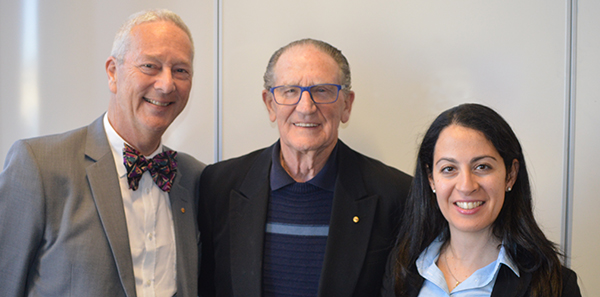 (L-R) Clinical and Experimental Optometry editor Emeritus Professor Nathan Efron, editor in chief Emeritus Professor Barry Collin and deputy editor Dr Maria Markoulli
______________________________
By Helen Carter
Journalist
Dr Maria Markoulli has been appointed the first deputy editor of Optometry Australia's journal, Clinical and Experimental Optometry.
Speaking to Australian Optometry after her appointment, she explained the reason she accepted the role at one of the world's top three optometry journals, and recounted the experience that had led her to become an optometrist.
Journal role
'Clinical and Experimental Optometry was the first journal I ever picked up and when I graduated I looked forward to getting it every two months in the mail-box and flicking through and trying to make sense of it. I found the research interesting, reading what others were doing,' she said.
'I'm really proud and honoured to be involved with Clinical and Experimental Optometry. I feel like this is my opportunity to give back to Optometry Australia.'
Dr Markoulli began working as an associate editor of the journal in March 2017, reviewing contact lens and ocular surface papers, and enjoyed the role as gate-keeper of publication of cutting-edge research.
Her deputy editor role began in August. It means she can continue working as a university lecturer teaching students which she loves, but at the same time keep her finger on the pulse of research in the vision field.
'Papers come to the editor Professor Nathan Efron and me, and we decide if they are suitable for the journal, then send them for assessment and review to the appropriate associate editors with recommendations for them to manage the papers,' Dr Markoulli explained.
'Nathan and I are the gatekeepers and adhere to the journal guidelines for English, style and format, and have to assess whether an article is of interest, clinically relevant and scientifically vigorous, before rejecting it or sending it to the associate editors for review.'
Articles include reviews, original research, clinical case reports and book reviews.
'We choose based on what's interesting research, and on the clinical side what is clinically relevant and of interest to optometrists, what would have an impact on their practice, and key messages that  lecturers would want to start teaching optometry students right now,' she said.
'My background in research, as a practising optometrist and now working as a lecturer is helpful for choosing papers which fit the bill as the journal is a mix of both research and clinical practice.
'It is a really interesting role and I enjoy it. The journal is important to members because it's important to keep up with what's going on in research as this ultimately affects how we practise and how we teach.
From self-conscious to confident
Australian-born Dr Markoulli grew up in Sydney after her family migrated from Cyprus in the 1970s.
An optometrist who prescribed contact lenses transformed the young Maria Markoulli from a self-conscious teenager into a confident young woman committed to becoming an optometrist so she too could help change the lives of others.
'I was always interested in science at high school and I was a super nerd who wore glasses and refused to go outside wearing them because I wanted to be cool like everyone else,' she said.
'In year 12 I went to optometrist George Milios and he fitted me with contact lenses. It changed everything and gave me so much confidence. I realised optometrists could make a difference in a simple way and I thought about it as a career; I thought it was something I could do to help people.'
After graduating from the University of New South Wales in 2003 with a Bachelor of Optometry, Dr Markoulli worked for 18 months in Sydney, practising as an optometrist. She wanted to extend her expertise so she applied for a position at the Brien Holden Vision Institute, working in the area of contact lens clinical trials.
Contact lens research
'It was really interesting research on contact lenses looking at the impact of contact lenses on the ocular surface, and interactions with solutions and care products,' she recalled. 'I worked there from 2005 to 2008, and at weekends continued working in private practice at HCF Eyecare until 2011 to sharpen my skills.'
She still works as a locum in regional New South Wales.
Dr Markoulli then undertook a PhD in how contact lens wear changes the tear film and contributes to corneal erosion. The work of collecting people's tears and analysing them was supervised by Professor Eric Papas, the late Professor Brien Holden and Dr Nerida Cole.
After completing her PhD, she became a project manager at the institute for eight months before leaving to become a lecturer at UNSW in August 2011. She lectures in primary care optometry, teaching basic clinical skills, lectures third-year students in dry eye disease, and supervises fourth-year clinic, fifth-year research projects, and PhD and Masters students.
'I enjoy working with students, especially when they "get it" and you can see a sparkle,' she said.
She has also been on various research committees and had leadership roles at the university including post-graduate co-ordinator in the UNSW School of Optometry and Vision Science. Her research is on understanding the impact of diseases such as dry eye disease and diabetes on the ocular surface and tear film.
Dr Markoulli was also one of 15 early career scientists from Australia and 600 from around the world who met 37 Nobel laureates in Lindau, Germany, attending their talks and workshops, and lunching with them.
'It was very exciting rubbing shoulders with them and asking how they got there,' she said.
View and download PDFs of Clinical and Experimental Optometry from the Archive.
Filed in category:
Uncategorised