Read time:

1:30min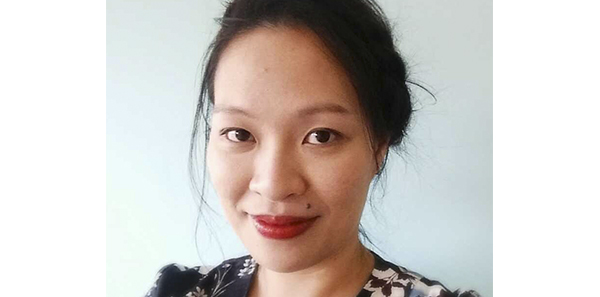 Angel Duan
______________________________
By Helen Carter
Journalist
New findings on retinal microvasculature by PhD student Angelina Duan have been published in Nature journal, Scientific Reports.
Scientific Reports is an online multidisciplinary, open access research journal from the publishers of the prestigious Nature journal.
One of Angel's supervisors at the University of Melbourne Department of Optometry and Vision Sciences, Associate Professor Bang Bui, said: 'Angel has done a lovely series of experiments using adaptive optics and imaging the smallest blood vessels in the eye.'
The latest paper, published online on 18 May, demonstrates for the first time that human retinal capillary diameter changes in response to altered systemic gas conditions in vivo.
Angel said findings may be applicable to diseases involving circulation, including glaucoma, diabetes and hypertension.
With her colleagues she wrote that although changes in vessel diameter following gas perturbation had been documented in larger retinal arterioles and venules, these responses had yet to be quantified in the smallest vessels of the human retina.
They measured vessels that were smaller than 25 micrometres in the human inner retinal circulation and monitored effects of altered gas breathing conditions. Seventy vessel segments were analysed from 12 regions.
'We showed that even capillaries, which do not have smooth muscle cells, are able to undergo changes in vessel diameter when a person breathes altered levels of oxygen and carbon dioxide,' Angel told Australian Optometry.
Images of these capillaries obtained using adaptive optics ophthalmoscopy, and a discussion of these findings can be found in the article.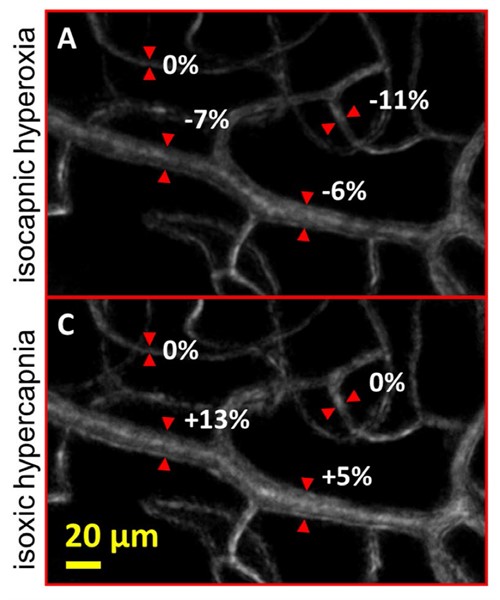 A 'major' retinal arteriole, with vessel responses after (A) isocapnic hyperoxia (high oxygen with normal carbon dioxide) and (B) isoxic hypercapnia (high carbon dioxide with normal oxygen)
New finding
Angel said they wanted to demonstrate and quantify what the normal capillary bed was capable of when faced with acute changes in the availability of oxygen and carbon dioxide. She said it was previously unknown whether a measurable response could be seen in the capillaries of awake humans following gas-breathing challenges.
The eyes' blood vessels must cope with constant changes in blood pressure, intraocular pressure and gas availability such as from exercise or air travel.
 'The stress test used in the study may form the basis of novel tests to identify eyes that have a poor capacity for vascular autoregulation, perhaps eyes with hypertension, diabetic retinopathy or glaucoma,' Angel said.
'If sick capillaries respond differently, such as producing a weaker response, before they begin to leak blood such as the clinically visible damage seen in diabetic retinopathy, or before neural function is lost like the blindness that occurs in glaucoma, we may be able to work out why the disease progresses.
'This in turn may help develop a test for earlier identification of people who may need treatment, and a test to see if responsiveness returns following treatment to quantify treatment effectiveness.'
Glaucoma, diabetes
The research is relevant to optometrists because impaired vessel reactivity is implicated in neurovascular disease pathogenesis, with a reduced response to gas perturbation in humans with hypertension, progressive open angle glaucoma and type 2 diabetes mellitus.
In the paper, Angel and colleagues write: 'Using adaptive optics imaging, we show for the first time that the inner human retinal microcirculation with baseline diameter < 25 micrometres demonstrates a measureable change in diameter to increased PaO2 (partial pressure of oxygen) and PaCO2 (partial pressure of carbon dioxide.)
'Here we used adaptive optics to image the smallest vessels of the human inner retinal vasculature, following gas breathing perturbations, to determine whether these vessels undergo calibre changes similar in magnitude to those reported in larger retinal vessels.
'Our findings suggest that pre-capillary arterioles may show a more passive response to isocapnic hyperoxia but may play a larger role in regulating blood flow during isoxic hypercapnia.
'Our results demonstrate that the vessel calibre changes measured in larger inner retinal vessels also exist at the level of the retinal microvasculature.
'The similarity in proportional response across pre capillary arterioles, capillaries and post capillary venules under isocapnic hyperoxia suggests a systematic redistribution of blood flow in response to increased PaO2.
'This network redistribution of blood creates a framework for thinking about retinal vascular problems. Rather than thinking of vascular abnormalities as small local deficits, we need to start thinking about how one part of the network impacts other regions of the eye. This type of novel thinking may lead to new solutions.'
Other co-supervisors were Associate Professor Andrew Metha and Dr Phillip Bedggood, also from the University of Melbourne Department of Optometry and Vision Sciences.
Filed in category:
Uncategorised