Read time:

1:30min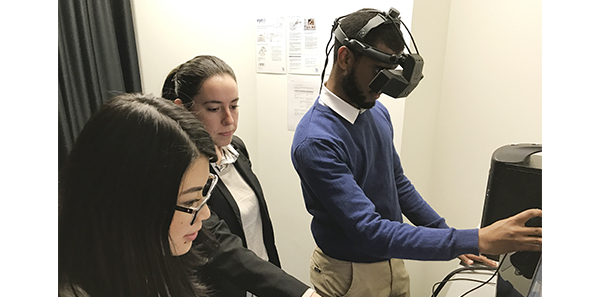 University of Melbourne optometry students (L-R) Diana Chung, Stephanie Rushton and Hamdi Saadi during a BIO simulator lesson   Photo: University of Melbourne
______________________________
By Helen Carter
Journalist
A 3-D simulator is improving clinical examination techniques and reasoning skills in optometry students learning binocular indirect ophthalmoscopy.
A survey indicates that using it leads to positive learning and teaching outcomes for BIO, an essential skill that students must master to detect conditions such as diabetic retinopathy and retinal detachment.
The survey of 104 University of Melbourne students found 90 to 100 per cent valued the tool and believed it made them more confident, competent and proficient at BIO, and improved their stability, orientation and alignment when examining the retina in a real patient.
The simulator, which features a head-mounted display, a model head and two lenses, provides a realistic 3-D experience and operates like a real ophthalmoscope. The retina being examined is shown on a screen in real time and instant feedback is given.
University of Melbourne Department of Optometry and Vision Sciences lecturer Dr Kwang Cham, who is involved in preclinical teaching in the early years of student training, said BIO was always a challenge to teach because educators could not see what students were doing or seeing, so it was hard to give feedback.  
Dr Cham and fellow department lecturer Anthea Cochrane said in Optometric Education that traditionally, it was difficult for students to improve their BIO skills efficiently and effectively, especially if unsupervised.
'It is a constant challenge for clinical educators to provide immediate, constructive and rich feedback to students performing BIO because the retina cannot be viewed simultaneously by student and educator without one-on-one supervision using a teaching mirror or imaging equipment,' they wrote.
'In addition, students are exposed to only a couple of practice patients with a limited range of retinal conditions when learning the technique. All of these factors have made student learning of BIO less enjoyable and engaging.'
Dr Cham said that Professor Algis Vingrys from the department had seen the 3D Eyesi Binocular Indirect Ophthalmoscope simulator at an American Academy of Optometry meeting.
'He thought it was brilliant so the department bought one,' Dr Cham said.
Dr Cham acknowledged former colleague Ms Alex Jaworski, now of Flinders University, who was instrumental in the initial set-up of the BIO simulator and survey design.
Peer-assisted learning
Final-year students teach second-year students how to use the BIO simulator to ensure familiarity with the technology at the first session.
'After that, students are rostered to use the simulator for six two-hour self-directed sessions in pairs or groups of three. This model of collaborative peer-assisted learning continues until the end of third year,' Dr Cham said.
'Feedback from students is that they all like the simulator, they say it improves their confidence and proficiency at performing the technique and supervisors say it is enabling students to complete more BIOs more often than they used to.
'The simulator improves student confidence and we have seen a rise in BIOs being performed in the clinic. Previously in the Bachelor of Optometry program, students on graduation would have performed 19 BIOs but this has increased to 70 being done in the OD program by the time they graduate.
The simulator gives training in four tiers, appropriate for different year levels.
Study results will be presented at the University of Melbourne's teaching and learning conference on 30-31 May, and at the Australian and New Zealand Association for Health Professional Educators conference in July. They were also presented at the Victorian Allied Health Research conference in March.
Use in other schools
Other optometry schools in Australia also use simulators to help teach BIO.
Flinders University Foundation Chair of Optometry and Vision Science Professor Konrad Pesudovs said Flinders bought two of the simulators in 2011 and has used them since.
'Over the third, fourth and fifth years of our program, students complete all four tiers of training on the device and are required to complete every single level on all tiers,' he said. 'All Flinders optometry graduates have completed this requirement.
'We view simulation very favourably. Since our clinical training is performed in placement settings throughout Australia, we require our students to have a high level of clinical competence before they go on placement.
'Simulation, including BIO simulation, is an important tool to ensure a high level of competence of students before they commence placement.' 
UNSW School of Optometry and Vision Science director of learning and teaching Dr Lisa Asper said use of the simulator was optional in years three to five and there was no requirement to complete any particular tier.
'Each student starts where they are comfortable and works on from there,' she said. 'In year three, some students use it a lot, and some prefer to use a real BIO and practise on fellow students. My impression is that its effectiveness depends on the individual student and their learning needs but it is certainly helpful for some.'
Deakin University optometry course director Associate Professor James Armitage said Deakin used the simulators in the early part of its course and in its experience, simulators were a helpful adjunct to but not a replacement for the traditional methods of BIO teaching.
'We have been using the technology since 2013 and there are some advantages in having a system that allows students to develop their skills in a self-directed manner and at a time that suits their individual learning requirements,' he said.
'For our second-year students, it is useful for training muscle memory and allowing them to monitor the success of their scanning strategies because it maps the area of the virtual fundus which has been illuminated by the virtual BIO.'
Dr Cham and Ms Cochrane agreed, in Optometric Education, that the simulator could not teach or properly evaluate patient instructions, manipulation of lids and head, or altering chair height.
Filed in category:
Uncategorised