Read time:

1:30min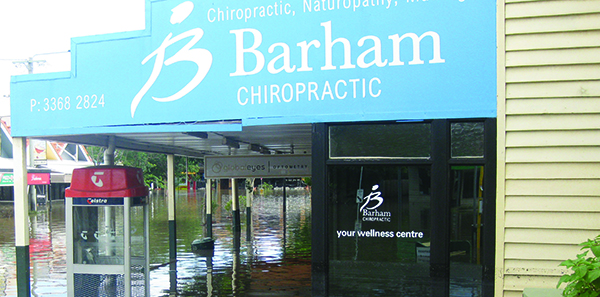 Flood waters in Rosalie, Brisbane in 2011
______________________________
By Rhiannon Riches
Assistant Editor
Optometrists who have shared their claims experiences with Guild Insurance all say they are 'extremely likely' to recommend Guild.
Optometry Australia has partnered with Guild Insurance for nine years. It is a member benefit for optometrists who may find themselves needing insurance in circumstances like those shared here.
For one unlucky optometrist, a burst water pipe at a café next door to their practice caused water damage to their carpet, and wooden flooring and furniture. It was the largest claim the optometrist had made with Guild. They described the claim service as helpful and said they were glad they had changed to Guild Insurance.
Water also damaged another optometry practice in October 2014, when water reportedly leaked through the rear of the premises and damaged three rooms in the building.
In a post-claim survey, the optometrist said that all aspects of the claim process and follow-up were well-managed.
'The service provided has been exceptional. The staff have been well trained and deliver services in a professional manner,' the optometrist said.
In November of the same year, another optometrist had to make a claim when an explosion in a nearby building was designated a crime scene and the area was closed to trade. Unable to generate an income, the optometrist was also facing the possible expense of arranging professional cleaners to clean the building's exterior due to possible asbestos from the explosion.
The optometrist commended Guild for its great service. 'We will always put you ahead of the competitors,' they said.
In January 2015, an optometrist's employees witnessed a man and woman fighting. The man allegedly kicked the woman and went to kick her again but missed and kicked the glass panel of the optometrist's practice door instead, shattering the glass.
The optometrist affected by that incident applauded Guild's claim service communication and advice, and said they encountered good staff throughout their dealings with the insurer.
Wild storms battering the New South Wales coast in June 2015 forced a practice to close. Power was lost to the region for over 48 hours. Without electricity, the shopping centre where the practice was located could not open.
Despite being unable to trade, the practice making the claim described the claims service as a smooth and pleasant experience. 'No querying validity of claim. Straightforward procedure professionally handled,' they said.
In the same month, an optometrist made a claim when their practice was robbed. Offenders allegedly threw a rock through the front window to gain access and stole several pairs of sunglasses. Police were called to the scene and the optometrist had to replace the glass window. They said the claims service made it uncomplicated.
All claimants described here have indicated that they were 'extremely likely' to recommend Guild Insurance to a colleague.
Are you insured with Guild? Call 1800 080 686 FREE to speak to a Guild representative
Filed in category:
Uncategorised