Read time:

1:30min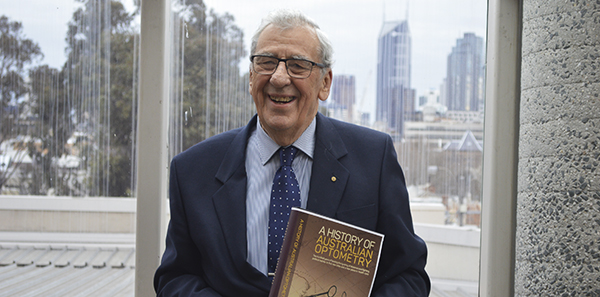 Emeritus Professor Barry Cole
______________________________
By Helen Carter
Journalist
The father of modern optometry in Australia, University of Melbourne Emeritus Professor Barry Cole, spent 40 years teaching optometry students, shaping generations of practitioners.
In his retirement he decided to embark on another ambitious project, a book detailing the story of optometry in Australia and its development over 200 years.
His book makes entertaining reading for students, optometrists and others. It is entitled A History of Australian Optometry; Two hundred years of beating the tyranny of distance and fighting political battles to find new roles and a new place in health care.
Professor Cole is well qualified to write the book. His family has been around the profession for more than half of the 200 years it has existed in Australia. His father was an optometrist and Professor Cole qualified in optometry at the Australian College of Optometry in 1955. He later studied Australian history, and history and philosophy of science and fine arts for a never-completed Bachelor of Arts degree.
'I always had an interest in historical matters, the history of art, architecture and places, and when I lectured students I would regale them with the historical origins of why we do things this way or know this and the history behind optometry instruments,' Professor Cole said.
On retiring in 1999, he joined archivists Michael Aitken and Pam Sutton as a volunteer archivist at the Australian College of Optometry's Cyril Kett Optometry Museum.
'I learned an enormous amount about the history of optometry and of spectacles, frames and ophthalmic equipment by cataloguing optometric items, archiving books and organising displays,' he said.
'It was my idea to write the book and since it was coming to fruition in the year of the college's 75th anniversary, the college agreed to be the publisher.
'I wanted to give a good appreciation of the history, origins and development of the profession, and the hard work of a very large number of optometrists who were prepared to put the energy in to being better and doing more.'
Professor Cole states in the preface: 'The profession has evolved from one skilled at measuring the refractive errors of the eye and supplying corrective glasses to one that provides primary eye care including the treatment of the common eye diseases. The advance of a profession depends on people with vision, energy and commitment and I have tried to weave the stories of the optometrists who had these qualities into the story, as well as those of non-optometrist "white knights" who saw a worthy cause worth supporting. There are also "black knights" who stood in the way but they too are interesting.'
The book took two years to write, backed by his 14-year apprenticeship in the Kett Museum.
'It's a successor to Charles Wright's History of Australian Optometry which finishes in 1988 but my book takes a different approach. Wright's is more about the activities of the organisation Optometry Australia and legislative outcomes,' Professor Cole said.
'Mine is more about the development of education and research, the history of optometry generally in Australia and of optometry and instruments worldwide.
'It's entertaining, easily readable and includes photos, time-tables, key dates, the big events, anecdotes such as the Australian flag being designed by teenage optometrist Leslie Hawkins, and is laid out in magazine style with a summary at the end of each chapter.
'It covers important people in Australian optometry and lists major Australian award winners.'
The story starts with the invention of spectacles in 1286 and the start of modern optometry in England, America and Canada in the 19th century, before moving to optometry's foothold in Australia in 1800.
Chapters cover legislation, regulation, education, the Australian College of Optometry, research, scope of practice, detection and diagnosis of eye disease, contact lenses, public health, therapeutics and Australian optometry's role in the prevention of blindness.
College president Professor Nathan Efron's foreword states: 'Barry Cole brings to life the fascinating story of Australian optometry, warts and all … with passion and flair, full of suspense, intrigue, comedy and drama.
'Barry has been intimately involved in the history of Australian optometry over the last 60 years as a student, teacher, researcher, professor and archivist.
'His ideas and strategies profoundly influenced the ethos of the profession and the development of optometric education and research … Who better to write this book on the history of Australian optometry than the man who is an integral part of that history?'
The book will be launched by Professor Efron at the college's annual conference at the Melbourne Cricket Ground on 24 October. It can be bought from the college and Optometry Australia's Online Store www.optometry.org.au/shoponline/.
Filed in category:
Uncategorised