Read time:

1:30min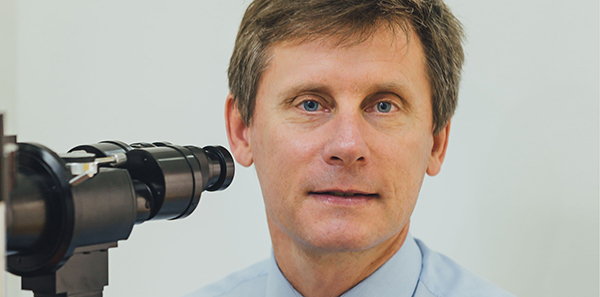 Perth optometrist Andrew Young
______________________________
By Helen Carter
Journalist
Andrew Young and Alison Steer are among the Western Australian optometrists who gained therapeutics qualifications online through an Australian College of Optometry course.
The ACO offers a Certificate in Ocular Therapeutics (ACO-COT) course online to enable optometrists who graduated before therapeutics were taught at university to obtain the qualification.
Optometry Western Australia had previously facilitated courses in that state for practitioners wanting to upgrade to therapeutics endorsement. Lecturers from the University of New South Wales had flown to Perth to run the courses, which were attended by about 100 optometrists over four years.
This increased the number of therapeutically endorsed optometrists in WA to 44 per cent of the state's 370 optometrists, according to Optometry Board of Australia figures for September 2015.
Optometry Western Australia CEO Tony Martella said it was an achievement that nearly half of the state's optometrists were therapeutically endorsed.
'We have had legislative change enabling optometrists to prescribe therapeutics only since late 2010, and were the last state to gain this legislation, so in a relatively short time we have done well to increase numbers,' he said.
'I think this has happened in large part due to Optometry Western Australia running the therapeutics courses through UNSW in Perth every year from 2010 to 2014.'
Last year Mr Martella deferred running a course locally as he felt demand had waned. He said that if there was sufficient demand in a few years, the organisation would consider running another course in Perth.
He now refers practitioners enquiring about therapeutics to the ACO course.
The ACO-COT is the first online course in Australia that offers scheduled medicines endorsement for optometrists. Successful completion enables registered optometrists to prescribe and administer medicines for the treatment of ocular conditions in Australia and New Zealand.
About 180 optometrists have enrolled in four intakes since the course launched in February 2014, and 84 have graduated. Rural, remote and metropolitan optometrists from all states of Australia, New Zealand, India, China and the United Kingdom have enrolled.
International candidates study the theoretical component overseas knowing that their clinical placement takes place in Australia or New Zealand.
Content is delivered by an expert team of national and international presenters via various channels including online lectures from a panel of 30 lecturers, webinars and forums. Participants also undertake 50 hours of clinical placement with ophthalmologists.
Andrew Young

Perth optometrist Andrew Young, who was in the second intake, has a young family and worked full-time while studying.
'As a non-therapeutically endorsed practitioner I had a superficial knowledge but the course showed me how the mechanisms and processes work below the surface. I never quite understood why some things worked and some things did not and now I have a more complete knowledge,' he said.
'I have been able to treat a number of significant cases of keratitis on the spot. In the past I'd either have to send the patient to hospital, which is inconvenient and time consuming, or rustle up a specialist.
'I loved that you can watch the lectures in your own time and that it was completely flexible,' he said. 'You can go back and refer to lectures and notes at any time and if I didn't understand something I would just replay it. I often had the lecture playing on the desktop and was able to Google what they were talking about on the iPad at the same time.
'The course was interesting and the quality excellent. I had heard of a lot of the lecturers but I had never met them and they were definitely accessible.
'I organised my clinical placement with two specialists I knew well. I really enjoyed it and it was one of the best things about the course. The interaction was great and it was useful to see the way they manage and run their practices. It also helped build a bridge between the two professions and now I have a personal relationship with them. They were very helpful and supportive and I was able to email them for advice throughout the course.'
Mr Young said the course had helped him triage patients better.
'I see being therapeutically qualified as the benchmark. I want to be up to date with the contemporary standard and be as complete and skilled as any optometrist so I can treat anyone who walks through the door. Now, if it's appropriate, I can write a script on the spot,' he said.
'If I see someone with a vision problem and a therapeutic problem, I can treat both rather than sending them somewhere else, making it easier for the patient and providing continuity of care.'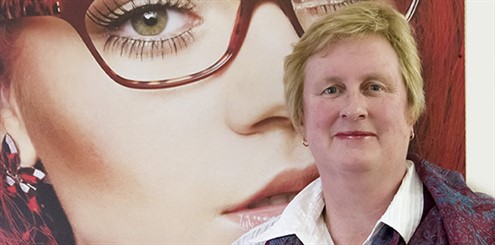 Rural WA optometrist Alison Steer
Alison Steer

'It's a fantastic course which has changed the way I practise,' said Alison Steer who owns her own practice in rural Albany, a 4.5 hour drive from Perth. Ms Steer was in the course's first intake and said it was the most flexible and convenient way to study therapeutics.
'It has been a while since I graduated so the update in knowledge and skills was invaluable to my everyday practice. I am now able to offer my patients a much better and broader service and I find I have a much better understanding of current treatments and care regimes when sharing care with ophthalmologists.
'The course also taught me new researching skills and has given me access to up to date research and recent studies,' Ms Steer said.
'Prescribing rights that are automatic to GPs who may not have the best diagnostic equipment are now ours so we can offer our patients the very best care without unnecessary referrals.
'There is a three-month wait for ophthalmological services in my town so if I can handle some of the simple issues, we can be of better service to our patients and help reduce waiting times for necessary referrals.'
Ms Steer said the online aspect interested her greatly as even weekends away to study in capital cities would require significant time for travel and cut into consulting time.
'The ACO-COT process was easy to understand and implement. The requirement to 'attend' 75 per cent of webinars was not onerous and the ACO was thoughtful regarding the timing of these. It is difficult to schedule four or more time zones and suit everyone.
'Generally webinars were late afternoon WA time and required an hour of work time. The ACO had set up the webinars well and the student input and question area was easy to use,' she said.
'Good access to a reasonable internet speed is essential.'
Ms Steer said the course had a student 'chat' area that they could all access and which was used for questions and exchange of ideas and issues.
'One of the many benefits was open access to the webinars as you could go back and revisit any webinar, lecture or tute session at any time.
'The ACO gives students the knowledge and confidence to be able to be safe with therapeutics.
'I recommend the course for its totally flexible learning schedule where you don't have to leave your own location. Even the exams are done at your chosen location. The course fits around your own schedule.'
Ms Steer undertook one placement with her local ophthalmologist, and a week on a rural and remote ophthalmology clinic run in WA's far north.
'It cemented the good relations I have with my local ophthalmologist and created a stronger one with the remote clinic ophthalmologists. It was a very positive experience and the remote week was great fun,' she said.
Next course

The only ACO-COT intake for 2016 will be on 18 April.
ACO general manager of professional development Jolanda DeJong said candidates gave positive comments including that their qualification was making a big difference to their confidence and practice on a practical level. She said the course design, content and delivery had been streamlined and improved with each group.
Most candidates are from Victoria (36 per cent), followed by NSW/ACT (27 per cent), Queensland (11 per cent), eight per cent each from Western Australia and New Zealand, six per cent from South Australia, and two per cent each from Tasmania and overseas countries other than New Zealand.
The course is accredited by the Optometry Council of Australia and New Zealand, and approved by the Optometry Board of Australia and the Optometrists and Dispensing Opticians Board of New Zealand. Fees can be claimed as a tax deduction for education expenses.
For course details phone 03 9349 7546, email acocot@aco.org.au or see online.
Filed in category:
Uncategorised