Read time:

1:30min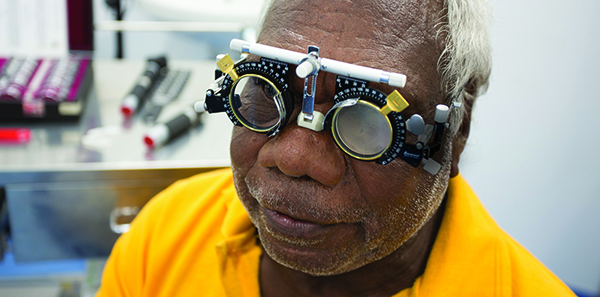 Uncle Quentin at Pirlangimpi, Darwin, NT    Image: Brien Holden Vision Institute
______________________________
By Kirsty Machon
Journalist
Aboriginal and Torres Strait Islander health workers have a comprehensive new resource to help identify and refer patients with or at risk of vision problems.
The Eye and Vision Care Toolkit was an outcome of a major collaborative enterprise to drive improvements in primary eye health outcomes for Indigenous Australians, under the banner of the Vision Cooperative Research Centre (CRC) Models of Vision Care program.
Partners in the development of the toolkit include the Brien Holden Vision Institute, Aboriginal Health and Medical Research Council of NSW, Indigenous Eye Health Unit, Optometry Australia, The Lowitja Institute, and Vision 2020 Australia.
Aboriginal Community Controlled Health Services in both New South Wales and the Northern Territory provided crucial input to ensure the resources were practical and easy to implement.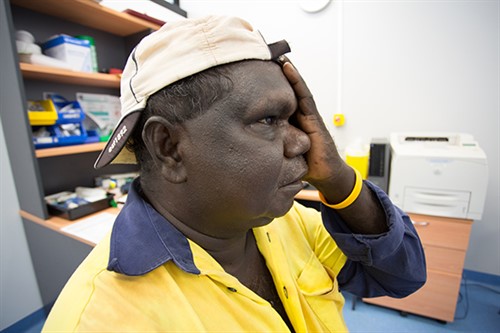 Balyon at Pirlangimpi, Darwin, NT    Image: Brien Holden Vision Institute
The project's manager, optometrist Anna Morse, says the overall aim of the kit, which was launched in October, is to support improvements in primary eye care and follow-up care to ensure patients complete care pathways.
Statistics show that Indigenous Australians continue to be at increased risk of preventable eye problems including diabetic retinopathy. Refractive error is the leading cause of vision loss, and trachoma remains a significant eye health concern, particularly in remote communities.
There have been recent upswings in testing and referral rates on the back of interventions including the work of the Vision CRC partnership but Ms Morse says access must continue to be improved.
Education packages, quality assessment and service planning tools, and information to help practitioners understand the perspectives of patients and communities are all included in the new online resource.
The education packages are primarily aimed towards Aboriginal and Torres Strait Islander Health Services and their primary care teams.
There are online training tools that may be supplemented with additional face-to-face training driven by practitioners in local communities.
It is anticipated that visiting and local optometrists will be among those involved in additional training that will ensure primary care workers gain practical skills to conduct general vision assessments, check acuity, identify trichiasis or recognise the symptoms of diabetic eye disease.
Calculators developed by the Indigenous Eye Health Unit will support evidence-based local planning and service delivery, including information to help assess and benchmark the level of service against estimated population needs.
There is also information to improve referral rates for GP or specialist care. The Optometry Australia advocacy platform Guidelines on the provision of sustainable eye care for Aboriginal and Torres Strait Islander Australians are included in the package.
Ms Morse encourages optometrists, particularly those working with Indigenous patients, to access the resource package and see what it offers. She expects optometrists will be a key to effective promotion of the resources through local care networks.
'The website is the principal means of access,' she said. 'We encourage optometrists to let other health-care workers know it's there, when talking to your local Aboriginal Medical Service, the GPs you work with or through your Primary Health Network.'
Optometrists are important advocates for the resource. There may be opportunities for optometrists who want to be more actively involved in their local communities, for example, by participating in or offering face-to-face training of health-care workers.
Ms Morse says that while the toolkit's developers will not be involved in directly facilitating local training across all parts of Australia, they are ready and keen to provide guidance for others who would like to use these helpful resources to support eye-care systems and outcomes for Indigenous Australians within their local area.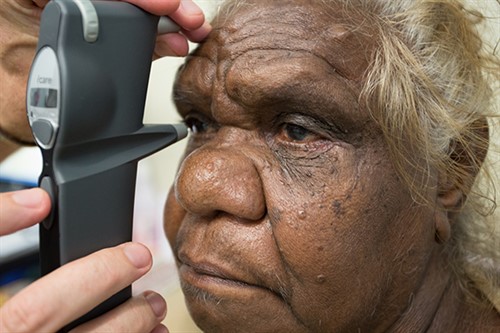 Auntie Emily at the Danila Dilba Aboriginal Health Service, Darwin    Image: Brien Holden Vision Institute
Filed in category:
Uncategorised