Read time:

1:30min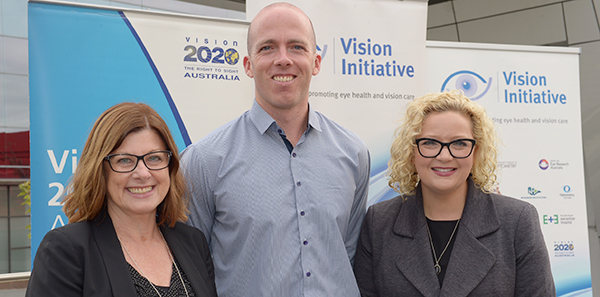 (L-R) Vision 2020 CEO Jennifer Gersbeck, optometrist Rowan Prendergast, Victorian Health Minister Jill Hennessy   Credit: Vision 2020 Australia/Les O'Rourke
______________________________
By Rhiannon Riches
Assistant Editor
'I jumped at the chance to get involved,' optometrist Rowan Prendergast said at the launch yesterday of the second phase of Victoria's Vision Initiative eye health program.
Mr Prendergast is the owner of OPSM Waurn Ponds and was involved in the Vision Initiative Pilot Project implemented in Greater Geelong. The pilot was also implemented in Darebin, Greater Shepparton, and Latrobe.
Speaking in Dandenong at the launch of the next phase of the program, Mr Prendergast said that when he was approached in 2013 to take part in the pilot, he was eager to do so.
He said the Vision Initiative co-ordinated meetings for him with local general medical practitioners, practice managers and practice nurses.
'I thought I had good relationships with GPs, but soon realised the relationships could be improved and expanded,' he said.
Mr Prendergast discovered through discussions with GPs that they were not aware of the full scope of optometry, and were often referring patients to ophthalmologists instead of to optometrists.
'Meeting face-to-face is critical for building enduring relationships with GPs and practice managers, and to ensure the flow of referrals continues,' he said.
Nurturing the ongoing development of professional relationships was the most important lesson he learned from taking part in the pilot program, and he has noticed an improvement in referrals from GPs, he said.
Victorian Health Minister Jill Hennessy also spoke at the launch, held at the City of Greater Dandenong Council Offices. She announced that the program will be commencing in the local government areas of Brimbank, Greater Dandenong, Swan Hill and Campaspe.
'The work the Vision Initiative is doing, working with local government and local primary health practitioners has been spectacularly successful,' Ms Hennessy said. 'The risk of eye disease is a significant burden, and I'm delighted to see the Vision Initiative building on its success with the project rolling out in four new local government areas.'
Ms Hennessy commended Vision 2020, which manages the Vision Initiative, for its work, adding: 'The terrific thing about this program is that it is led by the community'.
The Vision Initiative aims to prevent avoidable blindness and vision loss through working with health providers in local areas to better identify and refer people at risk of eye disease. This primarily includes people aged over 40 years, with a family history of eye disease, with diabetes, smokers, and of Aboriginal and Torres Strait Islander descent.
According to Vision 2020, data from the 2012 Victorian Population Health Survey, Australian Bureau of Statistics and the National Diabetes Service Scheme was used to identify Brimbank City Council, City of Greater Dandenong, Shire of Campaspe and Swan Hill Rural City Council as areas to implement Vision Initiative activity until 2017.
Filed in category:
Uncategorised