Read time:

1:30min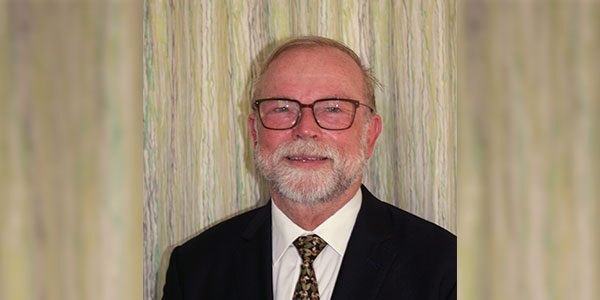 Rodney Hodge
By Helen Carter
Journalist
The Australian College of Optometry has welcomed a new president, Perth optometrist Rodney Hodge, and a new member of Council, The Hon John Chaney, a former justice of the Supreme Court of Western Australia.
Mr Hodge was elected by the college Board in August and will remain president until the next annual general meeting in June 2021. He said he looked forward to someone from the younger generation replacing him in this leadership role.
Mr Hodge took over from Professor Konrad Pesudovs, who was sworn in as president in June 2016.
ACO CEO Maureen O'Keefe said: 'I am very pleased to welcome Rodney Hodge as the newly elected ACO Council President. Rodney is an experienced optometrist and brings with him significant governance skills and strong values to lead our organisation in these rapidly changing times.
'His skills and experience will be valuable as we actively further our public health agenda of ensuring equity and access to high quality eye health care for those experiencing disadvantage or the most vulnerable across Australia.
'Rodney aims to achieve the best outcomes for the ACO by facilitating the strategic thinking of the Board and empowering staff to implement the strategy. He believes no-one is the holder of all "knowledge and wisdom," and is very open to hearing everyone's ideas and suggestions.'
Mr Hodge completed his optometry degree at the University of Melbourne in 1980 then joined the Victorian College of Optometry (now the ACO) in 1981. He has worked across private, corporate and public sectors, has an active interest in continuing education for optometrists and in public health and has also served the community through local government. He is now semi-retired, undertaking some locum optometry work mostly in rural and remote locations providing him with a greater understanding of the challenges of working in those regions.
'We are also very pleased to welcome our newest Council member, The Hon John Chaney, who is a former justice of the Supreme Court of Western Australia having retired from the court in 2018,' Ms O'Keefe said.
'The ACO would like to thank departing Council members, Konrad Pesudovs and Peter Keller, for their service and contributions to the ACO.'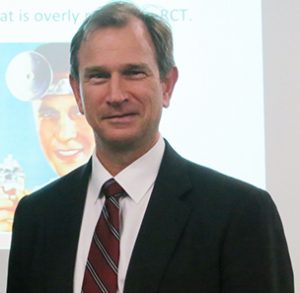 Associate Professor Peter Keller
Adaptability vital to survival
Mr Hodge, who joined the Australian Optometric Association (now Optometry Australia) in 1981 and has also served on both the Optometry Western Australia board and the Optometry Australia national board, said: 'I think it is important to refresh organisations and their structures so they relate to the people they serve.
'The world around us is changing very quickly. Whilst knowledge is important, I think adaptability is vital to survival. I think the ACO can help optometrists to acquire the skills to adapt to those changes and remain relevant in our changing landscapes.
'My role is to collate and coordinate the thoughts of the ACO Board and segments of the optometry profession to deliver to our members the adaptability to excel in these challenging times.
'There are many challenges that can also be thought of as opportunities provided we recognise and adapt.'
After graduating, he opened a practice in North Melbourne before moving to Western Australia in 1984 to work in Geraldton with the Dannell and Gollop group. In 1986 he moved to Perth and worked with Gwynn Williams until 1992 before again going into solo private practice, where he worked until 2015.
Mr Hodge started working part time in the public health system at Sir Charles Gairdner Hospital in 1995, worked there until 2018 and has just been reappointed to its casual list.
'I am still very committed to public health,' he said.
In an Optometry Australia article on public health optometry he said: 'I always wanted to work in public health then the opportunity came along to be the first optometrist at the hospital. I enjoy it.
'There are some challenges, especially the workload which is always going up. We are very busy and see 35 to 40 patients in a four-hour stint, but it is good fun and there are some interesting cases.
'We make a huge difference. More optometrists should be involved in public health, especially in rural areas and telemedicine. There are many opportunities to do things for communities.'
More nationally focussed and research success
Professor Pesudovs said it had been 'a privilege and an honour to serve our community as President of the ACO Council for four years.'
'Importantly, the ACO has become more nationally focussed during this period, including increased partnerships with universities outside Melbourne and more recently, the clinical service in South Australia,' he said.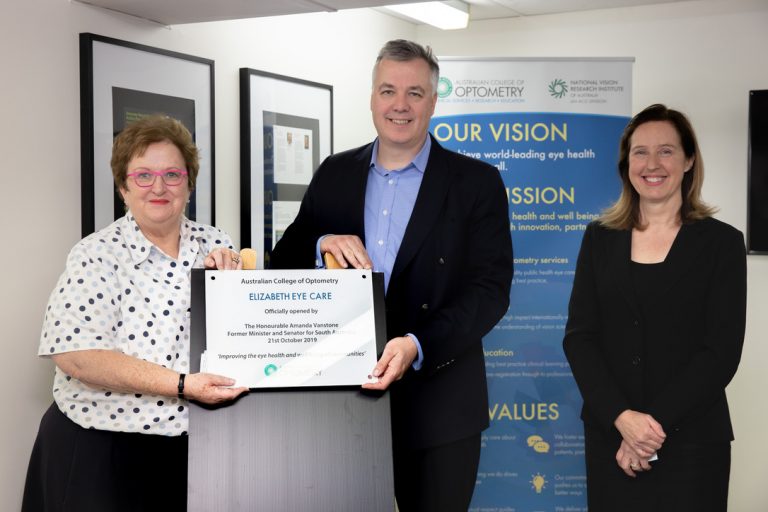 L-R, The Hon. Amanda Vanstone opening the Elizabeth Eye Care clinic in South Australia, on October 23, 2019, with then president Professor Konrad Pesudovs and ACO CEO Maureen O'Keefe.
'This has been a successful period for research, at the National Vision Research Institute, and with the creation of a clinical research stream.
'There were important reforms to the structure of the organisation and the constitution, which have resulted in a better governed and more efficient ACO, with the redesign of Council to include skills-based positions.
'There have been a number of changes to the buildings in Carlton, the most spectacular of which is the exhibition gallery for the Kett Optometry Museum and Archive.
'Amongst the many learnings and dividends which I have enjoyed, highlights have included the opportunity to work with so many amazing and talented people on the ACO Council and staff. It has been a privilege to have supported the staff of the ACO for this period.'
During Professor Pesudovs' term the ACO opened its first interstate public health optometry clinic in Elizabeth, South Australia. The clinic offers bulk billed eye care with no out of pocket costs for diagnostic imaging, comprehensive referral pathways and low-cost spectacles through the South Australian Government's GlassesSA scheme.
At the time, ACO CEO Maureen O'Keefe said its opening followed a comprehensive review in which the ACO identified that the provision of eye care services in South Australia was below the national average across both the general population and in disadvantaged communities.
She said its launch "marked the start of an era of expansion for the ACO's clinical services, building on decades of delivering affordable eye care services to communities throughout Victoria."
Across Australia the ACO provides services:
through a network of eight fixed metropolitan clinics (in Victoria at Carlton, Braybrook, Dandenong Eye Care, Frankston, Broadmeadows, East Reservoir and the Victorian Aboriginal Health Service in Fitzroy: and in South Australia at Elizabeth Eye Care.)
through collaboration with 89 rural optometry practices,
and through partnership with 238 community outreach sites.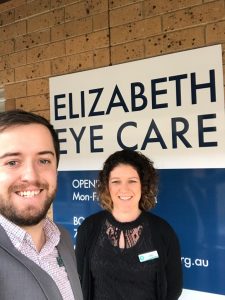 Elizabeth  Clinic manager, optometrist Tristan Glover with practice manager and optical dispenser Julie Rozman
Filed in category:
Appointments
,
Members & member initiatives
,
Sector news