Read time:

1:30min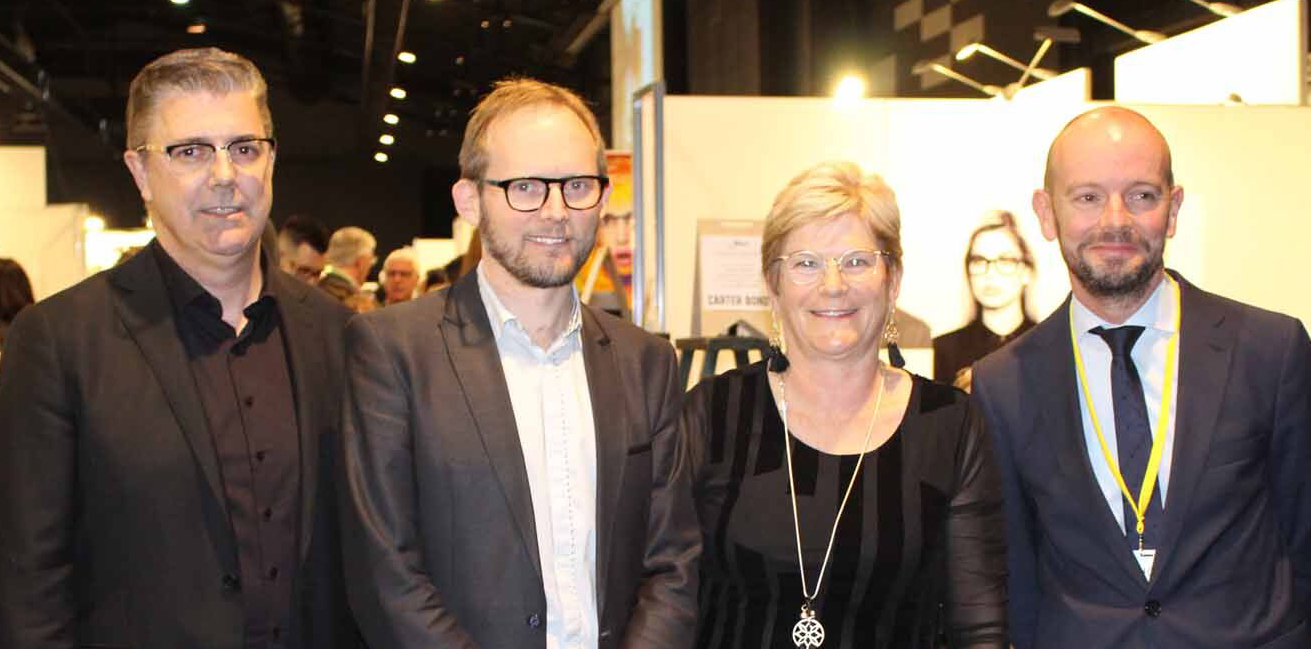 L-R at the O=MEGA19 launch, ODMA chairman Robert Sparkes, Optometry Victoria President Murray Smith, ODMA CEO  Finola Carey, and Optometry Victoria CEO Pete Haydon
 _____________________________
By Helen Carter
Journalist
The most significant change to the optometric conferences and events landscape in Australia for many years was announced at the weekend by ODMA and Optometry Victoria.
ODMA and Optometry Victoria joined forces to launch O=MEGA19, a biennial event which aims to be the largest education, eye care and eyewear event ever seen in Australia.
Organisers say O=MEGA combines the most credentialed and largest annual optometry conference in the Southern Hemisphere with the largest eye care and eyewear show in the nation.
The international event showcasing the best in education, eye care and eyewear will take place from 19-21 July, 2019 at the Melbourne Convention and Exhibition Centre.
It will replace Optometry Victoria's Southern Regional Congress (SRC) and the Optical Distributors and Manufacturers Association of Australia's biennial ODMA Fair.
Speaking at the O=MEGA19 launch at O-Show in Melbourne, ODMA Chairman Rob Sparkes said: 'In the new global landscape of optics we cannot wait for change. We need to deliver change. We hope the entire industry will embrace this united joint venture.'
Optometry Victoria President Murray Smith added: 'We think O=MEGA19 will be extraordinary.
'O=MEGA19 brings the best of SRC and ODMA Fair together. We think optometrists and others involved in the optics industry will really love this opportunity to come together and learn, network, and work with suppliers to help us all do our jobs better.'
Optometry Victoria CEO Pete Haydon told Optometry Australia: 'O is for optical and Mega is for big.
'From my perspective O=MEGA19 is very important because the Boards of Optometry Victoria and ODMA have shown the maturity to do something that benefits both the profession of optometry and the broader industry.
'Since I began working in this sector, which is pretty small, I'm often quizzical at the way we all relentlessly critique and criticise competitors', and, sadly, even allies' business practices.
'O=MEGA19 is the antitheses of that pettiness, and I think the two Boards have collaborated really well.
'The task now is to make O=MEGA19 not just the quasi national conference for optometry, but a genuine regional and international event for the whole eye health sector.'
Modern schedule and new format
O=MEGA19 will be held in a new expansion at MCEC which is fully integrated with the conference space.
It will have a new modern schedule including dedicated exhibition-only time to suit delegates and exhibitors.
There will be a 40 point CPD minimum, a new format including lectures, sponsored sessions, team-based learning and small group workshops, a design junction fashion eyewear area, and a cocktail party on the Saturday night.
Speaking about the legacy of SRC and ODMA Fair, Murray Smith said in a press release: 'Optometry Victoria is very proud of SRC and the legacy it has built – many of our members love it. So do we.
'But the way continuing education is being delivered is changing, and we need to be at the forefront of that conversation. O=MEGA19 makes that happen. It's really exciting and we thank ODMA for its work with us on this project so far.'
Mr Sparkes said: 'ODMA Fair and our other products have been the cornerstone of optics events in Australia for as long as most people can remember. We're proud of that legacy.
'In fact, it's only because of the strength of our events that we can be so forward-looking and ambitious with O=MEGA19.
'It's a truly exciting initiative and we can't wait to bring it to market in 2019. ODMA looks forward to working with Optometry Victoria to deliver an international world class event.'
 _____________________________
Filed in category:
CPD, conferences & events
Tagged as:
O=Mega Vic