Read time:

1:30min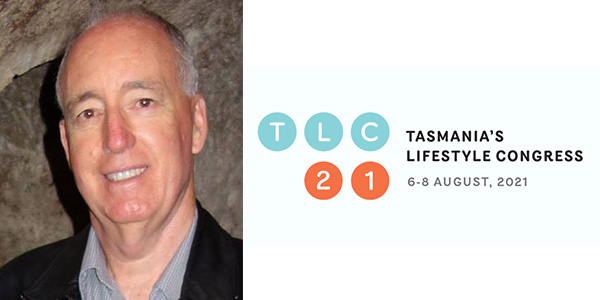 Steve Leslie will speak at TLC 21
By Helen Carter
Journalist
One in five people has suffered concussion and optometrists should be routinely asking patients if they have ever had a concussion because it may affect vision and up to 20 per cent can have visual symptoms lasting more than a year, TLC will hear.
Australasian College of Behavioural Optometrists Executive Director, Perth optometrist Steve Leslie will give presentations at Tasmania's Lifestyle Congress 2021 from August 6-8 on vision symptoms and dysfunctions associated with concussion, and the common and not so common causes of double vision in adults.
'Many patients present to optometrists with visual symptoms which may be related to one or more concussions, but they and their eyecare practitioners have not connected the two,' he told Optometry Australia.
'Not uncommonly they may have had a number of pairs of glasses prescribed which have not solved their symptoms.
'Optometrists need to routinely ask patients if they have ever had a concussion, as it is often not volunteered by patients presenting for care; as well as becoming more sensitive to visual symptoms which may be related to concussion, and the options for treatment.
'At least 20 per cent of your patients – children and adults – will have suffered one or more concussions, and have visual symptoms which they do not connect to the concussion(s).
'Men and women playing any code of football are at significant risk of concussion and visual problems.
Repeat concussions can have long-lasting effects on vision
'Repeated concussions can have significant, long-lasting effects on people's brains, with debilitating visual symptoms of blurred vision, headaches, motion sensitivity and balance issues which can interfere with work and reading.
'It is important to ask every patient if they have ever had a concussion, to explore their visual symptoms and function, and to provide competent assessment and management of their visual issues.'
Visual problems after concussion
Mr Leslie said visual problems which could occur after concussion include:
changes in refraction
blurred vision due to dysfunctions of accommodation, convergence, or binocular vision
eye movement problems
intermittent double vision
significantly reduced concentration and comprehension for reading and computer work
severe light sensitivity
visual processing problems
and visual-vestibular issues causing dizziness, vertigo, and balance issues.
One concussion means up to six times more likely to have repeat concussions
'Visual symptoms can occur after one concussion, but are more likely to persist after repeated concussions,' he said.
'Once you have had one concussion you are four to six times more likely to have another concussion due to delayed reactions, and the visual effects can be more long-lasting. Most patients recover from mild concussion within a few weeks or up to a year, but up to 20 per cent of people can have visual symptoms lasting more than a year.
'Most concussions occur in children playing sport between the ages of five to 18, with males more affected than females. The various codes of football, and basketball have the highest rate of concussion, with soccer the most common cause of concussion in young females.'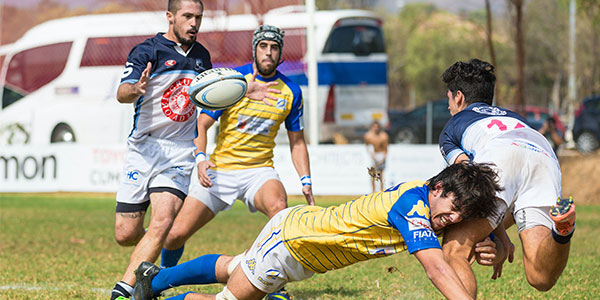 Image by Quino Al on Unsplash
Mr Leslie said the effects of concussion, and especially repeated concussions, had attracted increasing publicity due to the long-term effects on footballers in various codes, where they may be forced to retire early, or suffer long term physical and mental health issues, including anxiety, depression, early onset Alzheimer's, and even suicide.
'In soccer young children are now not allowed to head the ball,' he said. 'The football codes have instituted mandatory brain checks after an on-field head injury, and delayed return to play.
'This has been forced on the codes by legal actions, initially in the USA and now in Australia, where players with early onset dementia have successfully sued the codes for large monetary settlements.'
He said concussion injuries could include diffuse axonal injury caused by biomechanical forces as well as cytotoxic changes, affecting neurotransmitter processes.
'Quite commonly standard MRI or CT scans do not show any issues, so patients are told there is nothing wrong and they just have to give it time. It is vital to have a break from sport to aid recovery and minimise the risk of another concussion.
'Research and clinical experience has shown that early treatment involving a range of health care professionals can speed up recovery and reduce the chances of prolonged visual symptoms.
'The standard approach is to advise a person to just allow time to recover, but chronic visual symptoms can affect activities of daily living and impede a person's ability to continue studies or return to work.
Identifying visual symptoms, assessments, and treatment
'Visual symptoms first need to be comprehensively identified with a history review, and the connection to concussion explained, which is often a relief to a patient who has been told there is nothing medically wrong.
'This should be followed by an extensive optometric assessment, particularly of accommodation and convergence function, eye movement quality, binocular vision, and of course refraction and ocular health. Ideally visual-vestibular and visual-spatial function should be assessed as well.'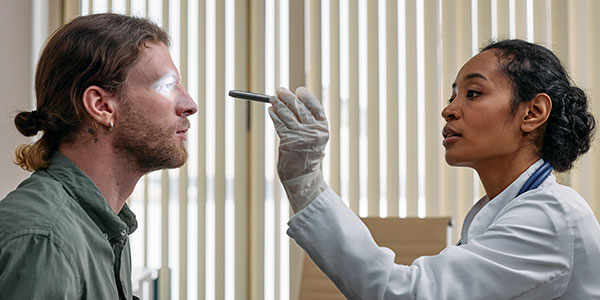 Photo by Ron Lach on Pexels
Treatment options
Mr Leslie said treatment options may include:
prescription of a small refractive issue which was not considered necessary in the past
a change from multi-focals to separate distance and near glasses
a near vision prescription for computer use
prisms in various combinations
tinted lenses
binasal occlusion
and/or in-office vision therapy.
Visual symptoms are typically recorded with validated questionnaires, and the presence and degree of visual dysfunction, then visual symptoms and function are re-measured as optometric treatment
continues, commonly showing reduced symptoms, and improved quality of life and ability to carry out activities of daily living such as reading, walking, and driving.
Learning objectives for his talk on vision symptoms and dysfunctions associated with concussion are that participants will be:
Able to discuss the aetiologies and physiology of concussive head injuries
Able to describe the steps in evaluating the visual symptoms of patients who have experienced one or more concussions
Capable of expressing the sequential assessment of visual function and ocular health following concussion.
Double vision in adults
Mr Leslie's presentation on double vision in adults will state that adults may present with recent onset horizontal diplopia, often worried they have a brain tumour or have had a stroke.
'There are a number of not uncommon causes, and some unusual conditions which can cause diplopia,' he said. 'Case studies will be presented to provide a sequential history and assessment process which enables optometrists to arrive at a probable diagnosis, and decide which require urgent referral, and those that can be managed differently.'
Learning objectives for the double vision talk are that participants will be:
Able to implement an effective and efficient patient history process to detect symptoms and health issues relevant to a recent onset horizontal diplopia.
Competent to employ an effective binocular vision assessment of horizontal diplopia.
Recall the most likely causes of recent onset horizontal diplopia.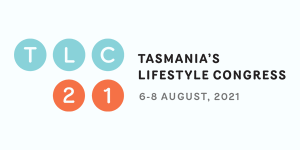 TLC 21
Tasmania's Lifestyle Congress (TLC) provides optometrists a unique educational experience in picturesque Hobart. Extensive CPD and therapeutic points are available. The program includes the Australian Low Vision Seminar on Saturday morning.
The conference venue is the Wrest Point Hotel situated on the Sandy Bay waterfront and features some of the best views in the city.
The Wrest Point is offering discounted room rates for delegates and is located a short taxi ride to Salamanca Place, Battery Point, Hobart CBD and the Brook Street Pier for ferries to various water and wilderness tours.
Read also: Concussion causes student to drop out
Filed in category:
CPD, conferences & events
,
Patient care & management
Tagged as:
Eye examinations
,
Paediatric optometry
,
Patient management