Read time:

1:30min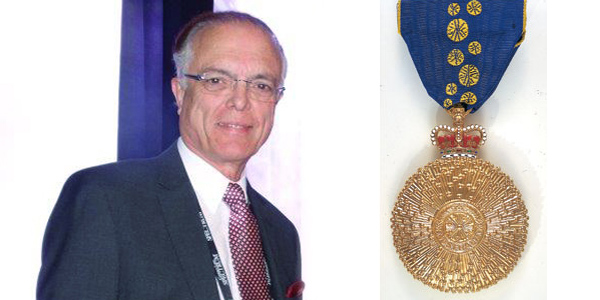 Associate Professor Tony Phillips and the Member of the Order of Australia (AM) medal
By Helen Carter
Journalist
Adelaide optometrist and contact lens authority, Associate Professor Tony Phillips has been made a Member of the Order of Australia in the 2021 Queen's Birthday honours. The honour was received during the 50th year anniversary of the approval and sale of the first soft contact lens in the US, and the 60th anniversary of their invention.
Professor Phillips, who has dedicated much of his life to educating optometrists and students about contact lenses and treating paediatric patients, was "extremely surprised" to be made a Member of the Order of Australia in the General Division (AM) "for significant service to optometry, and to professional optical societies."
He sees his major career highlight as leading Australia's first Medical Contact Lens Units for adults at Flinders Medical Centre and for children/babies at the Women's and Children's Hospital Adelaide, and subsequently helping hundreds of babies and children with cataract, eye injuries and ocular disease.
Other highlights included writing and editing several textbooks on contact lenses and related eye diseases used by many optometrists, and teaching hundreds of optometry students about contact lenses at Flinders University from 2013 to 2018 as head of contact lens teaching at the School of Optometry and Vision Science.
Tony has contributed to many publications and was lead author of six editions from 1972 to 2019 of the standard optometric textbook Contact Lenses and author of The Optometrist's Practitioner-Patient Manual – a book of photos and diagrams to help optometrists internationally and students explain to patients their clinical condition.
'I am now working on an app of the manual, following repeated requests, and am redesigning the RGP Design Program partly as a student training tool and partly to enable practitioners to instantly design an RGP lens but giving them all the curves and diameters so they know what they're dealing with,' he told Optometry Australia.
In 2016 he received the Global Specialty Lens Symposium Award of Excellence for his publications which "have educated and inspired generations of contact lens practitioners across the globe," the only non-American to do so.
He also ran his own private practice and was heavily involved in the Cornea and Contact Lens Society of Australia, including being president twice, establishing its Fellowship program, being an Inaugural Fellow, chair, Honorary Life Member, examiner and receiving its Lifetime Achievement Award.
He joined Optometry (South) Australia in 1982, and although now retired, still teaches occasionally at Flinders University.
Professor Phillips began practising optometry in 1965 after studying optometry at The City University in London and researching micro-ocular anatomy, reaction times with yellow night driving spectacles and underwater contact lenses for the Royal Navy.
From research student fitting contact lenses to supplement income to world leader
As a young research student, he and three other research students began fitting private contact lens patients to supplement their meagre income. Three of them went on to lecture in universities around the world on the subject and formed the core that produced the first edition of Contact Lenses.
He moved to Australia in 1982 after becoming involved in research for Sola Optical o develop what would have been the world's first disposable soft lens, at Flinders Medical Centre.
'At Flinders I was doing research under ophthalmologist Professor Douglas Coster who wanted the same person doing the research to head the medical contact lens unit,' he said.
The Medical Contact Lens Unit for adults was therefore established at Flinders Medical Centre in 1982, and optometrist at the Infant and Baby Contact Lens Unit followed at Adelaide Children's and Women's Hospital in 1993.
'At Flinders, I was asked to see a newborn baby with cataracts and wondered who could I turn to for advice and help but there was no-one. I therefore applied, and was lucky enough to receive, a Churchill Fellowship in 1992 and went to the UK to study the paediatric use of contact lenses in six UK hospitals and came back to Australia to establish the children's unit here,' he said.
'Before this, children would have to attend a school for the blind, but this has given them hope of a normal life.
'While rubella immunisation has reduced the number of babies born with cataract, there are still genetic conditions, infections, albinism and eye injuries requiring children to receive medical contact lenses.
'The youngest baby I fitted with a contact lens was a premature baby born 34 weeks after conception. I was just lucky enough to be part of an excellent team including surgeons and anaesthetists, as only a few years earlier none of this would have been possible.
'At Flinders University, I very much enjoyed the teaching. The students were keen to learn, and I would take them to the hospital clinics whenever possible.'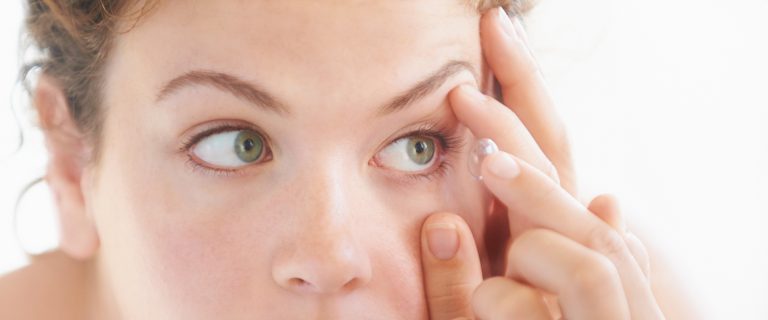 Professor Phillips, also a Fellow of the Australian College of Optometry and the American Academy of Optometry, said that when contact lenses first came out, little was known about them and the low oxygen transmission gave some initial problems, but new and better materials had significantly improved this.
'It is rare now to see an eye infection from contact lenses unless perhaps someone has rinsed them in tap water, for example,' he said. 'The new materials are very good thanks to excellent manufacturing and research. Dry eye from contact lens wear has improved significantly due to better lenses that retain moisture.'
Today myopia controlling contact lenses are slowing axial growth in children, and contact lenses for presbyopia are being developed.
Soft contact lens developed in garage using Meccano set
In 1961 Otto Wichterle developed the soft contact lens at his Prague home, some say in his garage, others say in his kitchen.
Arthur Epstein, chief medical editor of Optometric Physician said: 'This year marks the 50th anniversary of the FDA approval of the first soft contact lens. Introduced by Bausch + Lomb, the B&L SofLens redefined the entire contact lens industry and transformed the practice of optometry.
'What started as a seemingly impossible idea in the mind of Czech polymer chemist Otto Wichterle, became one of the greatest innovations of the 20th century. Wichterle was a true visionary who believed that plastic could be mixed with water to form a physiologically compatible hydrogel—something that was considered impossible at the time.
'He had a vision for how such an invention could be used. Borrowing parts from his child's erecto (Meccano) set and reverse wiring a bicycle generator, he developed the first spin casting device to manufacture soft lenses. In collaboration with local ophthalmologists he used his lenses to fit aphakic paediatric patients at a local hospital.'
Desmond Fonn, Professor Emeritus and Founding Director of the Centre for Contact Lens Research at the University of Waterloo's School of Optometry in Canada, said The Institute for Macromolecular Research, where Dr Wichterle was employed, didn't fully recognise the significance of his work which led him to develop the spin-casting technique for hydrophilic lenses using the toy Meccano set.
'Eventually, Bausch & Lomb Inc. acquired the patent, introducing the first spin-cast hydrogel contact lenses,' Professor Fonn wrote in Contact Lens Update. 'You could argue that the emergence of soft contact lenses was the most significant eyecare development in the last century, spawning an industry that currently includes approximately 140 million lens wearers worldwide.'
The future
 A comprehensive review of advancements to come in contact lenses has been written by Professor Lyndon Jones, director of the Centre for Ocular Research & Education (CORE).
Contact Lens Technologies of the Future joins nine other papers in a special edition of the BCLA-led Contact Lens Evidence-based Academic Reports (CLEAR.)
'There are a range of diverse technologies that are shaping the future of contact lenses, in some cases already showing their potential in late-stage development initiatives and even commercially-available products," Professor Jones said.
'Novel biomaterials, nanotechnology progress, unique optical designs, biosensing discoveries, antibacterial agents and even battery miniaturization and power transfer are coalescing like never before. The next several years will see incredible advancements and growth for an expanded contact lens category.
Contact lenses to detect and monitor diabetes, cancer and dry eye
'Biomarkers in the tear film will give rise to diagnostic contact lenses to help detect and monitor systemic and ocular diseases, including diabetes, cancer, and dry eye disease.
'Integrated circuit progress may give rise to in-lens intraocular pressure monitoring for glaucoma and even retinal vasculature imaging for early detection of diseases such as hypertension, stroke and diabetes.'
Embedded, tunable spectral filtering may mitigate colour vision deficiencies and drug delivering contact lenses may offer more accurate dosing versus traditional eye drops.
An easy-to-read summary which consolidates conclusions from the BCLA's CLEAR initiative is published today in Contact Lens Update.
Filed in category:
General news
Tagged as:
Awards - honours - grants-bursaries
,
Contact lenses
,
Future
,
Patient management