Read time:

1:30min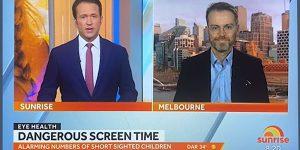 Optometry Australia's Chief Clinical Officer Luke Arundel
live on Sunrise discussing findings of the 2022 Vision Index
Optometry Australia's release of its 2022 Vision Index has successfully delivered widespread Australian media coverage about the importance of seeing an optometrist.
As part of its Good vision for life consumer campaign, this year Optometry Australia commissioned its second round of research looking into Australians' attitudes, beliefs and behaviours relating to their eye health. In July, the resulting 2022 Vision Index was published and subsequently pushed out to media and stakeholders.
The focus of the 2022 Vision Index was on measuring the impact of the Covid pandemic on Australians' behaviours around their eye health and tracking the evolution of the nation's eye health against the inaugural 2020 Vision Index.
Like the launch of the 2020 Vision Index, this year's report delivered excellent media coverage and exposure around the topic of eye health and the importance of seeing an optometrist.
Working with its agency partner Alt/Shift, to date Optometry Australia has delivered 455 editorial hits directly because of the 2022 Vision Index, across online, print and broadcast media. Further supporting media relations efforts was an influencer campaign, with both resulting in a combined reach of over 195.4 million people.
National Marketing and Engagement Manager Trinity Scarf said: 'While the number of editorial hits this year was comparable to that achieved by the launch of the 2020 Vision Index of 478 individual pieces of coverage, it was this year's phenomenal reach that has really elevated exposure of the consumer eye health campaign.'
Trinity explains: 'Reach refers to the number of people in the media market that will likely be exposed to one spot of coverage. Estimating reach can be tricky because when extensive, high quality media coverage is secured, as has been the case here, the same person is likely exposed to the same message multiple times.
'The reach figures have been particularly high in 2022 compared to previous years due to securing extremely high reaching coverage through outlets such as The Daily Mail and Weekend Sunrise,' she continued.
Analysing the initial research findings, two main themes emerged from the 2022 Vision Index: the prevalence of eye health issues across Australia and the rise of myopia and screen time.
To maximise media coverage results and encourage an in-depth exploration of both themes, a staggered approach formed the basis of the media relations strategy, enabling us to position our lead narrative as a TV exclusive with 7 News Australia while also encouraging wider coverage across general news, health, youth, seniors and radio outlets. The development of a second, myopia narrative enabled us to secure additional exclusive coverage live on Weekend Sunrise.
A key and ongoing contributor to being able to secure such strong media coverage is the ability to work with members and respective patient case studies of interest.
Following the launch phase, efforts were made to uncover additional angles out of the research to continue to generate editorial coverage in subsequent months.

Supporting influencer campaign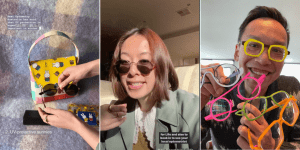 To further support awareness of the 2022 Vision Index and encourage Australians to prioritise their eye health, we engaged two influential personalities within the fashion and lifestyle space to speak about some of the key findings.
Highlighting two key messages – the importance of UV protective sunglasses even in winter and the importance of regular eye examinations – Masterchef's Alvin Quah and fashion influencer Maggie Zhou both helped bring the report's findings to life and generate engaging responses from Australians.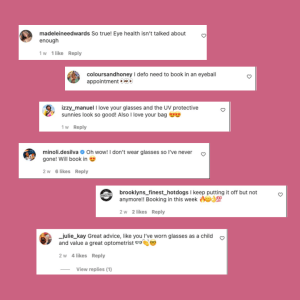 Filed in category:
Marketing
Tagged as:
2022 Vision Index
,
Good vision for life