Read time:

2:0min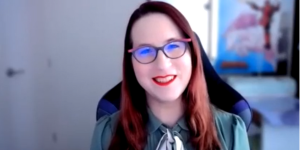 As part of its #BreakTheBias project, kicked off on International Women's Day 2022, Optometry Australia asked six members to share their experiences of bias within the optometry sector. As part of our campaign to seek understanding of the challenges facing women in optometry, we also launched a survey in March asking members about their own experiences.
Brisbane-based optometrist Elizabeth Newell spoke about the pressures that are felt by women in the workplace. She says that while she feels optometry is doing quite well when it comes to inclusion, one issue that comes up is that there is a bias against female professionals as often patients want to see a male practitioner.
Another major concern for Elizabeth is the pressure that women feel to return to work after having children. She says some women feel they 'don't have enough of a gap or enough of a parenting experience and that's certainly something we can work on to give more support, whether it's through lobbying governments or if there's corporate changes that can be made.'
Elizabeth says that these issues are felt by women in all industries and extend to the wider community.
She believes that optometry is leading the way when it comes to improving conditions and opportunities for women.
Elizabeth says the optometry sector 'allows women to have that professional career and to make the choice between working two days a week or five days a week, having a family or seeking career advancements. There is the ability for women to tackle any role within optometry without being turned away or laughed at, unlike in certain professions.'
She suggests a few ways that Optometry Australia and the optometry community can help to further improve conditions for women.
Elizabeth says one of her proudest achievements has been 'learning that fine line between being too assertive that it starts turning people away, but then also sticking to your guns and being able to back yourself up with your knowledge and experience.'
The Optometry Australia gender bias survey is now closed. We will be sharing these insights and our plans to continue to support women in optometry over the coming weeks and months.
To have a confidential conversation with a member of our optometry advisor help desk about an issue you're having in the workplace, email national@optometry.org.au or call (03) 9668 8500 (office hours, Monday – Friday).
Filed in category:
Members & member initiatives
,
Workplace
Tagged as:
Leadership