Read time:

3:30min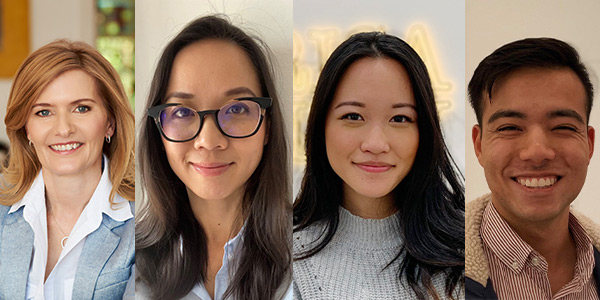 L-R, Mentor Lisa Jansen and some of the program's mentees, Linda Nguyen, Jingyi Chen and Nick Tran
By Helen Carter
Journalist
Optometry Australia's Mentoring Program has attracted 81 members including 54 acting as mentors and 45 as mentees from across the nation and even internationally.
Some members are both as they have flagged they would like to be a mentor in one area of interest and a mentee in another area of interest.
And there have been 17 matches so far with advice flowing via Zoom meetings, Facetime and emails.
Optometry Australia help desk adviser, optometrist Sophie Koh, said the program aimed to help optometrists at any stage of their career access direct peer support to grow their career. Click here for broad mentorship categories.
Mentees and mentors can read biographies and passions of their potential match and connect with each other via the Pushfar platform.
The peer-to-peer program, which is free for members, is facilitated by this complimentary online platform which makes it easy to sign up and find a match.
'The program is for everyone, no matter whether they work in corporate, independent, teaching, locum or academic fields. It opens up contacts outside of your usual employer which is a great thing,' Sophie said.
'We had a soft launch in October 2020 and are planning to fully launch the program in 2021.
'It has been great seeing optometrists ranging from new graduates to retired members connect across state lines and we even have members living and working overseas who have joined the program. The platform is a powerful networking hub.
'Many mentees are looking for mentorship in business innovation or starting a business.
'Others are looking for personal development such as in communication and leadership skills, general career planning support and guidance in a particular clinical scope of practice such as paediatric optometry or are looking to connect with others who practise rurally or have insight into volunteer/outreach work.
'Who knows, some of these matches might develop into future job opportunities!'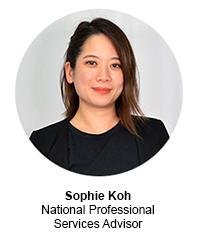 Why be a mentor?
Mentoring can:
improve your interpersonal and communication skills
help you be a better leader (respond to challenges, practise patience, meet diverse colleagues)
help you gain a personal sense of satisfaction from knowing you have made a positive impact on someone else's life and career
'Mentors highlight how many mentees they'd be happy to take on. Others will see your profile and may request to be mentored by you. You then choose whether or not to accept that request,' Sophie said.
'In your bio, be sure to include any past roles or qualifications, your current role and what you feel you are able to support mentees with. And whether you would prefer to meet virtually or in person. It can be a one-off meeting or you can mutually agree on a longer relationship.
'There are many benefits to being a mentor. You will make positive impacts on other's lives, broaden your understanding of the profession and meet diverse colleagues along the way.
'The platform steps you through how to be an effective mentor, set up meetings, set expectations and goals, what to do if the relationship isn't going well, and how to end a mentoring relationship.
'Optometrists two to ten years out of university (early career optometrists or ECOs) might not see themselves as mentors but they can be great mentors for an immediate graduate. We particularly encourage ECOs to consider becoming a mentor. Sharing your lived experience can be very useful for an immediate grad.'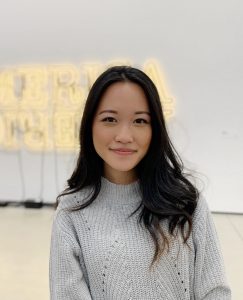 Jingyi Chen
Jingyi Chen is currently a mentee but feels the program is so beneficial she is considering being a mentor for new graduates in the future. Jingyi put her hand up to be a mentee because she felt mentors could provide useful tips and advice about her career path and enlighten her about their fields of optometry.
Jingyi graduated from Deakin University in 2019 then began working at OPSM in Batemans Bay, regional NSW.
'I was a bit apprehensive at first but when I looked at the website and the calibre of the mentors, I realised there were so many I could connect to,' she said. 'I have broad interests and they were all well covered, with so many mentors having different interests.
'I chose one who is an early career optometrist who works clinically and in research as this is a field I am interested in. I thought I could ask about career planning including research.
'I also noticed a few more who I would like to connect with in the future to ask about different fields. I am also interested in public health and optometry but don't really know what that involves so it would be great to have a mentor with experience in this.
'My mentor and I have arranged an introductory Zoom meeting in January and we will see if we click and go from there.
'I would definitely encourage other optometrists to register as mentors and mentees because it is a free service that can help so many in their optometry career, whether starting out as a graduate or venturing into a new field.
'People can also be both mentor and mentee, and a few people suggested to me that I be a mentor for new graduates so I am thinking about doing this perhaps after my second year out.'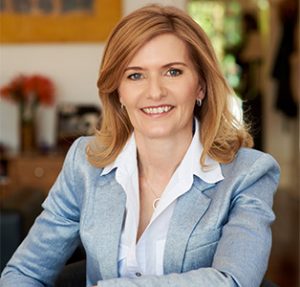 Lisa Jansen
Mentor Lisa Jansen, an optometrist and business/life coach from Perth, has been doing a lot of career coaching for members including with new graduates and others. She also completed Optometry Australia's disruption ready course last year where she met several graduates and early career optometrists.
'When I received the email from Optometry Australia inviting mentors and mentees to join the program I jumped at the chance because I was really impressed by the calibre of the young optometrists I had met and knew I could probably help them,' Lisa said.
'I had a fabulous mentor, Lloyd Owens, when I was a partner at Abernethy Owens, and without him and the experience I gained there, I would not be the optometrist I am today. He provided support to allow me to grow professionally and personally.
I want them to love their career
'I could see that perhaps some of the young ones were missing out on this important experience.
'The first few years are critical in setting up in the profession and graduates can feel burnt out early in their career and feel like they are just a refractionist, chasing money. I want them to find out what optometry is really about and love their career.'
Three mentees have chosen Lisa as their mentor, a new graduate and two early career optometrists (ECOs.) One is based in Perth and the others are interstate.
'It's going really well,' Lisa said. 'They're eager and take on what I say. Each Zoom session we set a goal and they do it and get back to me. They take the process seriously and appreciate our time together, and are grateful for the advice.
'Each wants to know something different, for example, one is starting out so it is all new to her and she is understanding different perspectives and we have spoken about leadership and communication. Another wants to know about business ownership and we are bouncing around ideas.
'It's good to have someone to talk to who has been down that path and understands, especially someone who isn't your boss or colleague who can provide a safe space to talk.
'We meet every month on Zoom and sometimes send emails sharing articles or talks.
Great initiative – helps people grow and learn
'The program is a great initiative; it helps people grow and learn and is mutually beneficial. I love as a coach that I'm just there for them to help them achieve the goals they want, give input, help them discover who they are and provide confidence.'
Lisa recommended other members try it in any capacity, as mentor or mentee because it is a great way to connect with people.
'We can sometimes be isolated as optometrists so do something a bit brave and meet someone new, of a different age, on the other side of the country,' she said. 'I feel very positive about the future of the profession and know we are in very capable hands.'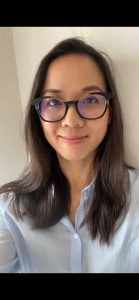 Linda Nguyen
Sydney optometrist Linda Nguyen found out about the program when asking Sophie on our help desk questions about setting up her own mobile optometry clinic.
Linda has been working in private practice in Sydney since graduating in 2006, predominantly as a locum optometrist in behavioural optometry clinics as well as mobile clinics within schools, remote communities and in nursing homes.
Because COVID had essentially cancelled nursing home visits with her employers, Linda took the opportunity to pivot and establish Care Optometry, a home and community mobile clinic. Care Optometry's core goal is to make eye care more accessible for those living with a disability and other vulnerable individuals at risk of missing out on regular eye exams.
Throughout the year, Sophie has helped Linda with advice on starting a mobile clinic including Medicare billing in domiciliary settings and the ins and outs of medico legal record keeping and insurance obligations.
She thought Linda could further benefit from having a mentor regarding start-up advice so referred her to the Optometry Australia mentoring program. Here Linda was able to connect with optometrist and professional business coach Grant Fisher.
'The new business launched in September and is still in its infancy. However, before getting too ahead of myself, I wanted to ensure I was starting on the right footing because, as we all know, in optometry school we aren't really taught business fundamentals,' Linda said.
'I chose Grant as I wanted his insight into the industry as a whole and where I should place Care Optometry.
'We are able to communicate through Zoom meetings and emails, and so far, the advice has given me really good insight with where I am and where I want to be. He was also able to provide me resources for starting up a business and suggested certain books that would be worthwhile reading.
'Though I could also get advice from colleagues and bosses, it is nice to have an assigned mentor who is available and willing to answer questions that might pop up, without me feeling intrusive on their time.
'With Grant's mentoring, it's nice to know that I am on the right track, so I can confidently develop my business practice and put my energy where it needs to be.
'I am so grateful for his experience and knowledge, I look forward to our future communications and learning from him as Care Optometry develops,' Linda said. 'Also, Zoom meetings have been a godsend as I can now 'meet' with him even if is on the other side of the country.
'It's been a great start so far with the mobile clinic. I've been able to assist vulnerable patients who cannot leave their homes for health reasons but desperately need an eye test and new glasses. I've had multiple non-verbal patients whose family did not know if they could even have an eye exam due to communication and cognitive issues and are having an eye exam for the first time. It's been very rewarding in such a short space of time.'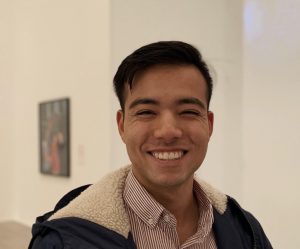 Nick Tran
Mentee Nick Tran graduated in 2019 and for the past year and a half has been working at Bateman's Bay OPSM in NSW.
'I am in the Early Career Optometrists NSW/ACT (ECONA) group and found out about the mentoring program via an email from Optometry Australia,' he said. 'It was a good opportunity for me because as a new graduate working in a regional area you don't get to build a network with many optometrists as there are only a few here.
'I'm from Perth and would like to return there eventually so I chose a mentor from Perth. She's great and really friendly. She went to the same university as me and has let me know about practices in Perth and what to expect. I hope to meet her in person when I move there.
'The first time we met on Zoom was a general chat then she asked what I wanted to get out of the program then we followed up with a review and set some goals.
'She said she was interested in teaching so I suggested she contact the university, and she suggested I become more involved in the community so I am now on the committee of a local soccer club and an online Deakin group.
'It's a really great initiative and it was helpful to find a mentor that suited my needs.
'I would consider another mentor too if there was another area I was interested in in future. For example, if I wanted to learn more about advanced contact lenses and the practice I worked at didn't have large emphasis in this area of practice.'
Thanks to all mentors
Sophie said: 'We would like to say thanks to all the mentors who are helping us help others. They are all volunteering their time.
'Like a mentor said to me recently, 'I think the mentors are surprising themselves that they are getting something positive out of this too.'
If you are interested in Optometry Australia's Mentoring Program, you can read more about the program here, register to browse the platform or speak with Sophie Koh at the Optometrist Advisor Help Desk national@optometry.org.au and (03) 9668 8500
Filed in category:
ECOs & students
,
Members & member initiatives
,
National & State initiatives
,
Workforce
Tagged as:
Employment
,
Leadership
,
Member services