Read time:

1:30min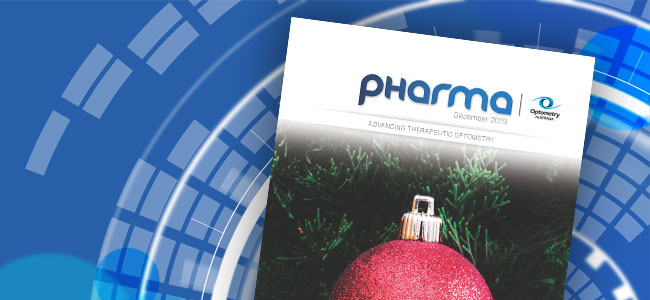 By Helen Carter
Journalist
After a successful uptake in member-submitted case reports in 2019, the Pharma Editorial Committee has renewed the call for case report submissions from members and added a chance for them to see their photographs claim the front cover.
For more than a decade, Pharma has been committed to exploring the ever-widening scope of optometry and educating our readers in disease detection, therapeutics and the treatment of ocular conditions.
The magazine has always aimed to provide information that optometrists can use immediately in their day-to-day patient care or that will assist them to improve their knowledge across a range of eye health issues.
In March, 2019 Pharma invited members of Optometry Australia and the New Zealand Association of Optometrists to submit their own original case reports that highlight the challenging, unique or unusual presentations that confront optometrists.
Jeff Megahan, editor of Pharma said response was remarkable.
'We were surprised at the diverse topics and range of conditions in the submitted case reports,' he said. Ultimately, two were selected from members Rose Huang and Anna Delmadoros.'
Rose, a locum optometrist, from Dapto, NSW presented her account of a case where OCT scans were instrumental in the diagnosis of bilateral dynamic vitreomacular traction, and Anna, from the UNSW School of Optometry and Vision Science, submitted a case report on Thygeson's superficial punctate keratopathy. Both were published in the December 2019 Pharma issue, out now online and hard copies arriving in member mailboxes this week.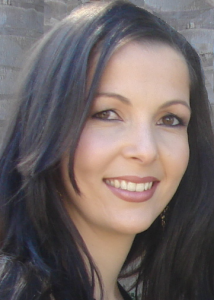 Optometrist Anna Delmadoros
Submitting case reports is rewarding
Anna Delmadoros is principal staff optometrist, Ocular Health and Advanced Ocular Techniques and Lead clinician in the Ocular Pathology clinic, UNSW School of Optometry and Vision Science.
'With a key interest in ocular pathology, I have come across and managed many interesting cases which I have been able to incorporate in the education of optometry students,' she said.
'I am passionate about teaching, with the objective of imparting a methodological and practical approach to disease diagnosis in the clinical setting. Case-based learning has been an important component of this, and given its success, it was suggested that I extend the contribution to the profession by publishing these.
'I have appreciated reading published case reports as they offer unique value and are an integral part of our continuing professional development and exceptional patient care. More importantly, they provide a remarkable platform where we can learn from each other. Submitting this case report was rewarding and I strongly encourage colleagues to do the same.'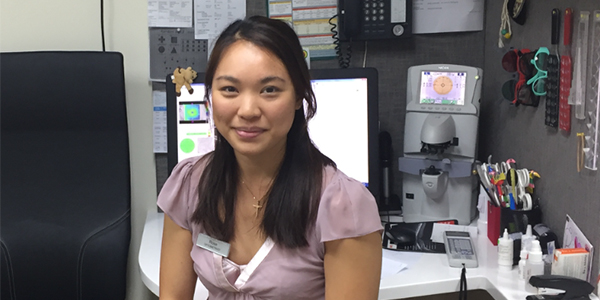 Optometrist Rose Huang
Since she began practising four years ago, Rose said she had seen quite a few interesting cases and had been recording details.
'I enjoy writing up case studies for interesting presentations because I think they would be good to share with others. I have been fortunate enough to work in practices which have OCT and a fundus camera,' she said. 'The patients tend to be very excited and warmly welcome the idea of having their case shared as tools for learning.
'I had the case about 95 per cent written up and in March when the call went out from Pharma, I thought 'perfect' and wrote the rest of this case up and submitted it.
'This case stood out because it was unusual and there are not many similar cases in the literature, so I thought if this could potentially help other practitioners, why not?'
Australian optometrists who create optometric editorial content published in Pharma can claim one CPD point per hour spent researching and writing under the 'independent learning – clinical' category. New Zealand optometrists can claim CPD credits for case reports by submitting an application to NZAO for the CPD recording program manager.
Members can send a 200-word explanatory summary of their case report, plus one to two captioned images, scans or graphs to pharma@optometry.org.au

Claim the cover
Building on the success of the call for case reports, the Pharma team is now offering members the chance to show their creative side.
Jeff said the 'claim the cover' Pharma call out was not a competition but a call for submissions. 'We're aware that many of our members actively pursue creative hobbies that enhance their careers, and we are just hoping to encourage those pursuits in some small way,' he said.
'Cover images can be abstract or clinical and will be selected on the basis of creativity, ingenuity and how well they embody the theme for our 2020 Pharma issues.'
Each original submission will be evaluated by the editor and the editorial committee. The selected photos will win pride of place on the covers in March, June, September and December 2020. Deadline for the March issue cover is January 15, 2020.
Issue themes for Pharma 2020 are:
March: Collaborative care. Articles and case reports showcasing models of effective integrated health care
June: Barriers to optometric care. The vital role of optometry in the provision of care for those most in need
September: Member Q&A. Experts respond to our members' most frequently-asked questions
December: Anterior eye and ocular oddities. Front-of-the-eye conditions, unusual case reports and contact lens innovations
How to participate
To be considered for the cover shot, you must be a current, retired or student-member of Optometry Australia or a member of the New Zealand Association of Optometrists. Send your high-resolution jpeg image (300 dpi, minimum size 20 x 25cm) to pharma@optometry.org.au
Nominate the Pharma cover issue that you would like your image to appear on
Submit a brief caption
Include your name and contact details, including your Optometry Australia or New Zealand Association of Optometry membership number and/or the university you currently attend.
Terms & Conditions including submission deadlines
Filed in category:
Member resources
,
Members & member initiatives
,
Patient care & management
,
Publications & podcasts
,
Therapeutics
Tagged as:
Pharma
,
Therapeutics