Read time:

1:30min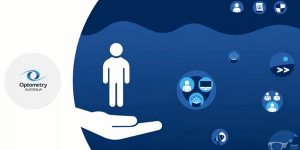 Optometry Australia has launched a short video explaining how it allocates its budget annually to support the delivery of member services and programs as well as sector and organisation sustainability.
President, Murray Smith (pictured below) said, 'With the membership renewal period opening soon, the Board of Optometry Australia felt it was important that members were provided with an understanding of how hard members' fees work'.
He explained that when budgeting, 'The Board ensures that members are always first and foremost in all decision making, and we drive this culture throughout the organisation.
'By applying this philosophy we have been able to significantly expand and evolve the range of member services and programs that are accessible to all of you regardless of where you live and practice.
'We also understand that optometry is vulnerable to a range of disruptive forces which is why we place so much emphasis on long-term planning, like Optometry 2040, so that we can have the processes and systems in place to evolve and sustain our profession well into the future.
'We are attuned to the need to better inform the public of eye health issues so that they make seeing an optometrist a regular part of their health regime'.
'Achieving these outcomes requires an organisation that is efficient, robust and enduring', he said.
Mr Smith explained that while the Shared Strategic Plan provides Optometry Australia, and state divisions, with a framework to focus our efforts, 'it is revenue sourced through a variety of income streams and from a part of your fees that enables us, your national organisation, to exist and to perform on your behalf'.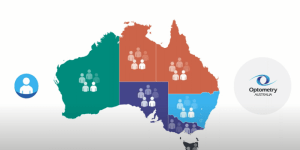 Fees contribute to budget
As highlighted in the video, each year members pay their membership fee to their state division. Each state division supports a range of very important local activities and member services and also provides part of each member's fee to Optometry Australia so that the national organisation can deliver a wide range of services to members around the country.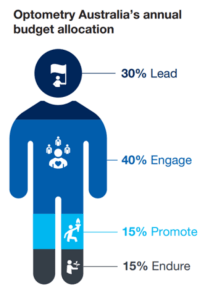 Before doing anything else, Optometry Australia ensures that all members are covered by premium professional indemnity insurance and that members have instant access to a medico-legal hotline and confidential optometry advisor help in case something goes wrong.
After PII, budget is subsequently allocated to align with the strategic pillars with 30% of its funding apportioned to lead activities; 40% to engage programs; 15% to promoting optometry; and 15% assigned to endure, or support services.
'This means that the majority of our funding – 70% – is concentrated on shoring up the future of our profession as well as on providing you with comprehensive services and programs such as education, career development, clinical guidelines and news and information', Mr Smith concluded.
Filed in category:
Members & member initiatives
,
National & State initiatives
,
Workplace
Tagged as:
Future
,
Leadership
,
Member services