Read time:

1:30min

Five members have joined an Optometry Australia working group to help the organisation shape its continuing professional development (CPD) program and evolving learning portfolio.
Tina Jong (top left), Nicola Mountford (second left), Anna Delmadoros (middle), Angie Trinh (second from the right) and Alex Craig (right), join Optometry Australia's Head of Education, Simon Hanna (bottom left) and Education Publications and Content Strategy Manager, Sam Bonwick (bottom right) on the working group.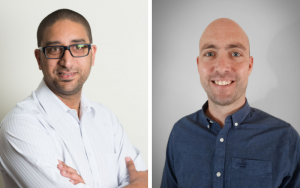 The provision of ongoing education as a driver of change is a key plank of Optometry Australia's Shared Strategic Plan FY2021-2024, and the CPD Working Group is charged with guiding the organisation's CPD program to ensure it delivers the most appropriate professional development aligned to members' needs.
Simon Hanna said that, 'Optometry Australia has a great appetite for education content with a portfolio that includes webcasts, podcasts, interactive workshops, on-demand courses, publications and a virtual national conference.
'As we live in a global world, we need to ensure that the standard of this education is comparable to world's best'.
Simon explained that the basis of any good education is that it propels optometrists and the profession forward by offering insights into advanced clinical management, patient care, optometric research and eye health trends that can be applied in practise immediately – and it is this that Optometry Australia strives to provide to members.
'This means tapping into the current and future-oriented education presented by leading optometry trainers, researchers and educators and constantly pushing ourselves to improve and expand what we offer'.
New CPD strategy
One of the first tasks of the CPD Working Group will be to provide guidance to Optometry Australia on the development of a new CPD strategy.
'Our initial strategy for the FY2018-2021 period was successfully delivered', Simon said.
This included launching the Optometry Australia Institute of Excellence with the specific aim of offering members access to a catalogue of quality on-demand education, on an extensive range of eye health topics, that they can complete anywhere, any time.
It further included the launch of regular webcasts which now attract 700 participants on average each month, the introduction of podcasts and interactive discussion workshops.
In 2020, Optometry Australia expanded its portfolio further by announcing a national conference, Optometry Virtually Connected, a new flagship publication, Optometry Connection and introducing assessment to complement Clinical & Experimental Optometry.
'And to assist members meet the new education requirements set by the Optometry Board of Australia (OBA) in December 2020, we launched a range of easy-to-use tools including a digital CPD Learning Plan', Simon said.
He continued that the organisation also introduced its Institute of Excellence Quality Assurance Program to ensure that CPD offered to members, delivered not only by Optometry Australia but other CPD providers, was of a standard acceptable to meet the OBA's stringent education requirements.
'We continually assess our CPD portfolio to determine where it could be expanded and this will be reflected in the new CPD strategy.
'We welcome Alex, Nicola, Angie, Anna and Tina's contribution to this planning process and to the ongoing development of CPD program', he said.
Main image caption: Left to right – member representatives on the working group Tina Jong, Nicola Mountford, Anna Delmadoros, Angie Trinh and Alex Craig
Filed in category:
CPD, conferences & events
,
Members & member initiatives
,
National & State initiatives
Tagged as:
CPD - education
,
Leadership
,
Member services