Read time:

1:30min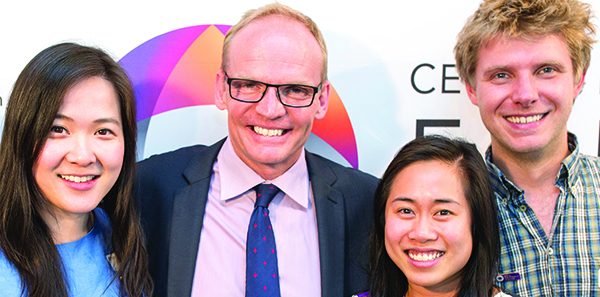 Some  members of the research team, L-R, CERA optometrist and Research Fellow Dr Flora Hui, former managing director, now Professor at Singapore Eye Research Institute and Duke-NUS Medical School, ophthalmologist and glaucoma specialist Professor Jonathan Crowston and other members of CERA's Glaucoma Research Unit, Dr Jessica Tang and Research Fellow engineer, Dr Xavier Hadoux. Photo: CERA
By Helen Carter
Journalist
A world-first clinical trial led by Melbourne researchers suggests vitamin B3 (nicotinamide) could play an important role in protecting against retinal ganglion cell damage that leads to blindness in glaucoma.
Results, published this week in Clinical and Experimental Ophthalmology, showed 'significant improvement' in the visual function of glaucoma patients who received a daily dose of three grams of nicotinamide for 12 weeks in addition to their regular treatment to reduce intraocular pressure.
'For the first time, we have shown that daily high doses of vitamin B3 can lead to early and significant improvements in patients who are also receiving traditional treatments to lower eye pressure,' one of the chief researchers, optometrist Dr Flora Hui said.
'As a safe therapy that is well tolerated by patients, vitamin B3 has potential as a clinical supplement to support patients who are receiving glaucoma treatment.'
However, Dr Hui and lead researcher, ophthalmologist Professor Jonathan Crowston, advise that it is too early for optometrists to start recommending glaucoma patients take the supplements.
Dr Hui, a Research Fellow in the Centre for Eye Research Australia's Glaucoma Research Unit told Optometry Australia: 'This study is promising but we still need to do more research as we are yet to determine whether nicotinamide can slow progression in the long-term more than current glaucoma treatments alone.
'We are planning a larger trial to answer this and to investigate the long-term effects associated with taking nicotinamide.
'In the meantime, nicotinamide is a commercially available supplement, so some people may want to take it.
Advise patients to ask GP or ophthalmologist
'If optometrists are met with this question, I would say that they should tell their patients to speak to their GP and/or ophthalmologist as we need to make sure that there aren't any contraindications for taking nicotinamide.
'Anyone who is receiving treatment for glaucoma should continue their current therapies – and if they are considering taking vitamin B3 they should talk to their doctor or eye specialist first to make sure it does not interfere with any other medicines or treatments they may be having.'
Professor Crowston, who led the study at CERA and is now at Duke-NUS Medical School and Singapore Eye Research Institute, said a longer-term study was needed to know conclusively whether nicotinamide delays progression more than eye pressure lowering medications alone.
The current study, which includes researchers from the University of Melbourne, University of Adelaide, Duke NUS-Medical School, Singapore Eye Research Institute, Karolinska Institutet, and Cambridge University, was conducted with glaucoma patients in Melbourne at private ophthalmic clinics and the Royal Victorian Eye and Ear Hospital.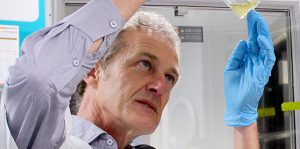 Another member of the research team, principal investigator at CERA's Mitochondria Laboratory Associate Professor Ian Trounce. Photo, CERA
CERA's trial followed 57 patients, all of whom received both placebo and vitamin B3 over 12 weeks. Their visual function was tested using electroretinography to measure electrical activity in the cells of the retina, and visual field testing to determine any changes that occurred.
The trial found that in some people, high-dose nicotinamide significantly improved how nerve cells were functioning in the eye.
'From our first study, it is difficult to tease out whether certain sub-groups were more amenable to nicotinamide as we need more patient numbers to determine this and this will be an aim in our next trial,' Dr Hui said.
Improvement in retinal function 'exciting'
Professor Crowston said the short-term improvement in retinal function was exciting.
'A larger study will help us determine whether vitamin B3 should be taken on an ongoing basis by glaucoma patients,' he said.
Earlier pre-clinical research in the US, also reported on by Optometry Australia, showed vitamin B3 could prevent optic nerve degeneration but this is the first time similar results have been seen in a human trial.
Dr Hui said the findings provided hope of a treatment that could protect retinal ganglion cells and help those whose vision had already been damaged to function better.
'Like adding oil to a car engine to allow it to run smoothly, vitamin B3 could be used to protect cells from damage and help those whose eyes have been affected by glaucoma to work better,' she said.
Glaucoma, the world's leading cause of irreversible blindness, affects more than 60 million people globally. It leads to vision loss when cells in the optic nerve and retina are lost and is usually treated with eye drops or surgery to reduce eye pressure but there are currently no treatments to protect cells from further damage or to improve cell function.
The research was supported by the Jean Miller Foundation, Connie and Craig Kimberley Foundation, the Ophthalmic Research Institute of Australia, Jack Brockhoff Foundation,
Marian and EH Flack Trust, Fund and Board of Research Faculty (Karolinska Institutet). CERA also receives funding under the Victorian Government's Operational Infrastructure Program.
Read Improvement in Inner Retinal Function in Glaucoma with Nicotinamide (Vitamin B3) Supplementation: A Crossover Randomised Clinical Trial: Hui F, Tang J, Williams PA, McGuinness MB, Hadoux X, Casson RJ, Coote M, Trounce IA, Martin KR, van Wijngaarden P, Crowston JG
Read our original story when the study began.
Filed in category:
Research & surveys
Tagged as:
Glaucoma