Read time:

1:30min
Optometry Australia continues to evolve its variety of resources and programs that it creates to support, develop and enhance members' careers.
Recently added programs include such initiatives as travel scholarships, a mentor program, flexible workplace resources, a jobs board and a business directory.
CEO Lyn Brodie, said that by listening to members and by keeping a close eye on optometric advancements, clinical and patient management changes, Optometry Australia was able to provide a comprehensive range of relevant and timely resources to support career progression.
'Everything from our personalised member hotline, the courses we provide through our Institute of Excellence, our electronic newsletters, options for profiling on our Find an optometrist search function, website updates and working group participation through to our scholarship programs, are all about ensuring members have the right advice and can access the right resources to succeed.
'As a peak professional membership body, we understand that we have a responsibility to support our members through their career journey – from student to retirement and beyond.  Therefore, whenever we make a decision to consider a new initiative, to change an existing program or even to stop providing a service, we will always consider if it's in the best interests of our members.
'We also strongly believe that your career does not simply stop when you leave the practice and that it carries into your personal life which is why we also consider developing or providing resources that are also important for personal development such as financial and wellbeing information and our business directory,' Lyn said.
Below are just six exclusive resources that members can access to help support and boost their careers. For a more detailed list of the many other resources we provide, we encourage you to look through the Practice and Professional Support section of the website.
1. Optometry Advisor Help Desk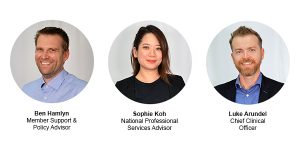 Our Optometry Advisor Help Desk is staffed Monday to Friday during normal business hours (AEST) by advisors Ben Hamlyn, Sophie Koh and our Chief Clinical Officer, Luke Arundel who will advise on more complex issues such as PII and legal matters.
National Professional Services Advisor, Sophie Koh, says the help desk serves to provide all members with personalised, confidential and unbiased advice for all clinical, ethical and professional questions.
'We're here to help you at any stage of your career regardless of where you work, or whether you're a locum, an employee or an employer optometrist, we can provide advice on employment contracts and any other employment matters too'.
'You might be a new parent wondering what your leave entitlements are, or you might a business owner or a franchisee needing HR advice in understanding your obligations as an employer. Whatever the issue, we are here to help you without judgement,' Sophie said.
Our Optometry Advisors can be contacted by email at national@optometry.org.au or by phone at 03 9668 8500.
2. Mentorship program
 Optometry Australia's mentorship program can connect you with other optometrists through an intuitive online platform. As a mentor or mentee, the platform walks you through how to find a mentor match and supports you in setting up mentoring catchups. Even if you are living in a remote area, another city, another state or another country–virtual catchups can be easily arranged via the platform.
All members are invited to join our mentor program whether you're an experienced optometrist, a student or if you're returning to the workforce after a career break.
You can read first-hand what members who have taken the step to become a mentor or mentee have to say, and see how it helped them expand their network and grow their professional career.
3. HR assist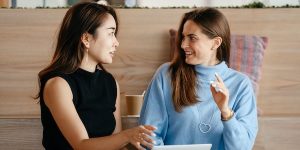 Optometry Australia offers all members access to a legal, HR and IR assistance program with Industry Legal Group (ILG). All advice is independent and confidential and available to employers and employees.
The service is staffed by legal practitioners and workplace relations consultants with specific knowledge of the optometry profession.The initial consultation for members is free and, if further advice is required, ILG can provide you with discounted rates on a fee-for-service basis.
ILG can offer a range of advice on matters such as contracts and workplace disputes, parental and other leave entitlements, bullying, discrimination, termination, legislation, conditions of employment or any other issues or concerns you may have in your workplace.
They can be contacted toll-free on 1300 101 391 or at oa@industrylegalgroup.com.au.
4. Jobs board
Looking for change? Have a flick through our Jobs Board, optometry's leading employment hub that displays optometry-specific positions, including locum listings, available throughout Australia.
You'll be able to browse through vacant positions, as well as post a 'position wanted' listing for yourself – members who are seeking employment for themselves (and not on behalf of a practice, corporate or locum service) are exempt from fees when place a 50-word 'position wanted' listing.
Members can search for jobs by using intuitive filters: by state and city/locations, full and part time opportunities and locum openings.
5. LOOK scholarships
In early 2020, we launched the Looking Outward on Optometric Knowledge (LOOK) program that offered scholarships to select members to participate in international and local study tours. The purpose of this program was to provide members with the opportunity to investigate advancements in optometric clinical and patient management and/or eye health and disease diagnosis, and observe the role of optometrists in a patient's ocular health journey within an international, or local, setting.
Due to travel restrictions in place last year, Optometry Australia supported a virtual study tour for the 2020 recipients, Nicola Mountford and Dr Shelly Hopkins.
6. Student Leadership Program

The Student Leadership Program (SLP) is an exciting initiative designed to give optometry students the skills and confidence to become future leaders within their professional and optometric career.
Held annually, students are given the opportunity to build their understanding of different models of leadership, and taught how to embrace and navigate the opportunities and challenges of a changing optometry landscape. Successful applicants are given the chance to network with other participants, and meet and learn from a variety of inspiring industry leaders and influencers.
Interested students are encouraged to keep an eye out for the opportunity to apply for the SLP next year. If you'd like more information on this program, you can email policy@optometry.org.au or call our Help Desk on 03 9660 8500.
Filed in category:
Member resources
,
Workplace