Read time:

1:30min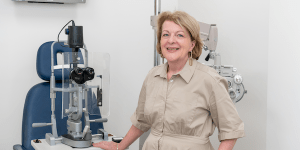 After five busy years at the helm, Optometry Australia's CEO, Lyn Brodie, has resigned and will leave the organisation in mid-October. Lyn plans to take some time out and refresh her energy.
President, Margaret Lam said that the national board follows contemporary governance practice and so each year considers succession planning for the Board and CEO.
'This means we are well placed to shortly commence the recruitment process to find a new CEO,' she said.
'In the interim, arrangements have been made for our existing national office team members to step up and work closely with Lyn, to ensure the support required for all national office operations is there to operate smoothly.
Dr Lam said that while she is sad to announce the resignation, she is pleased to have worked with Lyn for quite a number of years. In a message sent to members today, Dr Lam outlined some of the key achievements under Lyn's leadership:
'I have great respect for Lyn and her many achievements for us at Optometry Australia for our grassroots members.
'When Lyn informed me that she was resigning, we spoke about the changes that she had implemented during her tenure and her personal satisfaction of knowing that Optometry Australia is in a strong and viable position that ensured members were front and centre of everything we do.
'Lyn has been a true visionary whose innovation has allowed Optometry Australia to execute all its functions at a higher gear, and positively influenced the future direction of Australian optometry through the creation of a clear pathway for evolution and sustainability.
'Since commencing her role in July 2017, she has been instrumental in re-shaping and expanding the range of services that Optometry Australia delivers to members. This includes expanding our Member Advisory Service to support over 2,000 members who contact us annually for individual and confidential one-on-one advice.
'Lyn recognised a gap in the delivery of a national program of flexible and accessible education, and oversaw the introduction of Optometry Australia's Institute of Excellence through which a program of monthly webcasts, quarterly interactive workshops and what is now the southern hemisphere's leading virtual optometry conference, Optometry Virtually Connected, were launched. This proved invaluable with the challenges of COVID and the difficulties of face-to-face education. She also oversaw the introduction of a quality assurance program for education.
'Members now have access to a mentor program, leadership development programs, travelling scholarships, extensive guidelines designed to enhance clinical and patient management and an expanded portfolio of information and communications.
'Through the uncertain financial circumstances posed by COVID, Lyn also championed the member fee relief for 50% off for member fees to ensure members clearly understood that they had the support of Optometry Australia through turbulent financial times.
'In 2018, Lyn led the development of Optometry 2040, our long-term transformation strategy aimed at securing the sustainability and evolution of optometry in Australia over the next 20 years. This strategy has seen the commencement of numerous projects aimed at evolving scope of practice and optometry evolution to build the framework for our optometry members to continue to expand the services offered to patients.
'By building strong relationships with key government decision makers and RANZCO, optometrists now have a seat on the Ophthalmology Implementation Liaison Group. We also have been invited to participate in an Implementation Liaison Group established by the Department of Health with the goal of supporting the implementation of changes to the MBS items resulting from the recommendations of the MBS Review Taskforce.
'These relationships also paved the way for Optometry Australia to secure a $420,000 Federal Government grant to amplify our Good vision for life campaign into 2020 and 2021. This campaign continues to be instrumental in driving patients into your practices through its eye health messaging, which includes the need to see an optometrist regularly throughout life.
'The response to these initiatives from you has been extremely positive as highlighted in your responses to our recent survey where:
94% of members said they considered the organisation to be member-focused
86% cited you would highly or likely recommend membership
85% said the services we deliver provide good value for money
Trust in Optometry Australia has risen from a baseline measure of 76.7%

i

n 2016, to 96%.
'Optometry Australia has shone under Lyn's influence with the organisation named the Asia Pacific Professional Association of the Year in 2020. We also received two silver Asia Pacific Stevie Awards in the same year for our optometry marketing efforts. In 2021, Optometry Australia received a Best Workplace Award from Voice Project, an initiative of Macquarie University in recognition of the organisation's incredibly high staff satisfaction.
'And early this year, Lyn deservedly was named one of Australia and New Zealand's Association Influencers by the Australasian Society of Association Executives.
'She will be missed not only by the national board, but by all staff and optometry stakeholders, and undoubtedly by you, our members.
'Lyn is a leader, mentor and innovator, and a respected thought leader.
Dr Lam concluded in her message to members, 'Like you, I am an optometrist and I'm sure I speak for all members in thanking Lyn for her dedication and service to us all and for making our sector stronger and future brighter.'
Comments from Lyn Brodie
Lyn thanked Margaret for her kind words.
She added, 'I have always believed that a CEO role is a 5-7 year stint, to ensure a refresh for the organisation and the CEO! It has been a wonderful and incredibly rewarding 5 years at Optometry Australia.
'Margaret's appointment as President is particularly special, as an example of state directors on their state boards standing for leadership positions to help their profession, and her valuable contributions on the State and National boards. I want to pay tribute to all the OA directors that I have worked with both current and past.  A special thanks to past Presidents, Murray Smith, Darrell Baker and Andrew Hogan.  My biggest shout out goes to the team at the national organisation, who are extraordinary.  They have a single focus and that is to serve you our optometrist members.  Everything we do is for you, and we jointly celebrate your success.
She concluded: 'I look forward to having the opportunity for some personal farewells over the coming months.'
Filed in category:
Workplace